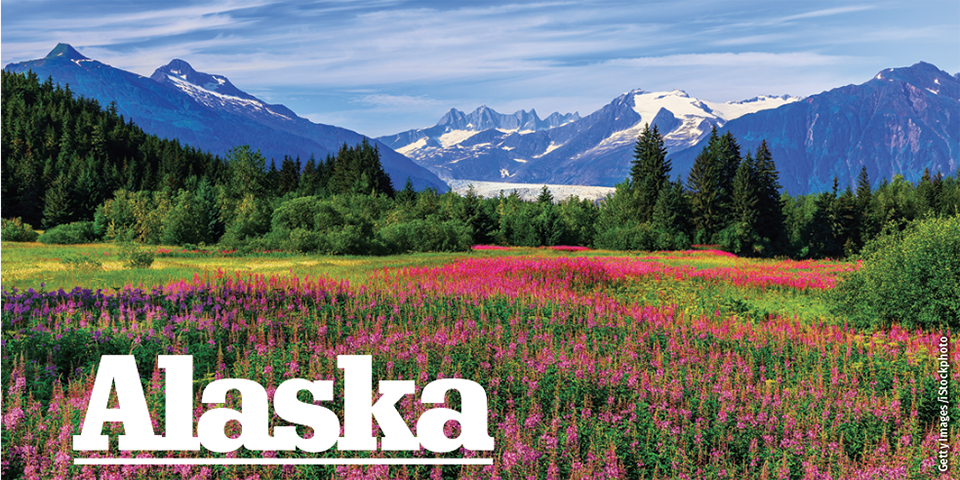 Alaska isn't a land of gentle landscapes. Monstrous mountains, vast wilderness and rollicking rivers set the stage for adventure. Watch for whales, wrestle a trophy fish or paddle a kayak at the foot of a towering glacier.
Feel the Spirit
Anchorage magically blends modern city conveniences with epic beauty just a short trip away. While the skyscrapers might be the biggest in the state, the surrounding mountain peaks make them appear tiny.
Frontier Town
The city itself is communal in feel and the downtown area is an easily walkable district teeming with locally owned and operated restaurants, shops, outfitters and tour companies. Far south of the Arctic Circle, protected by the Chugach Mountains and warmed by Pacific Rim ocean currents, the climate is mild and the city is generally spared from extreme cold. Nevertheless, dress in layers and arrive prepared, as weather conditions can shift quickly. Of course, outdoor action is the name of the game here, and Anchorage has it all. Ice climbing, white-water rafting, paragliding, mountain biking, kayaking, ziplining, skiing, snowboarding and heli-skiing options abound for the more adrenaline-prone adventure seekers.
Got an Eye for the Epic?
Want to get really wild? Discover endless landscapes at Wrangell-St. Elias National Park and Preserve, the nation's biggest national park. Located in southeast Alaska, the park consists of 13.2 million acres of untamed mountains and forests. For something more accessible to major travel routes, check out Kenai Fjords National Park, home to nearly 40 glaciers that bring visitors close to nature. Hike an icefield, kayak the fjords or see gargantuan glaciers.
Fabulous Fairbanks
Known as the "Golden Heart of Alaska," Fairbanks is a prime spot for exploring Alaska's interior. This is the Land of the Midnight Sun, where the sun doesn't set for 70 days between May and July. The rest of the year, the night skies often put on a show, as Fairbanks is one of the best locations to see the aurora borealis.
Daunting Denali
In Denali National Park and Preserve, a single road slices through the 6-million-acre wonderland. Take a bus tour to reach the interior, which offers views of Denali, rising over 20,310 feet above sea level, making it North America's highest mountain. Keep your binoculars handy and watch for bears, moose and caribou along the route. Located in Alaska's famed Inside Passage, Glacier Bay National Park and Preserve offers visitors a dizzying array of landscapes to explore, from verdant rainforests to sapphire glaciers to rugged coasts.
Incomparable Waterways
With almost 7,000 miles of coastline, Alaska offers limitless opportunities for adventures on the water or on the shore, and that doesn't even include the endless rivers and lakes found inland. Anglers can snag trophy-sized halibut, salmon and trout across the state, with the Kenai River, Brooks Range and Bristol Bay being top picks.
Splash in Alaska
Paddling and boating in Alaska take aquatic adventure to a whole new level. The lakes glimmer with clear, cold glacial waters, often reflecting mountain peaks, and the pristine rivers run untamed for hundreds of miles. The Kenai Lake is popular for water sports, while Wonder Lake has awe-inspiring views of Denali. Kayak to Mendenhall Glacier, outside of Juneau, for a quintessential Alaskan adventure.
---
Regional Dish
Alaska King Crab
Made famous by the daredevil fishermen of TV's "Deadliest Catch," king crab has become synonymous with Alaska's wild frontier. This decadent dish can be eaten by the leg, claw, cluster or in a bisque. The rich buttery flavor is one-of-a-kind. If you're looking for the best legs in town, it's hard to beat the finest crab in the country.
---
Culture and History Come Alive
Alaska is home to over 200 federally recognized indigenous tribes and 100,000 Alaska Natives. Celebrate this rich cultural heritage with a visit to one of the small Native villages where traditional customs and crafts are proudly preserved. Learn more with a visit to the Alaska Native Heritage Center in Anchorage, the Alaska State Museum in Juneau or the Totem Bight State Historical Park in Ketchikan.
Klondike Heritage
Alaska's Native culture was forever changed as visitors and settlers flocked to the state after the Klondike Gold Rush in 1896-1899. Step back in time with a tour of the Klondike Gold Rush National Historical Park. Stroll through the colorful boomtown of Skagway's Historic District and explore the Chilkoot Trail and White Pass Trail.
Vital Valdez
Ringed by stunning snow-capped mountain peaks and sitting on the doorstep to spectacular Prince William Sound, the small coastal town of Valdez in sunny southern Alaska is renowned for its state parks, glaciers and alpine atmosphere. Plundering eclectic antique shops and exploring the history of this one-time Gold Rush outpost.
Gold Mining Legacy
Today, most will find themselves arriving in Valdez from Anchorage, a drive that can be made in about six hours via the Richardson Highway. At the turn of the century, scrappy prospectors traveling north to the Alaskan gold fields arrived by way of the town's waterfront, and even more than one hundred years later the small harbor still finds itself as the undisputed heart of Valdez. It's from here that the town center expands backward, with a handful of streets offering local food, shopping and adventure-activity outfitters.
Cruises
Day cruises to Columbia Glacier, which sits 25 miles east of Valdez, are among the town's most popular activities. Columbia is the second-largest tidewater glacier in the world and sports a front face that's as tall as a football field is long — it's a must-visit.