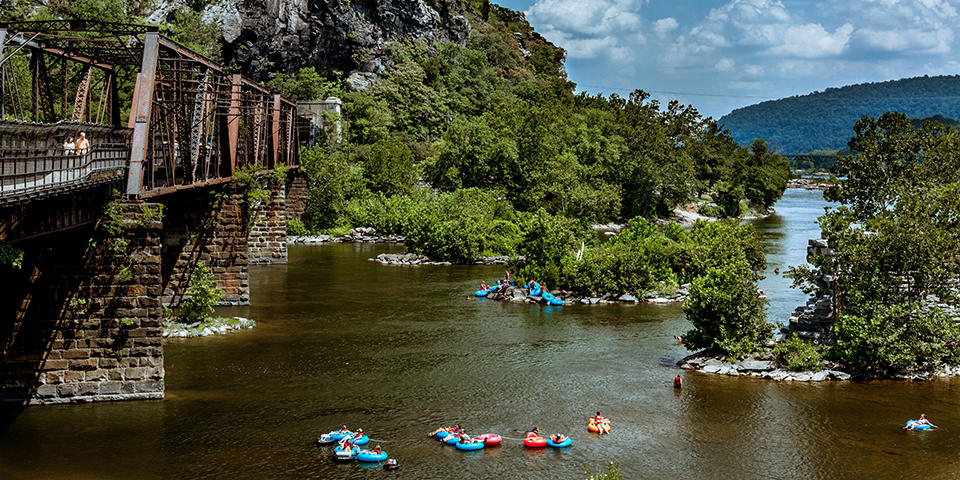 WEST VIRGINIA
John Denver sang about feeling at "home" in West Virginia, and you'll get the same welcoming vibe when you roll into the Mountain State. Warm hospitality, beautiful landscapes and a slower pace of life inspire a state of mind that's "almost heaven."
Harper's Ferry
Bordered by the Potomac and Shenandoah Rivers, the quaint 19th-century village of Harper's Ferry seduces visitors with its charm, history and a stunning natural setting. A living history village within Harper's Ferry National Park, the town's tidy web of streets is punctuated with historic homes, Civil War-era sights and compelling stores that purvey everything from antiques, handicrafts and souvenirs to outdoor gear. Harper's Ferry's museums and landmarks commemorate abolitionist John Brown's 1859 rebellion and the town's seminal role in the Civil War; it changed hands between the Union and the Confederacy eight times.
Harper's Ferry National Park
With 2,300 acres draped across three states, Harper's Ferry National Historical Park is one of West Virginia's undisputed highlights. Incorporating Harper's Ferry living history village, the park's educational activities include conversations with historic reenactors playing Union soldiers, blacksmiths and more. Visit a boarding house and bakery to experience the region's compelling history and lush bucolic beauty.
Charleston
Charleston proudly bears the legacies of the pioneers and statesmen who helped West Virginia become an independent state. The city's free West Virginia State Museum exhibits artifacts telling the story of the area's prehistoric era, early settlement days and the region's economic and cultural development.
---
Regional Recipe
Foil Sweet Potatoes
West Virginia sweet potatoes pack plenty of flavor. This easy-to-make recipe will fill you up with wholesome flavor. Recipe by the Good Sam Team.
Ingredients:
4 sweet potatoes
Olive oil
Sea salt (optional)
Butter
Directions:
Select sweet potatoes that are more long than round, and as symmetrical as possible for an even cook. Coat outside of sweet potato with olive oil and sea salt (optional). Pierce with a fork. Wrap sweet potatoes in aluminum foil and cook in oven for 45-60 minutes, or place in hot coals for about 30 minutes. Topping options include butter, cinnamon, brown sugar, maple syrup or the traditional sour cream and chives.
---
West Virginia Wilderness
Charleston's natural beauty and ecological heritage are prized features, and the Wallace Hartman Nature Preserve entices guests to enjoy nature up close. More than 50 acres are traversed by hiking and biking trails, and attractions include small waterfalls along Lick Creek and its tributaries. Just outside the city lies Kanawha State Park, an outdoor lover's dream destination.
New River Gorge
The New River winds through a deep gorge known as the Grand Canyon of the East. Long stretches of the scenic waterway thunder with rapids and several outfitters can give you a thrill on fast-moving water. Expect water tumbling over huge boulders as the gorge narrows, along with roller coaster waves and giant holes in Class III environments. Enjoy expeditions to places like Jump Rock, Swimmer's Rapids and areas where you actually can go surfing on giant swells.
For More Information
West Virginia Tourism Office
800-CALL-WVA
Charleston WV
304-344-5075
Harper's Ferry National Historical Park
304-535-6029
New River Gorge