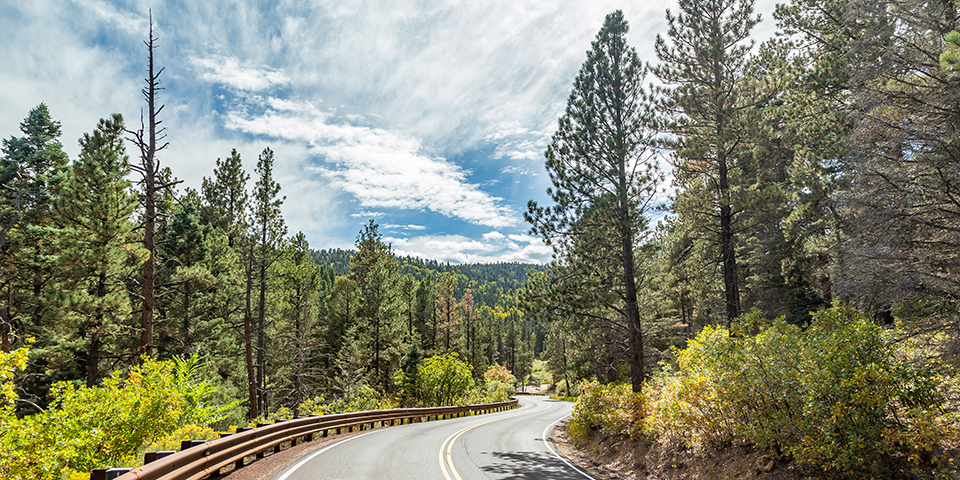 NEW MEXICO
The rugged deserts in the land of enchantment will satisfy your thirst for adventure. Go deep in the Carlsbad Caverns and explore the past in Santa Fe. Take compelling hikes through surreal landscapes.
Angel Fire
Situated in the southern Rocky Mountains just outside of Taos, Angel Fire is a mountain playground for lovers of the outdoors. The biggest draw is Angel Fire Resort, which attracts legions of skiers and snowboarders in the winter months, but it's also worth visiting in the spring and summer in the warm sun, especially if you're interested in hiking, mountain biking, golfing, fishing or hunting.
Enchanted Attractions
Explore Angel Fire from the trail or the road. Popular attractions include the Enchanted Circle Byway, an 84-mile loop that circles Wheeler Peak. Don't miss the Vietnam Veterans Memorial State Park, whose centerpiece is a majestic memorial chapel established by the parents of a young man killed in 1968 when his unit came under ambush. Lovers of the past will enjoy the Historic District, featuring beautifully preserved buildings from the 1800s.
Angel Fire Angling
The area around Angel Fire is excellent for fishing and boating, especially in the summer months. Eagle Nest Lake State Park attracts visitors and locals alike, with ample opportunities to fish for salmon and trout. Ice fishing and boat fishing are both popular here, but it's an equally great spot for canoeing and kayaking. There are also plenty of great rivers for fly fishing, including the Rio Grande, the Red River, San Juan River and the Cimarron River. Alternatively, head to Carson National Forest, which babbles with scores of little streams that teem with fish; you might even catch a cutthroat trout.
---
Regional Recipe
Ranchburgers For a Crowd
This is easy to fix for a few or a lot. Recipe adapted from Woodall's Favorite Recipes from America's Campgrounds.
Ingredients:
4 lbs hamburger
6 eggs
16 crackers
2 cups milk
2 tsp pepper
3 tsp salt
4 tbsp mustard
1 8-oz can tomato sauce
1 cup ketchup
2 onions, chopped
Directions:
Mix all ingredients in large pot and cook slowly. Stir often. When cooked thoroughly dip a scoop onto a hamburger bun.
---
High-Speed Fun
While skiing and snowboarding are the big draws here, the area is also a great place for golfing, with a challenging 18-hole par-72 golf course at Angel Fire Resort. Hiking and mountain biking also draw fans; in fact, the Angel Fire Bike Park is the largest mountain biking park in the Rockies. Nearby, Carson National Forest is home to the 22-mile-long South Boundary Trail, another mountain biking hot spot. The forest is known for its great hunting opportunities, notably for elk, turkey, mule deer and Rocky Mountain bighorn sheep. For an adrenaline rush, Angel Fire's Zipline Adventure is a three-hour tour that features six ziplines (ranging from 120 to 1,600 feet in length) at the summit, including a tandem zipline over the forest floor, dishing out Rocky Mountain and Moreno Valley views.
Carlsbad
Known as "The Pearl on the Pecos," Carlsbad is sure to enchant. Natural beauty abounds where the Pecos River snakes through the Chihuahuan Desert. The Guadalupe Mountains stretch along the distant horizon. Carlsbad is a welcoming oasis in the desert, with a dynamic mix of cultures, blending Native American, Mexican and Spanish traditions. While Carlsbad Caverns Natural Park is the biggest attraction, there is so much more to explore, from the arts to history to outdoor adventures.
Go Deep
Much of Carlsbad's most iconic scenery is found in the subterranean wonderment of Carlsbad Caverns National Park. Prepare to be amazed by the main show cavern, which is filled with a stunning arrangement of stalactites. The Big Room is notable as North America's largest underground chamber, one of the largest in the entire world. Self-guided or narrated tours are available. Participate in an awe-inspiring event by watching the evening bat flight, as thousands of bats emerge from the underworld at sunset, filling the skies above. Scenic drives and trails round out the experience.
Cool off in Carlsbad's Waterways
Hit the trifecta of boating, watersports, and angling at Brantley Lake State Park. This 4,000-acre lake is a prime spot to take a break from the desert heat. The lake is stocked, providing anglers ample bass, catfish, walleye and more to fill your nets. Lake Carlsbad Recreation Area is another popular choice, located along the Pecos River. To combine a hike with a refreshing waterfall, head to Sitting Bull Falls Recreation Area, located in the Lincoln National Forest. Cascading water creates streams and pools before plunging 150 feet over a precipice. Make a splash in one of the many spring-fed swim holes.
A Dazzling Desert Habitat
Living Desert Zoo and Gardens State Park introduces visitors to the wildlife, flora, and fauna of the Chihuahuan Desert. Tour animal exhibits, hike nature trails, or participate in interpretive programs. Succulents, cacti and desert flowers dominate the landscape. Take an easy stroll in the Bataan Recreation Area, which straddles the Pecos River downtown. For a more rugged adventure, venture over to Guadalupe Mountains National Park, just across the state's southern border with Texas. Hike the 80 miles of trails through the peaks and canyons, explore riparian habitats along the streams, or take a scenic drive. Adventurous hikers should hit the Devil's Hall Trail, a 3.8-mile round trip journey that includes a narrow "hallway" formed by steep canyon walls.
Santa Fe
Artists and visionaries have been flocking to Santa Fe, the nation's oldest state capital, since Spanish settlers first arrived in 1610. Bustling with Spanish Colonial architecture and modern galleries, the city's reputation as a premier cultural destination is well earned. It's also a high-desert haven for nature lovers and outdoor adventurers.
The Plaza
At the center of town is the Plaza, which has been the heart of downtown Santa Fe for nearly 400 centuries. It is host to Native American and Spanish markets as well as concerts and festivals. Known as the "heart of Santa Fe," the Plaza hosts economic activities like the Spanish Market and the Santa Fe Indian Market. It is home to Fiesta Santa Fe and the Santa Fe Bandstand. Stroll these timeless grounds and you're sure to discover a trinket or work of art that will truly enchant you.
O'Keeffe Painted Here
Recognized as "the mother of American modernism," Georgia O'Keeffe was Santa Fe's most famous resident, and the Georgia O'Keeffe Museum is a fitting tribute to her artistic genius. An easy walk from Santa Fe Plaza, the museum is a must-see for visitors looking to understand the city's long-standing influence on artistic movements. Her home at Ghost Ranch is another favorite. The Museum of International Folk Art, Museum of Indian Arts & Culture and the New Mexico History Museum are also well worth the visit. Visit El Rancho de las Golondrinas, or "the Ranch of the Swallows," a living history museum.
Fun on Water
Situated in proximity to both the Rio Chama and the Rio Grande, Santa Fe is the perfect jumping-off point for all your whitewater adventures. There are numerous outfitters in town that can arrange anywhere from half-day to multiday trips on raging Class IV waters. There also are serene floats through sun-speckled canyons. Fly-fishing the Chama is another classic New Mexico pastime, and expert guides are available to point you in the direction of the river's best eddies. The streams that meander through the mountain meadows of the Valles Caldera National Preserve are also well-known as serene fly-fishing hot spots.
Enchanted Hiking
At first glance, the 12,000-foot peaks of the Sangre de Cristo range might overwhelm some hikers, but there are plenty of trails ranging from easy to challenging that await. Forty-five minutes away, the canyon trail at Kasha-Katuwe Tent Rocks National Monument is another perfect beginner-level hike that leads to incredible views.
For More Information
New Mexico Tourism Department
800-827-7400
Angel Fire Fun
575-377-3232
Carlsbad True
Tourism Santa Fe
800-777-2489