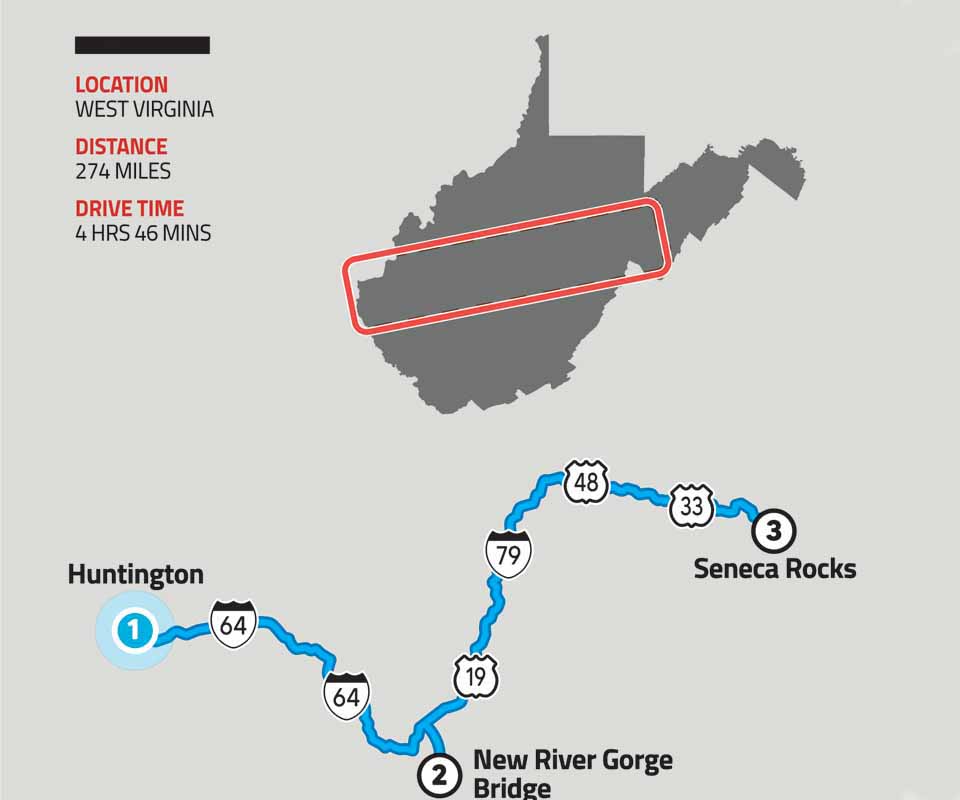 Follow those country roads in West Virginia. They'll deliver you to some of the most thrilling pastimes in North America. Whether you strap on a parachute or fasten climbing shoes, you'll find an adrenaline-pumping experience amidst the homey hospitality of Mountain State locals. At the end of the day, reward yourself with a hot dog laden with all the fixings and washed down by a hearty brew.
1. Huntington
Starting Point
The region surrounding this city serves as a safe landing zones for skydivers. WV Skydivers takes advantage of these expanses, whisking would-be daredevils to 11,000-feet and letting them fall to the ground before their parachutes deploy. Participate in tandem jumps with instructors or get a solo certification. Once you've worked up enough adrenaline, enjoy a hearty treat at Hillbilly Hot Dogs, with delicious wieners and ample brews to satisfy the hungriest of thrill-seekers. Food Network star Guy Fieri raved about the robust cuisine on his show, "Diners, Drive-Ins and Dives."
2. New River Gorge Bridge
Drive 112 miles • 1 hour, 58 minutes
Daredevils flock to New River Gorge Bridge, which rises 876-feet above its namesake river. Come to admire the architecture of the longest single-arch bridge in North America, and then stay to Watch BASE jumpers take the leap off this iconic span. For the uninitiated, BASE stands for building, antenna, span and earth (cliff), referring to places that attract parachutists. You don't have to be a thrill-seeker to enjoy the site of risk-takers hurtling off the bridge before deploying their parachutes; simply watch the show. During Bridge Day, held each October, large numbers of daredevils take the leap. If you prefer something closer to the ground, take a kayaking trip on the New River below. Long stretches of the scenic waterway thunder with rapids and several outfitters can give you a thrill on fast-moving water. Expect exciting Class III rapids.
3. Seneca Rocks
Drive 162 miles • 2 hours, 48 minutes
If you prefer going up to going down, a trip to the 900-foot-high Seneca Rocks may satisfy your appetite for scaling stone walls. Hikers can take the trail up this rugged geological formation for amazing views of the forest below. Folks who prefer ropes and pitons can scale the rough face and choose a course that ranges from beginner and expert. Nearby outfitters can help climbers get started on the rocks. In the surrounding Monongahela National Forest, several mountain biking trails lead cyclists to scenic overlooks.