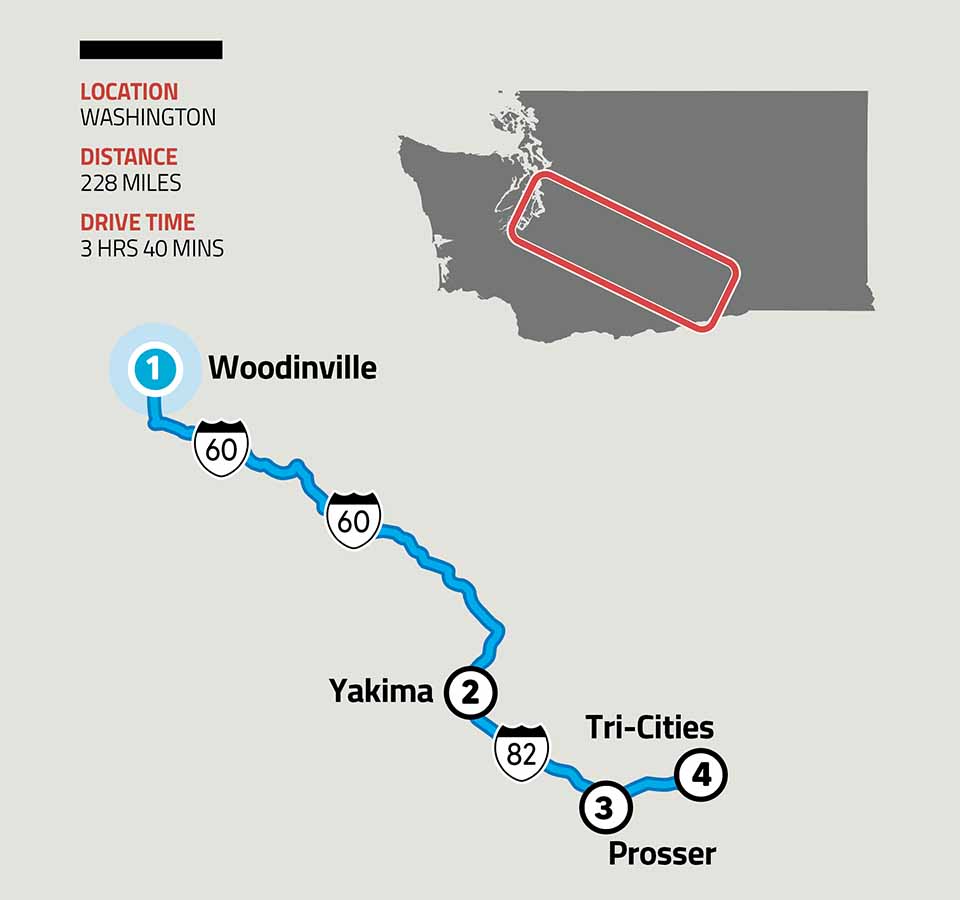 The Evergreen State may not look like wine country at first, but venture into the interior and you'll unearth charming towns producing some of America's best vino. Follow this route from Woodinville to Walla Walla to discover hundreds of wineries, vineyards and tasting rooms. At each stop, enjoy guided tastings of award-winning bottles and meet the hardworking families behind your favorite vintages. Once you've gotten your fill of reds and whites, trade your glass for a fishing rod or paddle and set off on wild river adventures.
1. Woodinville
Starting point
You'll find many high-end wineries here, including the state's oldest: Chateau Ste. Michelle. Admire the estate's striking craftsman-style architecture and then visit the tasting room to try acclaimed chardonnay, merlot and Riesling. Prized vintages, local cheeses and merchandise are available for purchase in the wine shop. Next, head to nearby Snoqualmie Falls. Often referred to as the "Niagara of the Northwest," this 286-foot cascade is one of Washington's most popular natural attractions.
2. Yakima
Drive 149 miles • 2 hours, 24 minutes
Continue your wine tour in Yakima, the birthplace of Washington wine. In the downtown area, you'll stumble upon countless tasting rooms along with farm-to-table restaurants, produce stands and the restored 1912 Northern Pacific Railroad Depot. Indulge in all your favorite flavors and then hit the Yakima Greenway. Spanning over 10 miles, the paved pathway weaves through serene parks, fishing lakes and river access landings so you're spoiled for choice when it comes to outdoor recreation.
3. Prosser
Drive 49 miles • 47 minutes
Mouth-watering dishes and fine wines comingle at the Walter Clore Wine and Culinary Center. Named after the "Father of Washington Wines," this gastronomic hub lets you sample the best wines from all over the state during blind tastings and wine and cheese pairings. A seasonal menu is also prepared in-house so make sure to stay for lunch or dinner. Afterward, stroll through Prosser's historic downtown to browse art galleries, antique shops and quaint boutiques.
4. Tri-Cities
Drive 30 miles • 29 minutes
The Tri-Cities region consists of Richland, Kennewick and Pasco. These communities rest at the confluence of three rivers so you can expect exciting play on the water. Drop a line in the Columbia and Snake rivers to catch salmon and trout or launch your kayak into the Yakima River. You can also paddle down the Northwest Discovery Water Trail to explore more of these waterways. Set some time aside for wine tasting — the region has over 200 wineries including renowned estates like Bookwalter and Goose Ridge.