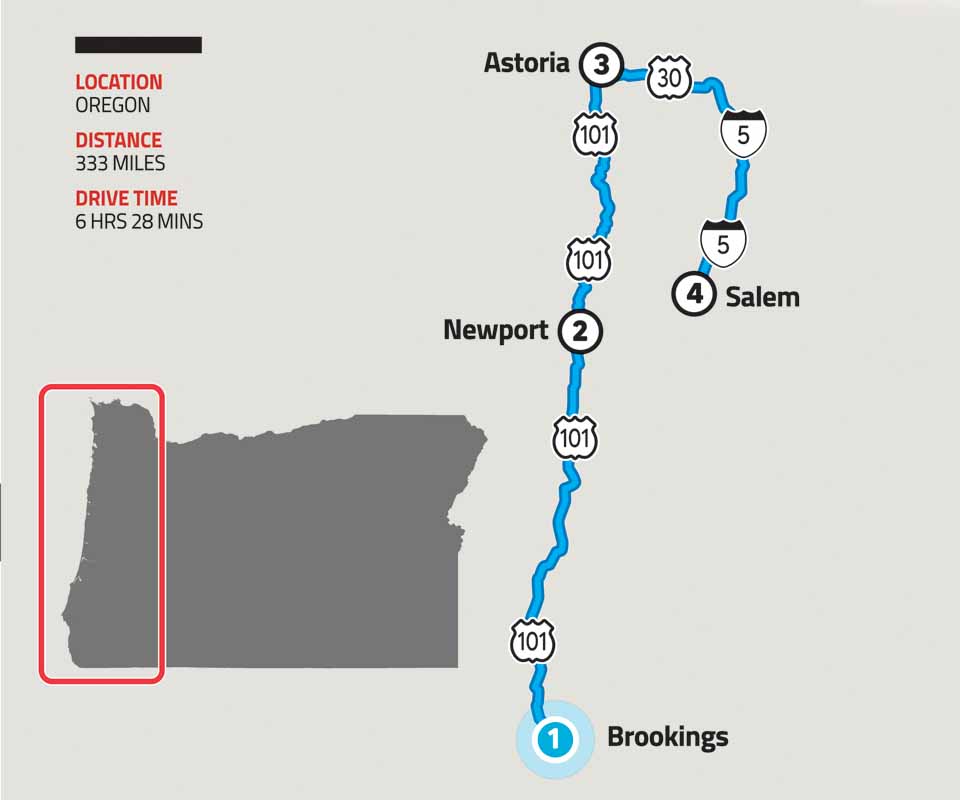 From lush greens to azure blues, Oregon's coastline is as rich in colors as it is in culture and outdoors fun. Start your trip in rugged southern corner of the state where whales gather just offshore and seafood delicacies come fresh off the boat. As you head north, you'll discover timeless foodie traditions and welcoming urban centers with diverse communities and traditions. The Pacific Northwest never looked so good.
1. Brookings
Starting Point
Just a few miles from the border with California, this quiet coastal community is home to a stunning array of natural wonders. At Harris Beach State Park, you can explore coastal hiking trails, sandy beaches and wildlife-filled tide pools. For a particularly singular adventure, try a paddle trip around the offshore rock formations that give the coast here its ruggedly beautiful quality. Just make sure to keep an eye out for the many gray whales that migrate past each winter on their way to Mexico.
2. Newport
Drive 205 miles • 4 hours, 12 minutes
Take a hike to Yaquina Head, the tallest lighthouse in the state at 93 feet. Newport also has excellent bluff-side beaches that are perfect for whale and bird watching. This scenic small town is the perfect place to dip your feet in the sand and forget about things for a while. But no visit here is complete without a stop at the Oregon Coast Aquarium. Regarded as one of the top 10 aquariums in North America, it's an awe-inspiring institution with see-through tunnels that bring you under the surface and face-to-face with your favorite marine creatures. Truly adventurous guests can even dive into the tanks alongside a professional guide.
3. Astoria
Drive 133 miles • 3 hours, 4 minutes
Arriving at the state's northern border, you'll discover picture-perfect Victorian homes and a thriving community surrounded by three rivers. Learn more about the region's deep history with sailing and fishing at the Columbia River Maritime Museum before adding a bit to that history yourself with day on the water. Join a charter fishing cruise where the Columbia meets the Pacific to take advantage of some of the best sturgeon, walleye, and salmon fishing on the planet. For a more laid-back boating experience, the Youngs River and the Lewis and Clark River are tailor-made for fun.
4. Salem
Drive 141 miles • 2 hours, 42 minutes
Brimming with elegance and charm, Oregon's state capitol is a living homage to the heritage and history of the Willamette Valley. Make your first stop the Downtown Historic District where restored 19th century mansions like the Bush House Museum and the Deepwood Museum and Gardens bring the region's colorful past to life. From there, it's easy to explore the city's family-friendly green spaces like Riverfront City Park and Minto-Brown Island Park. Wind down your stay with an appointment-only tasting at top-ranked Zenith Vineyards.