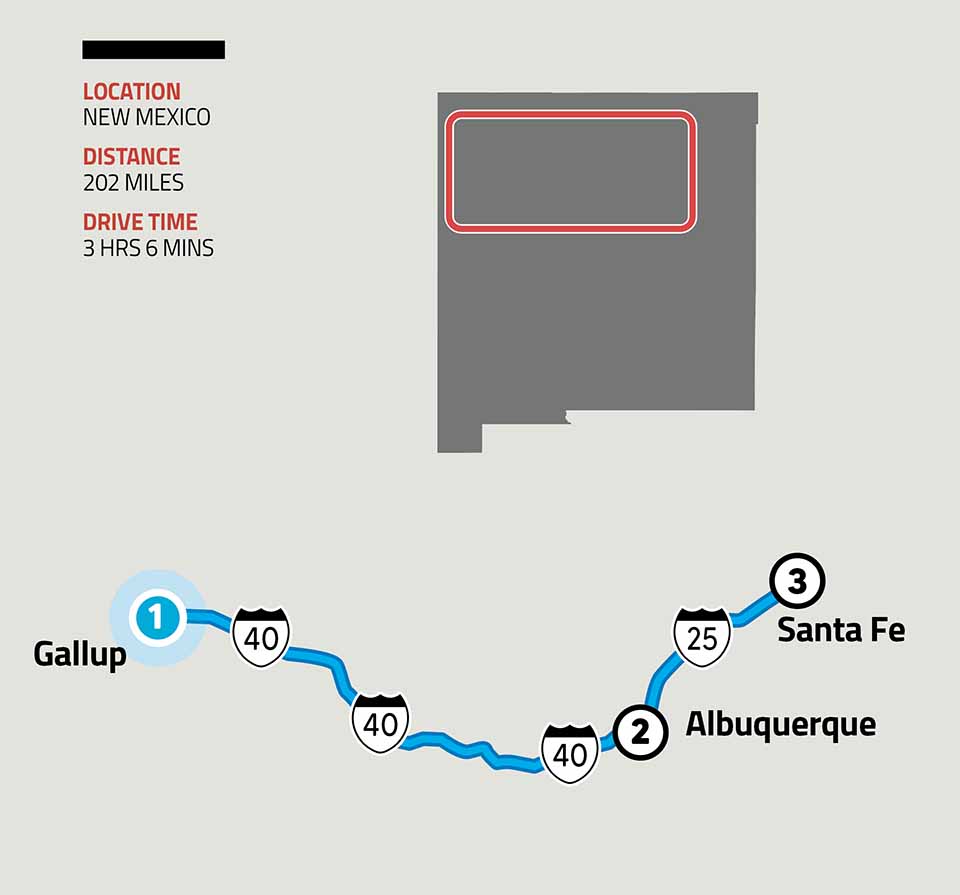 From high deserts to historic hotels, this epic road trip combines one-of-a-kind cultural attractions with mesmerizing scenery that could only be found in the Land of Enchantment. It's easy to get lost under its spell as you bike, hike and explore ancient art one day and spend the next cruising Route 66 for the best green chile enchiladas in the country. Between the fascinating history, rugged landscapes and unique culture, it's hard to beat the best of the Southwest.
1. Gallup
Starting Point
History buffs interested in the colorful heritage of northwest New Mexico will love the Rex Museum, a one-time brothel that now serves as a beacon of local history. Featuring exhibits on the area's Native peoples, as well as the mining and railroad industries that helped develop the town, it's the perfect introduction to what gives Gallup its unique character. Even better, the museum located on the Mother Road — the New Mexico Route 66 Museum — is an American gem if there ever was one. Exploring the Mother Road is a joy in its own right, with Red Rock Park, rodeos, vintage theaters and galleries all within a short drive.
2. Albuquerque
Drive 138 miles • 2 hours, 3 minutes
Ascending 2.7 miles from downtown, the Sandia Peak Aerial Tramway delivers visitors 10,000 feet to the summit of the Sandia Mountains in just 15 minutes. Once there, the crisp morning air makes for views that stretch endlessly into the distance, while nighttime visitors will be treated to a spectacular panorama of sparkling city lights. After enjoying the breathtaking scenery, explore the 100-plus hiking trails or head to the new Ten 3 restaurant for an unforgettable dining experience. Speaking of unforgettable, the historic trails of Petroglyph National Monument are the perfect way to explore the high-desert landscape while getting an up-close look at over 20,000 images carved into the black volcanic rock by Ancestral Pueblo peoples. Keep an eye out for the unique desert millipedes that call the mesa home.
3. Santa Fe
Drive 64 miles • 1 hour, 3 minutes
With a knack for combining the traditional with the contemporary, this capital city is home to historical attractions. The best of the bunch might be the Santa Fe Opera, an open-air venue that brings in world-class performers to match the stunning architecture. With views of the Jemez and Sangre de Cristo Mountains as a backdrop, performances take on a whole new perspective in the innovative space. About 45 minutes to the southwest, Mother Nature has put on her own show at the Kasha-Katuwe Tent Rocks National Monument. A surreal landscape of cone-shaped rock formations, the area is an otherworldly example of geologic upheaval. Try the 1.2-mile Cave Loop or the more difficult 1.5-mile Canyon Trail for a closer look at the exquisite formations.