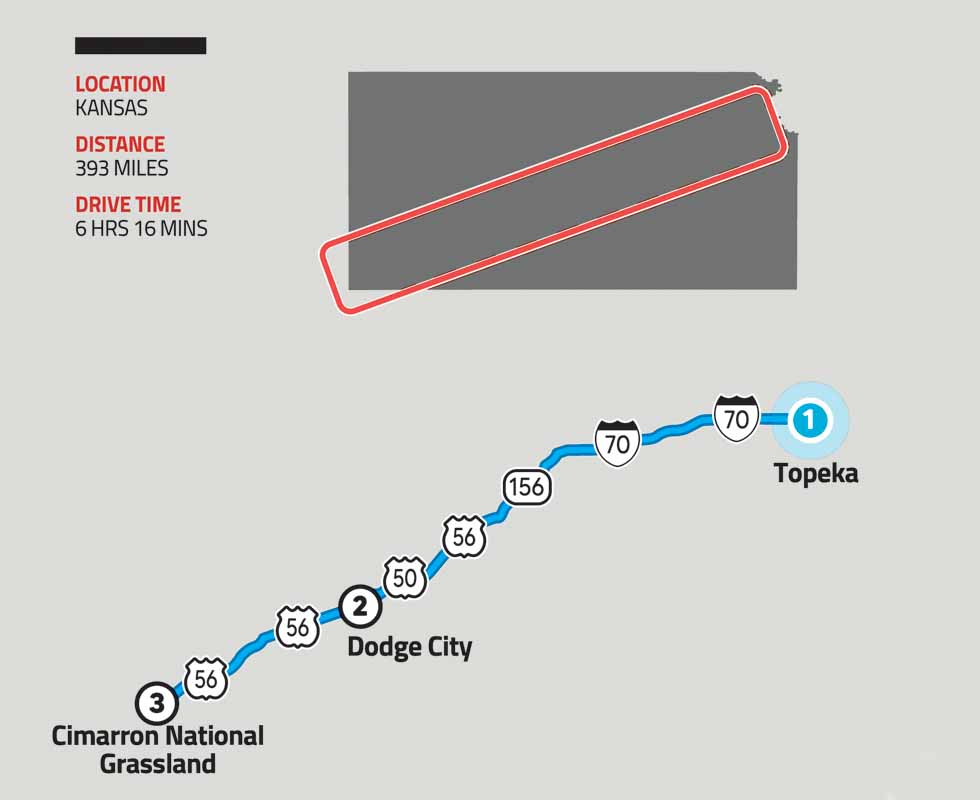 As your RV rolls through Kansas grasslands, you can still see the historic ruts made by the wheels of setters' wagon trains following the Santa Fe Trail in the 1800s. The Trail was the Old West's crucial link from Missouri to Santa Fe, New Mexico, and segments in Kansas are listed on the National Register of Historic Places. The road roughly follows the original Trail, and signs indicate
 

the Santa Fe National Scenic Byway. Enjoy your Old West adventure!
1. Topeka
Starting Point
A whole lotta rainbow trout was stocked in Lake Shawnee this past winter. Even a novice fisherman can hook a beauty. Locals have success with baits like corn, minnows, salmon eggs and even the old standby – worms. Enjoy special events and recreation programs as well as RV and tent camping sites. While in the area, visit the Brown vs. Board of Education Museum. American history was made with the U.S. Supreme Court's 1954 decision ending legal segregation in America's public schools. It all started in Topeka. Learn the facts at the Brown v. Board of Education National Historic Site.
2. Dodge City
Drive 272 miles • 4 hours, 14 minutes
Relive the Old West at the Boot Hill Museum. Learn what life was like in the late 1800's. Open all year, it really hops during the summer with historical interpreters, simulated gunfights and historic reenactments. You also can explore the historic buildings from the 1800s. The museum is also home to several important, original, historic buildings moved to the property from local areas. Learn why local volunteers "stole" the Fort Dodge Jail. Tour the 1870's blacksmith shop, the Gothic Revival, kit-built Hardesty house, the "Boot Hill Special" locomotive that traveled a million miles before resting here. Capture memories of your visit to by stopping by the Old West Photo Parlor located in Boot Hill Museum. Adults and children can dress up as prairie women, gunslingers, saloon girls and gamblers. They'll leave with a 1800s-style portrait.
3. Cimarron National Grassland
Drive 121 miles • 2 hours, 2 minutes
Cimarron National Grassland is the largest area of public land in Kansas at almost 170 square miles. Fish its ponds, stocked with rainbow trout. Then bag yourself a whitetail deer, pronghorn and more wild game. While you're there, get a dose of scenery at Point of Rocks at 3,540 feet. This outcropping offers a great view and was a crucial landmark for early settlers traveling the Cimarron Trail, signaling their proximity to precious freshwater springs.