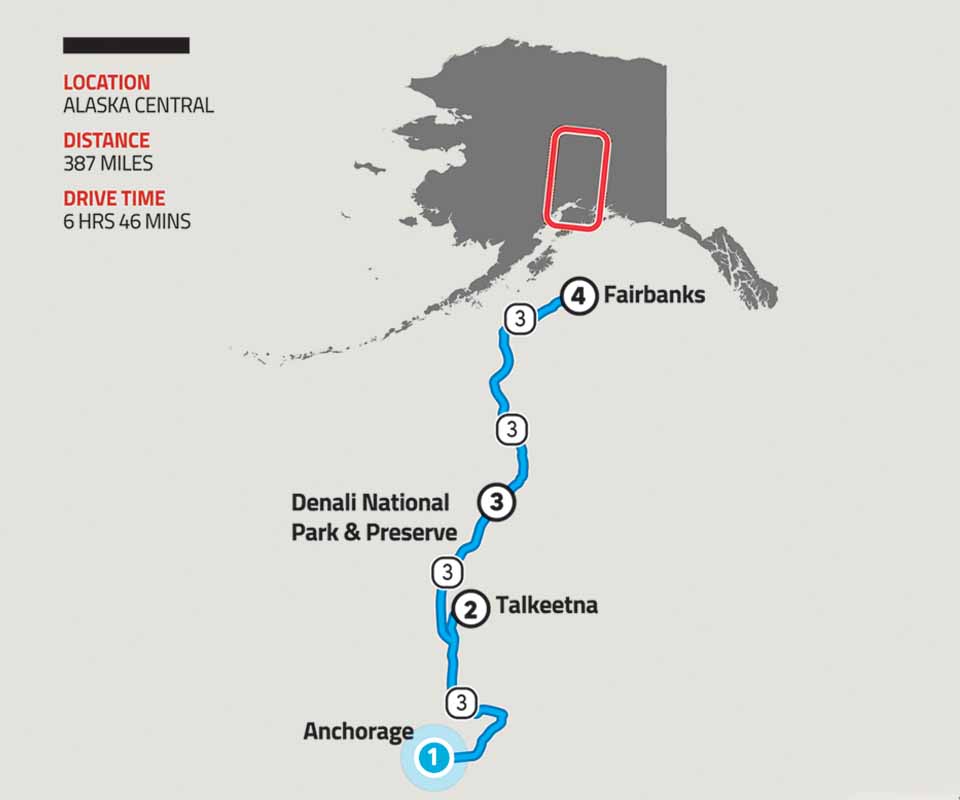 You'll feel the call of the wild while road tripping through central Alaska. Traverse national parks larger than many countries and get close-up views of wildlife you never thought you could see outside of a zoo. For the ultimate escape, paddle through remote backcountry and traverse terrain that few humans have ever walked. Between the monstrous mountains and glacial waterways, frontier towns share their seasonal festivities and offbeat attractions with visitors.
1. Anchorage
Starting point
Catch a glimpse of Alaskan wildlife in the Chugach Mountains, located just minutes away from downtown Anchorage. Wander through the foothills for a chance to see moose and arctic ground squirrels. You'll also want to bring binoculars so you can spot the willow ptarmigan, the state bird of the Last Frontier. Afterward, hone your paddling skills at the Alaska Kayak Academy. Take a class to master the basics or join a guided day trip to explore glacial waterfalls and wild rivers.
2. Talkeetna
Drive 114 miles • 2 hours, 4 minutes
This quirky hamlet is said to have inspired the fictional town of Cicely on the hit TV show "Northern Exposure." Three glacial rivers also converge here, making it a popular destination for water recreation. Rafting and kayaking trips depart daily so you can immerse yourself in the tranquil Alaskan backcountry. Look up to see eagles nesting high in the trees and peer down into the crystal-clear waters to watch salmon glide past your boat. Back on land, sip pints at a local brewery and browse quaint clapboard storefronts before you leave.
3. Denali National Park & Preserve
Drive 109 miles • 1 hour, 51 minutes
Home to North America's highest peak, Denali National Park and Preserve dazzles adventurers with six million acres of taiga forest, alpine tundra and snow-capped summits. Its most famous residents are the bear, wolf, moose, caribou and the Dall sheep — spot them all to score a Denali Grand Slam. You can also encounter 130 bird species including the golden eagle and other mammals like the fox, lynx and marmot. Wildlife is abundant around Denali Park Road so consider cycling the entire 92-mile route for the ultimate open-air experience. Transit buses and narrated bus tours are also available if you're short on time.
4. Fairbanks
Drive 164 miles • 2 hours, 51 minutes
Alaska's second-largest city invites you to witness not one, but two natural phenomena. Marvel the dancing lights of the aurora borealis from September to March or bask in 70 straight days of sunlight in the summer. If you're in town during the summer solstice (June), check out the Midnight Sun Festival for live music performances and a 12-hour street fair complete with delicious food stalls, gold panning and more. Driving 198 miles north to reach the Arctic Circle.