Bakersfield
Nestled in the south end of the San Joaquin Valley, Bakersfield is an agricultural powerhouse, with hefty yields of carrots, citrus fruits, almonds and alfalfa. Vineyards also flourish in the area, and with a healthy dose of country music, a good time is guaranteed for all. Add a dash of cowboy culture and Basque festivities to the mix, and you've got one of California's most compelling towns.
Great and Gritty Sound
Buck Owens and Merle Haggard were instrumental in bringing the "Bakersfield Sound" to mainstream audiences in the 1960s. Owens (of "Hee Haw" fame) lived in town for many years, eventually opening his own nightclub, the Crystal Palace. Over the course of his recording career, Owens and his band, The Buckaroos, became known for their gritty sound, utilizing steel, electric and acoustic guitars with simple story lines in the lyrics. Their style revolutionized country music, and the abundance of Top 10 hits Owens recorded speak volumes about its popularity. Fans can visit the Crystal Palace today for live music performances and tour its museum for an insight into the country boy who learned how to "Act Naturally."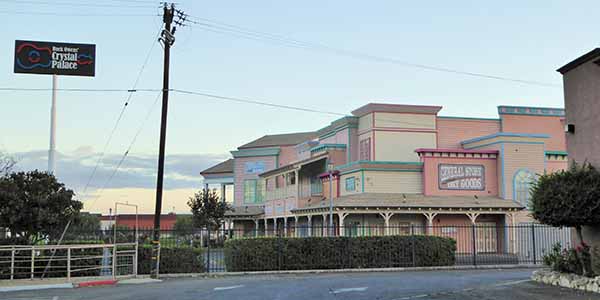 Outdoor Adventure
Tumble down whitewater rapids on the Kern River for an afternoon of fast-paced rafting. Or for those who covet a quieter form of entertainment, find that secret fishing hole to drop a line. Trout and salmon can be your reward on this multidimensional waterway.
Wild West Antiques
Aptly located in Bakersfield's Antique District, the last operating Woolworth's Luncheonette still serves up burgers and shakes. Although the five-and-dime store has gone the way of rotary phones, this lunch counter looks exactly as it did 50 years ago. Stop in for a healthy helping of old school grub. Get your cowboy boots, hat and chaps ready for Whiskey Flat Days on Lake Isabella in February. Participants revel in Wild West contests like frog jumping and rodeo competitions.
Cycling and Driving
Bicyclists will enjoy over 20 miles of bike trails along the Kern River Parkway, and scratch golfers will have no problem driving down the fairways of four challenging golf courses.
Beautiful Basque
The land that lies between Spain and France is home to a hardy group of people, and many of them moved to Bakersfield in the early 1900s as shepherds. Today's Basque Festival in May celebrates this culture's influence on the city, as local Basques have brought their love of food, fun and sport to the region. Enjoy authentic meals and boisterous street dancing.
For More Information
Bakersfield Convention and Visitor Bureau
866-425-7353
California Tourism
877-225-4367