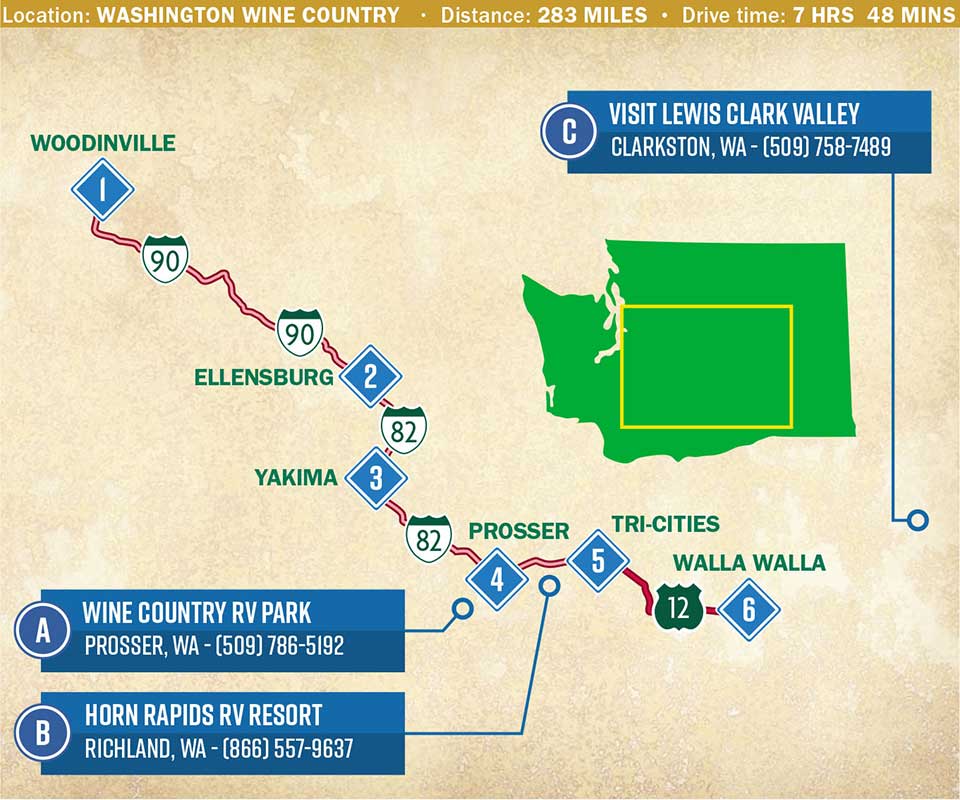 Sonoma. Napa. Willamette Valley. You know the West Coast's most famous wine destinations by heart, but these days it's Washington's wine country that's turning heads. From value vineyards to small family farms, winemakers have grown an endless number of varietals in the state's diverse climates, meaning a tour through the region offers the chance to explore the vast world of wines from A to Z. On this route from Woodinville to Walla Walla, expect the unexpected, from vineyards and tasting rooms, to breathtaking views and unparalleled outdoors adventures.
1) Woodinville
Starting Point
Just 30 minutes from downtown Seattle, Woodinville seems a world away from the big city hustle and bustle. Home to over a hundred tasting rooms, it's the perfect jumping off point for exploring wine country, including Chateau Ste. Michelle, the state's premier winery located in the chic Hollywood District. Woodinville's surrounding landscape offers its own joys in the form of herb and wildflower farms. Pick your own lavender or take in the fresh cut arrangements at the many nearby farmers markets and garden and home shops.
2) Ellensburg
Drive 113 miles • 1 hour, 49 minutes
Less than two hours southeast, Ellensburg sits in the foothills of the Cascade Range and enjoys around 300 days of sunshine a year. In addition to endless opportunities for watersports on the Columbia River, the unbeatable weather means perfect growing conditions on nearby farms like Gard Vintners. The family-owned operation has popular tasting rooms and vineyards in many locations. Outdoors enthusiasts can also use the weather to their advantage on the Palouse to Cascades State Park trail, a converted rail-trail that runs for a total of 212 miles, giving cyclists views of migrating birds and historic mills.
3) Yakima
Drive 36 miles • 41 minutes
The Yakima Valley is Washington's oldest and largest winemaking region. With more than 120 wineries and 17,000 acres of vineyards packed into the 70-mile valley, you might be expecting long lines and crowded tastings, but most of the producers are family-run, boutique businesses, so you'll get to try unique flavors and old favorites without the fuss. The best way to broaden your palate is to join one of the Wine Country Tours organized in downtown Yakima. See students learn the trade at Yakima Valley College. Take a break from the tasting rooms at the Yakima Sportsman State Park, an urban oasis that offers excellent birdwatching, nature trails and a fishing pond stocked with rainbow trout that's perfect for young anglers learning the ropes.
4) Prosser
Drive 49 miles • 49 minutes
Towards the eastern end of the Yakima Valley, the small town of Prosser stands out as the birthplace of the Washington wine industry. In 1960, Dr. Walter Clore, a horticulturist at the Washington State University campus in town, proved that the state's soil could produce high-quality wines and went about convincing farmers to begin growing grape varietals. Learn more about the history of winemaking, and taste expertly paired bottles, at the Walter Clore Wine and Culinary Center on the banks of the Yakima River. For a memorable outdoors excursion, the Hanford Reach National Monument is a 51-mile stretch of bluffs and dunes lining the shores of the Columbia River. Home to 238 bird species, as well as elk, porcupines, otters and more, it's a wildlife lover's dream.
Recommended Stopovers

Wine Country RV Park • Prosser, WA – (509) 786-5192
Horn Rapids RV Resort • Richland, WA – (866) 557-9637
5) Tri-Cities
Drive 30 miles • 30 minutes
Championship golf courses, waterfront piers and plenty of wine tasting await in the Tri-Cities region. Clustered around the "Y" formed by the confluence of the Snake, Yakima and Columbia rivers, the towns of Richland, Kennewick and Pasco don't skimp on the fun. Take the Water2Wine Cruise that meanders along scenic stretches of the Columbia River for sunset views, wine, fine-dining and live music. Spend the rest of your time on the water by arranging a sailing, kayaking or boating excursion at one of the town marinas.
6) Walla Walla
Drive 55 miles • 59 minutes
Finish your trip through Washington wine country in Walla Walla, "a town so nice they named it twice," as the locals are apt to tell you. With lots to choose from, you can simply wander the downtown district, popping into tasting rooms until you find your favorite. If you need a break from hunting down your favorite varietal, nearby Dry Hollow Ranch offers a different but equally exciting adventure. The sprawling, rugged hunting club is a well-known preserve for pheasant, but offers bow-hunting and other opportunities.
Recommended Stopovers

Visit Lewis Clark Valley • Clarkston, WA – (509) 758-7489