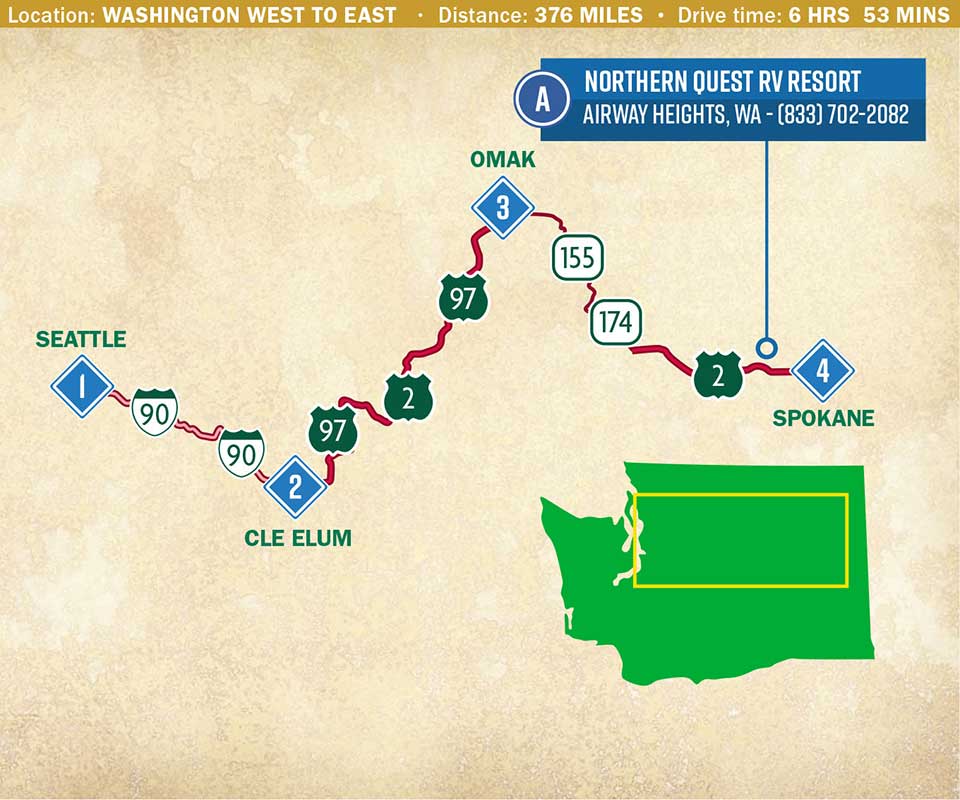 For most people, the Pacific Northwest conjures up images of glacial peaks and lush rainforests, but that's not all this picture-perfect corner of the world has to offer. As you head east on this route from Seattle to Spokane, you'll discover wide expanses of fertile farmland, saltwater lakes and a pioneering spirit passed down from generation to generation.
1) Seattle
Starting Point
From dining on the Space Needle to whale-watching in Puget Sound, there's no shortage of must-see attractions in the so-called Emerald City, but a visit to Pike Place Market is the best way to experience the heart and soul of Seattle. Founded in 1907, it's the oldest continuously operating farmer's market in the country and the only place to see the city's famed fish-throwers in action. Thrill seekers should check out I-5 Colonnade Park in the Capitol Hill and Eastlake neighborhoods. Located directly under Interstate 5, the 7.5-acre space has been transformed into an innovative mountain biking park and urban trail system.
2) Cle Elum
Drive 83 miles • 1 hour, 22 minutes
Across the Cascade Range, the small town of Cle Elum is a great jumping-off point for exploring the region's breathtaking scenery. Lake Easton State Park has long attracted day-trippers from nearby cities for its misty morning walks, as well as boating and fishing opportunities. Rattlesnake Lake is another popular getaway, especially for hikers heading to the Rattlesnake Ledge Trail, which winds 11 miles past stunning lookout points on the way to Snoqualmie Point Park. South of town, the 3.6-mile Manastash Ridge Trail is ideal for hikers looking to test themselves. There are steep pitches, but the rewards for making it to the top include endless panoramas and blooming wildflowers.
3) Omak
Drive 154 miles • 2 hours, 48 minutes
Follow the eastern edge of the Cascades as you head north to the highland city of Omak. Surrounded by lakes and rivers, the region is an angler's paradise with the best opportunities for landing a big one at salty Omak Lake. Stretching for 18-miles, and home to trophy-sized cutthroat trout, the waters are renowned by locals, but relatively unknown by visitors, which means the park and its surrounds are rarely crowded. For a deep-dive into the area's unique geologic history, head to Bridgeport State Park, where volcanic "haystack" formations rise out of the dry, desert landscape. In addition to plenty of hiking trails, the park's lake boasts year-round fishing for walleye and trout, watersports, swimming and boating, making it a favorite for families.
4) Spokane
Drive 139 miles • 2 hours, 43 minutes
Known as the "Lilac City," Spokane is the second-largest city in the state and home to a variety of cultural and outdoors adventures. For an introduction to the inland region, try the Northwest Museum of Arts & Culture, a revered institution that offers exhibits on the region's unique history. Bikers and hikers alike will love the Centennial Trail, which runs for 40 miles along the Spokane River, cutting right through downtown on its way to the Idaho border and eventually into downtown Coeur d'Alene. For a bird's eye view of the landscape, the Riverfront Park SkyRide is a thrilling cable car ride that glides about 200 feet above Spokane Falls, the city's most iconic natural feature.
Recommended Stopovers

Northern Quest RV Resort • Airway Heights, WA – (833) 702-2082