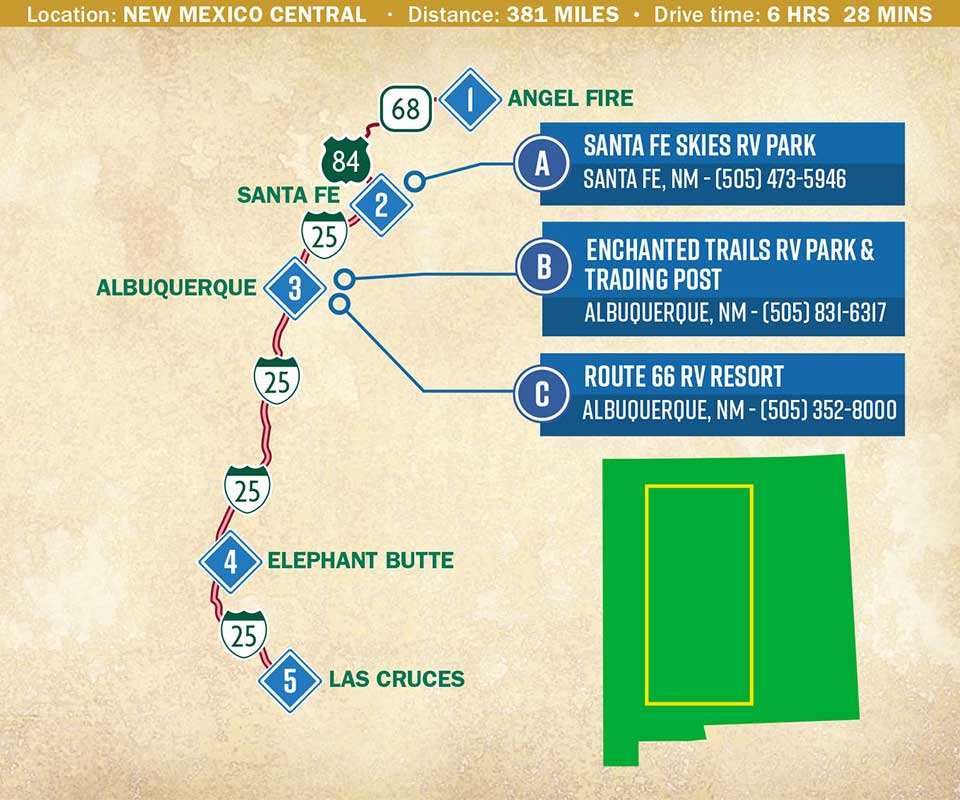 From mesa-top villages to desert lakes, New Mexico gives visitors a chance to go fishing in mountain streams, ziplining through forested hillsides and hiking in slot canyons. Add to that list a stone massage at a local hot springs spa or sledding full tilt down white sand dunes, and it's hard to dispute the Land of Enchantment moniker.
1) Angel Fire
Starting Point
Fly through the trees with the greatest of ease on a zipline tour at Angel Fire. At over 200 feet above the ground, this excursion is the highest zipline in North America. Participants don't need a license to travel 60 mph here, but a sense of adventure and the need for speed certainly help. Meanwhile, fishermen flock to the waters of Eagle Nest Lake to reel in rainbow trout and kokanee salmon, which are regularly stocked. Summer boaters and campers congregate at Eagle Nest to escape the heat of lower elevations, and hikers can be found exploring the surrounding mountain slopes.
2) Santa Fe
Drive 91 miles • 2 hours, 2 minutes
Art connoisseurs are in seventh heaven when visiting the numerous fine art galleries surrounding the Santa Fe Plaza and on Canyon Road. And shoppers of any nature enjoy the lavish shops, boutiques and bookstores located around the historic center of town, where settlers from the Santa Fe Trail completed their journeys over 150 years ago. Engage a Native American craftsman in bartering for their handmade wares at the Palace of Governors, or find your own treasure around town with a geocaching app on your phone, where GPS coordinates and occasional hints help participants nab treasure in scavenger hunts.
Recommended Stopovers

Santa Fe Skies RV Park • Santa Fe, NM – (505) 473-5946
3) Albuquerque
Drive 64 miles • 1 hour, 3 minutes
Travel from the desert floor to over 10,000 feet on the Sandia Peak Tramway. The 15-minute gondola ride crosses over deep canyons, rock spires and rugged mountain terrain before depositing riders at the top of Sandia Peak, overlooking Albuquerque. Hike the many trails along the backside of this mountain, or ski them in Winter. Then head west to Acoma Pueblo. This ancient community is perched high above the valley floor on a mesa, where 250 homes have housed members of the Acoma tribal community for almost 1,000 years. Take home a piece of their world-renowned pottery after a tour of this amazing destination.
Recommended Stopovers

Enchanted Trails RV Park & Trading Post • Albuquerque, NM – (505) 831-6317
Route 66 RV Resort • Albuquerque, NM – (505) 352-8000
4) Elephant Butte
Drive 146 miles • 2 hours, 7 minutes
Follow the Rio Grand river south to find an oasis in the desert of Southern New Mexico. Elephant Butte Lake and neighboring Caballo Lake are man-made reservoirs used for irrigation, but they also serve as playgrounds for boaters, SCUBA divers and anglers. When you have grown tired of all that fun in the sun, take a side trip to Truth or Consequences to unwind at any one of 12 historic hot springs spas. The pampering will encourage repeat visits. No wonder this region is called "New Mexico's Playground."
5) Las Cruces
Drive 80 miles • 1 hour, 16 minutes
The Organ Mountains create a dramatic backdrop for the contemporary town of Las Cruces. From film festivals to a growing wine trail, this city knows how to make the most of its assets. And a large part of the community's intrigue lies in the many natural wonders that surround this "City of Crosses." Search the slot canyons north of town, play on the dunes at White Sands — you can even slide down the dune faces on sleds — or follow in the steps of dinosaurs at Prehistoric Trackways. Then hot-foot it over to the Chile Pepper Institute, where you just might discover the secret to your favorite salsa.