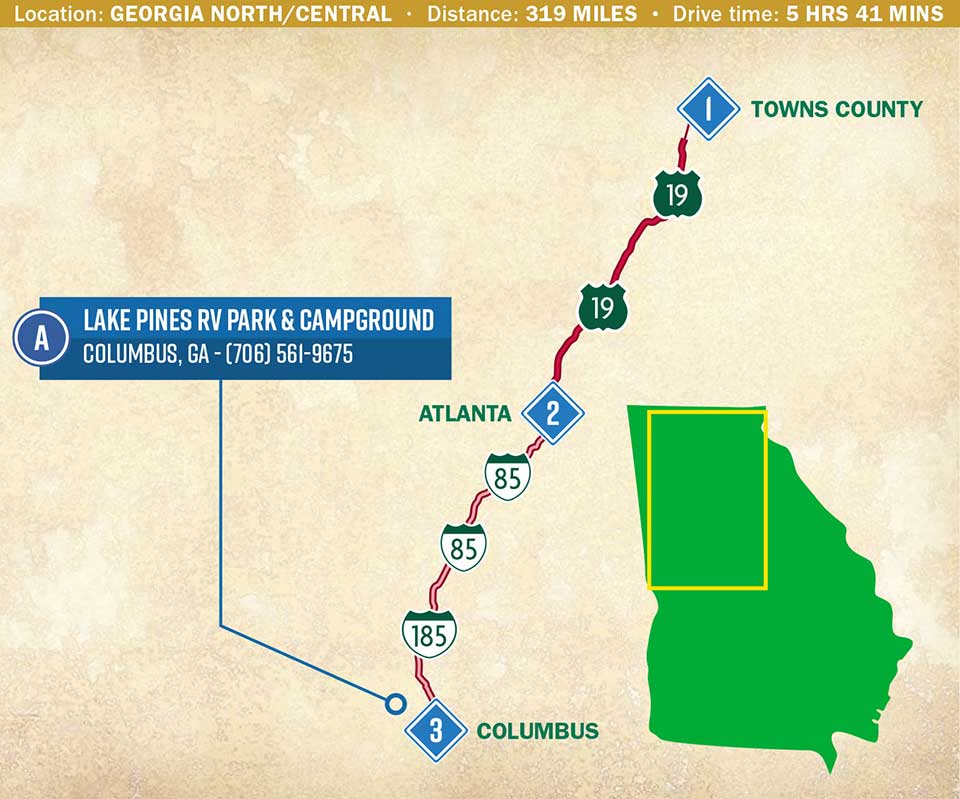 Combining Appalachian charm, outdoor adventure and big city excitement, this route through Georgia's northwest satisfies nature lovers and culture-seekers alike. From the high hills and breathtaking waterfalls of Towns County, to the one-of-a-kind urban whitewater in Columbus, you'll reach peak excitement as you discover the best the Peach State has to offer, not to mention a stopover in the South's most quirky and iconic big city.
1) Towns County
Starting Point
Take a relaxed retreat on the shores of Lake Chatuge where you can swim, boat, paddle and fish your way through picture-perfect days. Straddling the Georgia's northern border with North Carolina, the lake's 130 miles of shoreline boasts several coves and inlets for secluded fun on the water. From the town of Hiawassee, it's easy to organize hikes to natural wonders like High Shoals Falls in the Chattahoochee National Forest, Brasstown Bald, the state's highest Mountain, and Bell Mountain, which boasts spectacular views of the Blue Ridge range in the distance. For a more serene experience, head to Hamilton Gardens, a 33-acre botanical showcase with the largest collection of rhododendrons in the southeast.
2) Atlanta
Drive 106 miles • 2 hours, 3 minutes
A different world awaits in the South's most dynamic metropolis. Major league sports teams, top-notch restaurants and world-class museums call the city home. To learn more about the city's outsized global influence, join a tour at the famed headquarters of global news channel CNN, where you'll get behind-the-scenes access to live studios and learn how journalists and producers come together to report breaking news. Also located downtown, the World of Coca-Cola museum is an immersive look at one of the world's biggest brand names. From vintage flavors, to films, to a trip behind the bottling process, you'll never see soda the same way again.
3) Columbus
Drive 213 miles • 3 hours, 37 minutes
Columbus may well be Georgia's best-kept secret. First-timers should head straight to the banks of the Chattahoochee for a chance to brave the longest urban whitewater course in the world. With experiences ranging from a relaxing Lazy River float to an over-the-top Class V thrill-ride, there's something for everyone on the man-made stretch of rapids. After drying off, enjoy the 15-mile RiverWalk trail, Columbus Botanical Garden or head to the National Civil War Naval Museum, where you can explore replicas of 19th-century warships.
Recommended Stopovers

Lake Pines RV Park & Campground • Columbus, GA – (706) 561-9675