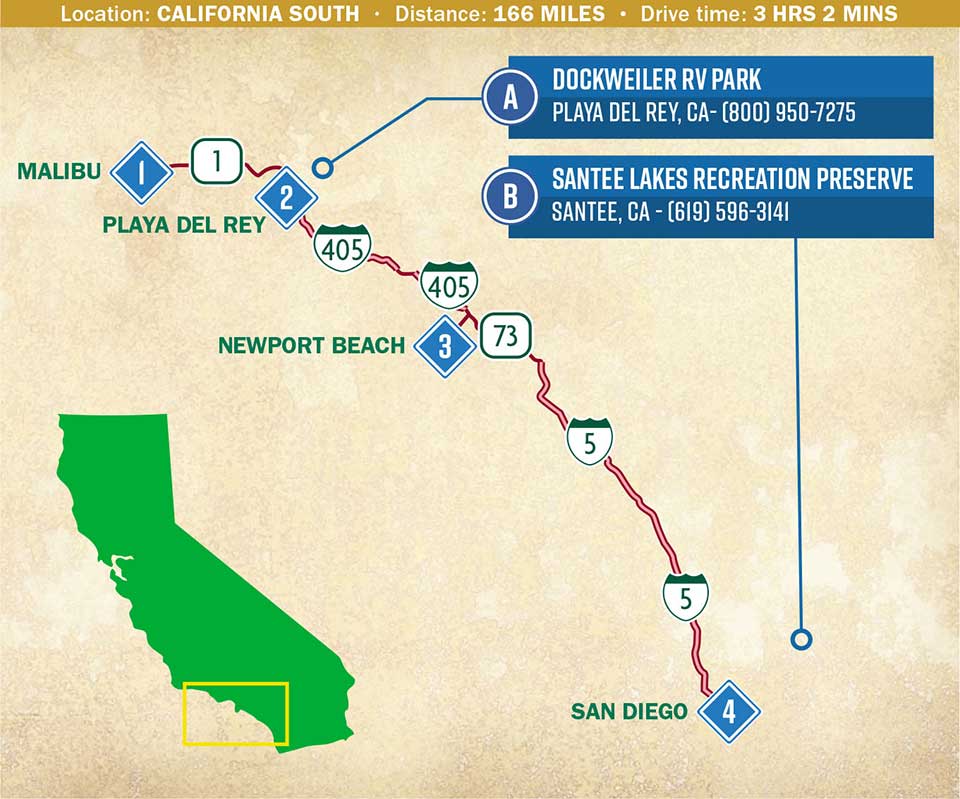 You can't beat the beaches lining the Southern California coast, where surfing is king and sandcastles crumble in the tides.
Spot Hollywood stars in Malibu or see the Milky Way from an evening cruise in Marina Del Ray. Shopping is a fine art here, and eclectic dining venues serve up fare ranging from vegan to keto to complete the task at hand. People watching, surfing and beachcombing will keep you occupied on the coast.
1) Malibu
Starting Point
   Famous for its beaches and celebrities, Malibu has some of the most iconic stretches of sand in the country. TV connoisseurs will recognize many beach locations from shows like "The Rockford Files" and "Gidget," but surfers crave waves at Surfrider Beach. In fact, visitors can hang 10 on any of the more than 30 beaches clustered along the Pacific Coast Highway. Join a pickup game of beach volleyball, bag some rays in the sand or just enjoy a stroll along the surf. When dinnertime rolls around, reel in the "catch of the day" at one of the exclusive restaurants in town.
2) Playa del Rey
Drive 29 miles • 43 minutes
   With its small-town feel, Playa del Rey still exudes an old school beachy vibe. There are few pretentious airs here, just something that's rarely found in the Los Angeles area: uncluttered, wide sandy beaches with plenty of room for sun worshippers. With a 21-mile paved Marvin Braude Bike Trail, along with volleyball courts and quiet dunes, this coastal town caters to family fun. But for those looking for evening enjoyment, try a Starlight Cruise in nearby Marina del Rey harbor, where a luxury yacht will transport you beneath the firmament for dining and dancing.
Recommended Stopovers

Playa Del Rey, CA – (800) 950-7275
3) Newport Beach
Drive 47 miles • 53 minutes
Exquisite taste is rewarded in this Southern California coastal enclave, with harbor-front promenades, fine dining venues and sunset cruises departing from the largest recreational marina on the west coast. The town has 10 regions, and one of them, the Fashion Island District, is solely dedicated to luxury shopping experiences, with quaint boutiques and complimentary personal shoppers. After indulging, spend a day at the municipal beach, following the concrete boardwalk to the Newport Beach Pier. See marine life thrive in tidal pools Little Corona Del Mar Beach.
4) San Diego
Drive 90 miles • 1 hour, 26 minutes
A hip coastal hangout, Mission Beach attracts younger crowds, along with the young at heart. Take up surfing, boogie boarding or bicycling along the boardwalk, and don't miss a boisterous ride on the Giant Dipper Roller Coaster at Belmont Park. This amusement park hosts an old school arcade, bumper cars and carnival games, hitting all the nostalgic buttons on cue. When night life calls, take a trolley to Gaslamp Quarter, where 16 blocks of historic downtown are preserved as an entertainment and dining district, accurately described as a cosmopolitan playground. Cross the Coronado Bridge to visit the iconic Hotel Del Coronado.
Recommended Stopovers

Santee Lakes Recreation Preserve • Santee, CA – (619} 596-3141