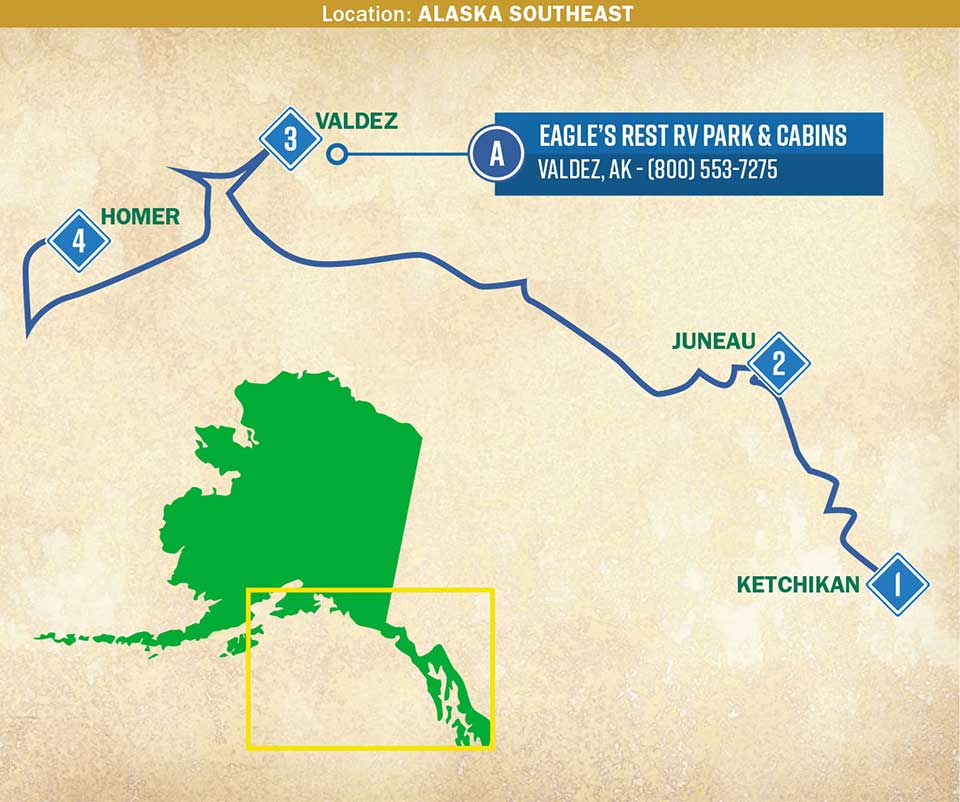 Let someone else do the driving as the Alaska Maritime Highway System leads travelers to frontier ports of call, some of which aren't accessible by road. Park your RV on a spacious ferry and ride through the Inside Passage to view tidewater glaciers calving into the ocean. After docking, visit historic Tlingit communities filled with story-telling totems and kayak through whitewater in glacier-fed rivers. Take your rod and reel, as fishing is king in this region of majestic mountains. The following itinerary covers some of the most popular spots on the route.
The following trip is about 1,000 miles, represents only a part of the Alaska Marine Highway's full reach. Visit dot.state.ak.us/amhs for information.
1) Ketchikan
With no roads in or out, Ketchikan is a time capsule for travelers arriving via the Alaska Maritime Highway. Much of its native history is recorded at the Totem Heritage Center, and its colorful past can be revisited along Creek Street, whose side was built over the water because developers couldn't remove the rocky banks. The King Salmon Capitol of the World sits in a stunning landscape, best viewed by float plane (sign up with a local tour). Here, the Tongass National Forest abuts the bay, and granite cliffs lead to cascading waterfalls and wandering wildlife.
2) Juneau
Alaska's capital was built on an island that can't be reached by car, but locals like the city's remote feel. For disembarking travelers, a top location is Mendenhall Lake. Boaters skim across glacier-fed waters to the base of Mendenhall Glacier, navigating their way around ice bergs that have calved into the lake. It's a once-in-a-lifetime view of nature's forces at work. For a peek at regional history and several wildlife sightings, head to Auke Lake Recreation Area, where native Tlingit people once lived. Be sure to look for porpoises playing just off shore in Auke Bay.
3) Valdez
Most commonly known as the terminus for the Alaska Pipeline, Valdez is really a bustling fishing town. Book a sport fishing tour and you will likely score big with halibut, salmon, lingcod and salmon shark from the gorgeous waters of Prince William Sound. For a heart-racing experience, take a raft down the Lowe River through Keystone Canyon, where the glacier-fed river narrows and swift currents shoot kayaks through several whitewater rapids, passing waterfalls along the way.
 Recommended Stopovers
Eagle's Rest RV Park & Cabins • Valdez (800) 553-7275
4) Homer
The Halibut Fishing Capital of the World is located at the south end of spectacular Kenai Peninsula, where fishing is big business, but a laid-back spirit prevails. After viewing the dollar-
covered ceiling at the Salty Dawg Saloon, catch a fishing charter on The Spit for an afternoon that most anglers can only dream about. When you snag several enormous halibut (and you will), have your catch processed, preserved and sent home as a wonderful souvenir. Finish your visit with a drive along Skyline Drive to capture a last look back at this dramatic community.