Santa Fe
Santa Fe, the oldest state capital in the U.S., is a charming, historic city that's best celebrated for its striking architecture. Government ordinances require buildings be constructed in the Spanish pueblo style, giving the city a distinctive look that pays homage to the region's rich history. While the architecture here is reason enough to visit, there are also plenty of cultural and recreational attractions to keep visitors busy for days.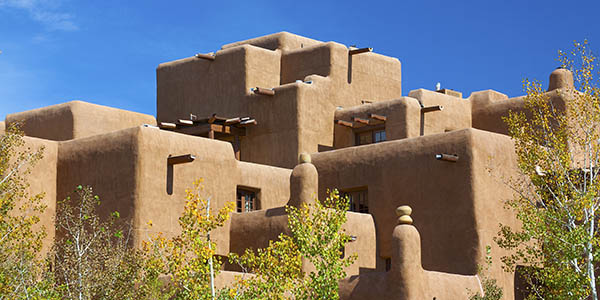 In the Heart of Enchantment
Located at the crossroads of Interstate 25 and U.S. Route 84, Santa Fe is steeped in Spanish Colonial history. Founded in 1610 by Spanish settlers, and controlled by Mexico for much of its history, the city preserves its historic legacy. In some neighborhoods, 400-year-old streets are lined with preserved adobe structures. Visit Santa Fe Plaza, where Native Americans sell arts and crafts.
Hit the Trails
Bring your hiking boots on the trip to Santa Fe. Outside of town, stellar trails are found in Hyde Memorial State Park, situated in the Sangre de Cristo mountains less than 10 miles east of the city. The Dale Ball Trails, with a trailhead just 2 miles east of town, feature popular routes and span a total of 22 miles.
Local Color and Attractions
Popular attractions in town include the Museum of International Folk Art, featuring traditional arts and crafts from around the world, and the Museum of Indian Arts and Culture, which tells the stories of Native peoples in the Southwest and beyond. One of Santa Fe's most popular attractions, the Georgia O'Keeffe Museum, showcases one of the world's finest collections of paintings from the mother of American Modernism. To get a sense of the landscapes that inspired O'Keeffe, visit Ghost Ranch to the north of the city (pictured above).
Bold Buildings
Architecture fans will want to visit the Palace of the Governors, the oldest continuously occupied building in the United States, as well as the 19th-century Cathedral Basilica of Saint Francis of Assisi, which showcases gorgeous Romanesque architecture.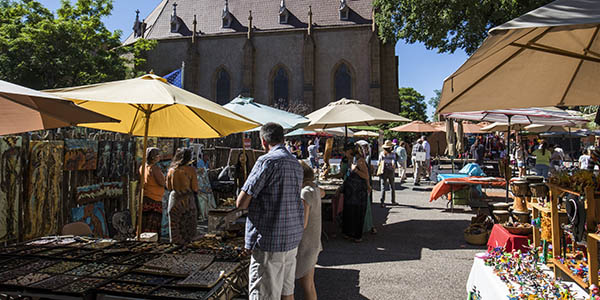 For More Information
Tourism Santa Fe
800-777-2489
New Mexico Tourism Department
800-827-7400