Santa Barbara County
Perched on California's Central Coast, a day trip northwest of Los Angeles, Santa Barbara County is like a slice of the French Riviera transplanted to the Golden State. Gourmet food, tantalizing wine, iconic architecture and gorgeous coastlines entice visitors from across the globe. With myriad wineries and vineyards, stunning beaches and historic missions, it's hard to leave this picturesque region when the vacation's over.
Santa Barbara
Santa Barbara's considerable charms have attracted the Hollywood glitterati with its gorgeous colonial-style architecture and stunning views. While outdoorsy activities abound, from hiking in the Santa Ynez Mountains to relaxing on the beloved Leadbetter Beach, there's also ample history and culture. Popular attractions include the beautifully preserved Old Mission Santa Barbara, founded by Franciscans in the 18th century.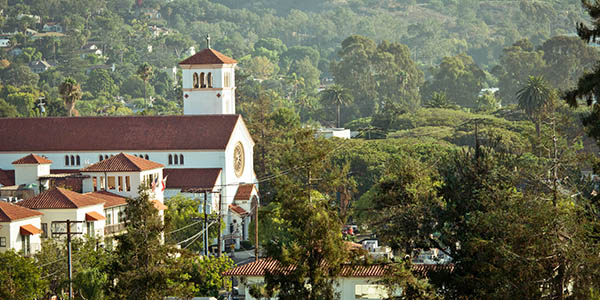 Pismo Beach
Pismo Beach has long been associated with clamming, and the town's annual Clam Festival in October serves up music and gourmet seafood. The town's biggest draw these days (besides the great beaches) is Pismo's popular Monarch Butterfly Grove. This cluster of eucalyptus trees hosts thousands of migrant butterflies in late autumn and into the winter months.
Solvang
One of the quirkier places to visit in the Santa Ynez Valley, Solvang is best known for its Danish architectural flourishes and restaurants serving Scandinavian pastries and meals. Popular attractions include the annual Danish Days festival in September, complete with traditional music, dance and delicacies. At Christmas, the city stages the annual Julefest.
Los Olivos
Los Olivos is renowned for its magnificent wines. Visitors can choose between exploring the surrounding region's wine country or hanging out in the charming downtown area. Go tasting at the many wineries or savor eclectic fare at the great restaurants in town.
For More Information
Visit Santa Barbara
805-966-9222
California Tourism
877-225-4367