Sandusky, Lake Erie Shores & Islands
Situated on the southern banks of Lake Erie, Sandusky has long been a favorite getaway for Midwestern families. While this touristy city is best known for its multiple amusement parks — including the world-famous Cedar Point — it's also a great place for fishing enthusiasts, with ample opportunities to charter boats or launch your own.
Boating and Fishing
Sandusky is a great base for boating and fishing, owing to its prime location on the banks of Lake Erie, which teems with walleye, bass, rainbow trout and perch. If you brought your own boat, you can choose from the many marinas and boat launch ramps peppered along the banks of the lake. Fishing charters also are plentiful for trips into the lake.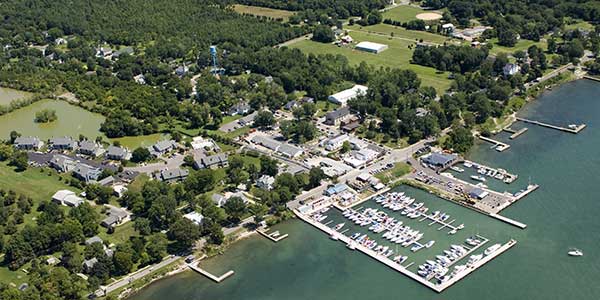 Launching Options
Plan a trip to nearby Kelleys Island, north of Sandusky. The Kelleys Island Ferry Boat Lines bring visitors face-to-face with landscapes carved by glaciers millennia ago. In addition, visitors to the island can kayak, sail, scuba dive, hike or bike while there. Several historic sites can be found on the island, including Battlefield Park, where American troops battled forces that were allied with the British during the War of 1812.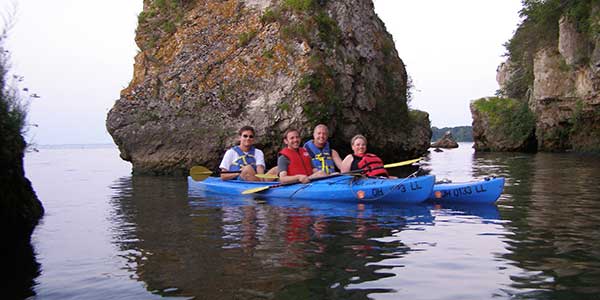 Marblehead Lights
A visit to Marblehead Lighthouse State Park should be on every visitor's itinerary. The majestic structure rests on Marblehead Peninsula, a rocky headland of Columbus Limestone that juts into Lake Erie. The ground surrounding the lighthouse are a great setting for picnicking and views of Lake Erie. Built in 1821 and originally lit by whale oil, the lighthouse has undergone major renovations over the years. Visitors can tour the 50-foot-tall ligthhouse during the summer.
High-Speed Thrills
Sandusky's biggest draw is Cedar Point, one of the most famous amusement parks in the United States. Cedar Point offers 71 fantastic rides suitable to thrill-seekers of all ages and levels of daring, including six roller coasters over 200 feet high. Adrenaline junkies can get a heavy fix when they ride the Valravn, which stands out as the tallest, fastest and longest dive coaster in the world. Other mind-melting rides include Blue Streak, Cedar Creek Mine Ride and Corkscrew.
Beyond the Coasters
Other attractions in town include the Ghostly Manor Thrill Center, which offers a laser maze, an escape room, blacklight mini-golf and a 4D theater. The Kalahari is another big attraction for families, with virtual reality, animal safaris, mini-golf, laser tag, a huge arcade, and a massive waterpark with multiple slides, a lazy river and a wave simulator for surfing.
Sandusky's Mellower Side
Although Sandusky is best known for its amusement parks, the city offers plenty of cultural activities throughout the year. Firelands Symphony Orchestra has six concerts annually, while the landmark Sandusky State Theatre offers plays, musicals and movies throughout the year.
For More Information
Sandusky County Convention and Visitors Bureau
800-255-8070
Ohio Tourism Division
800-282-5393