Columbus
Columbus ranks as the nation's 14th-largest city, but this urban center located in the heart of the Buckeye State exudes a decidedly small-town feel. Credit this to the many friendly neighborhood districts that welcome visitors with cozy eateries and family-friendly attractions. But don't be fooled: Columbus has all the offerings you'd expect in a big city — and more. From exciting cultural attractions to a trendy foodie scene, visitors never run out of places to explore in Ohio's vibrant capital city.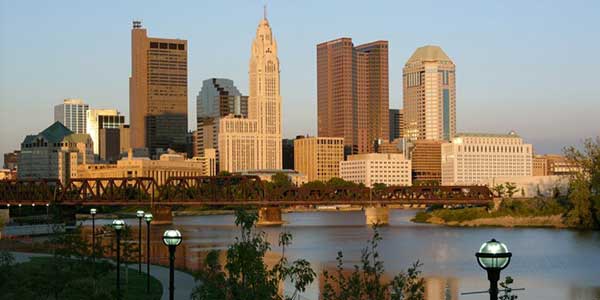 At the Center of It All
Columbus sits at the convergence of interstates 70 (east-west) and 71 (north-south). The Olentangy River merges with the Scioto River in the downtown district, where the modern skyline towers above the surrounding plains. Cincinnati is just over 100 miles to the southwest, while Cleveland, Ohio's second-largest city, is 140 miles to the northeast. With Indianapolis, Louisville and Pittsburgh all within about a three-hour drive, Columbus is an ideal home base, attracting visitors from neighboring states and beyond. Note that the weather changes with the seasons. Spring and fall are delightful, with moderate temperatures. Visitors can expect some hot, muggy stretches in the summer.
Fun on the Water
Over a dozen lakes are scattered around Columbus. Right in town, Griggs Reservoir is an easily accessible spot to toss in a line. Just north of the city, Alum Creek Lake provides clear waters and scenic landscapes for angling and boating. The eponymous state park located on its shores provides a variety of recreational activities. Hunters will want to trek east of the city to the Woodbury Wildlife Area or the Dillon Wildlife Area for game.
Hocking Hills
Head southeast to Hocking Hills State Park to explore some of Ohio's most phenomenal scenery, replete with majestic rock formations and waterfalls. Hiking, mountain biking, archery and fishing are popular activities in the park, while the Hocking River is a top pick for paddling.
Local Color & Activities
The heart of Columbus just might be located at the Scioto Mile, which offers more than 175 acres of green space and skyline views along the Scioto River. Walk, jog or bike the many miles of trails, and explore the interconnected parks. On a hot summer day, kids love splashing in the giant fountains. Highlighting this cluster parks is the Scioto Audubon. Once an industrial area, this space has been transformed into a thriving habitat for wildlife and birds. This property is jammed full of activities for everyone to enjoy, including biking, boating, kayaking, fishing and scaling a 35-foot climbing wall.
Art and Soul
One of Columbus' most distinct neighborhoods is found in the Short North Arts District, pegged the "Art and Soul of the City." You'll find bohemian shops, high-end art galleries and hip food offerings. No shopping experience is complete without a trip to the North Market, where more than 30 stores compete for your attention with fresh and prepared food.
Buckeye Bonanza
Columbus is home to one of the nation's largest universities, Ohio State. Expect to see a sea of red when the Buckeyes play a home game, as fans clad in the school colors fill Ohio Stadium to see this championship-winning football team hit the field.
Fair Times
Columbus is home to one of the nation's largest state festivities, the Ohio State Fair, which kicks off every July. Packed with rides, concerts, exhibits and shopping, this summer spectacular attracts almost a million visitors. Also in July, Columbus celebrates music and food at the annual Jazz & Rib Fest. Enjoy live performances as dozens of competing teams cook up sizzling barbecue along the riverfront. This riverfront space is also home to the Columbus Arts Festival, held in early June. Considered one of the top arts events in the nation, this gathering celebrates visual and performing artists, as well as food and family fun. No visit to Columbus is complete without dining downtown, where you'll find diverse offerings with a modern flair.
Wild Times
Lions, tigers and bears — yep, you'll see those at the Columbus Zoo and Aquarium, along with leopards, bald eagles, bison, a rhinoceros, bobcats, elephants and even a fox or two. In the water, you'll see sharks, stingrays and manatees. You're also going to want to check out the reptile area, which teems with snakes, alligators and turtles. Several family and adult programs help visitors get acquainted with the zoo's residents.
Guten Tag, Columbus
The late 1800s brought waves of German immigrants to Columbus; many settled in an area known as the German Village. The architecture has been meticulously preserved, giving visitors a taste of the Old World. Stroll the cobblestone streets as you explore the cozy shops and restaurants.
More Columbus Greenery
A number of world-class museums and educational attractions dot the Columbus map. A wonderful place for a walk is the Franklin Park Conservatory and Botanical Gardens. Colorful plants and vibrant glass works by the artist Dale Chihuly offer a feast for your senses. Families won't want to miss the Center of Science and Industry (known as COSI), considered one of the nation's best science centers. Institutions like the Ohio Theatre and the Columbus Museum of Art showcase the city's strong arts traditions.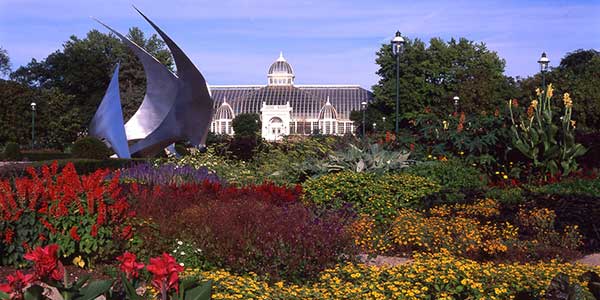 Columbus Ale Trail
If you're a connoisseur of beer, then you're going to want to spend some time visiting the nearly 40 craft breweries that make up the Columbus Ale Trail. Explore some of the most creative brews in North America, with tastes that cover the beer spectrum. Drawing from a variety of influences, Columbus beer makers know their stuff. Sample brews from Wolf's Ridge Brewing, Columbus Brewing Company and Land-Grand Brewing Company to get a feel for the local flavors.
The Topiary Park
The Topiary Park is a unique attraction that features sculpted shrubbery, lovely flower beds and a pond that attracts beautiful birds. Started as a community project, the beautiful garden has taken on a life of its own, inspiring creative green thumbs to cultivate captivating works of art. Expect to see topiary renderings of people, animals and compelling geometric shapes.
Eclectic Experiences
Keep your family active and stimulated at some of the town's distinctive attractions. If you like books, then check out The Book Loft, a 32-room experience offering tomes at bargain prices. Fans of science should check out COSI, the Center of Science and Industry. This is a hands-on museum for kids and adults alike with interactive exhibits.
For More Information
Greater Columbus Convention & Visitors Bureau
866-397-2657
Ohio Tourism Division
800-282-5393