Angel Fire
Nestled in the southern Rocky Mountains, a three-hour drive northeast of Albuquerque and just outside of Taos, Angel Fire is a little town that attracts tourists throughout the year both for its Wild West history and its wide variety of year-round sporting opportunities. Heavy snowfall makes it a popular ski destination in the winter months, while mild summers draw in golfers, hikers and mountain biking enthusiasts galore. Many visitors come here to stay at Angel Fire Resort, which is also ground zero for many of the most popular sporting and recreational activities in the area.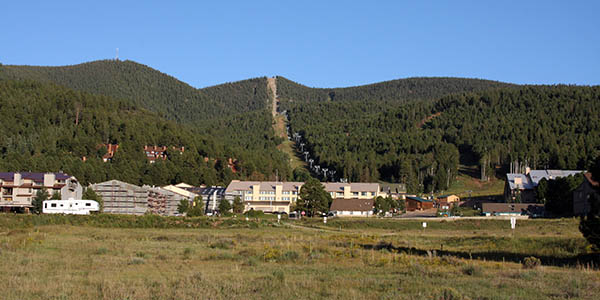 Casting a Line
Popular warm-weather activities here include fly-fishing on the many area waterways, namely the Rio Grande, Red, Cimarron, Costilla and San Juan rivers. Angel Fire is also full of great hiking and mountain biking opportunities — the 22-mile-long South Boundary Trail in the nearby Carson National Forest is particularly thrilling. Other popular summertime activities include disc golf, chairlift rides and mountain biking at the Angel Fire Bike Park, the largest mountain biking park in the Rockies.
Wild West
Those who want to experience cowboy life should get in touch with Roadrunner Tours, which offers trail rides, horse-drawn wagon rides with historical narration and even cowboy-style "chuckwagon" tours, featuring lunch or dinner prepared over campfire grills, cowboy style. Not far from Angel Fire, Laguna Vista Lodge offers Old West experiences, with a haunted hotel, an old-time restaurant, and even an old saloon dating back to 1898.
Hitting the Slopes
For many travelers, Angel Fire's biggest draw is its gorgeous scenery — the town reportedly got its name from its regular orange and pink sunsets, usually at their most vivid during winter months. While Angel Fire is a year-round destination, many people come here for skiing and snowboarding — Angel Fire Resort features over 80 runs, a tubing hill and a specially lit-up slope for those who want to ski and snowboard after dark. Lessons are also available for all levels, and the resort offers GoPro rentals for those who want to capture their epic descents.
Summer Sporting
One of the area's biggest summertime draws is the Angel Fire Resort's par-72, 18-hole golf course, characterized by gorgeous landscapes dotted with coniferous trees against a backdrop of the majestic mountains in the background.
Zipping Over Angel Fire
For families, the Greenbelt Trail System crisscrosses the valley for hiking, running, cross-country mountain biking and horseback riding. For an adrenaline rush, Angel Fire's Zipline Adventure is a three-hour tour that features six ziplines (ranging from 120 to 1,600 feet in length) at the summit, including a tandem zipline over the forest floor, dishing out Rocky Mountain and Moreno Valley views.
Where Eagles Soar (and Fish Bite)
For more fun, head 12 miles to the north for Eagle Nest, a fun small town whose Historic District preserves buildings from the 1800s. Eagle Nest Lake State Park is a popular fishing destination for both locals and visitors. Trout and salmon thrive in the lake, where boat fishing and ice fishing are popular activities. Take a boat ride, go kayaking and canoeing, or simply relax on the banks. Eagle Nest Lake is a prime bird-watching spot, so pack your binoculars.
Carson Game
Carson National Forest sits adjacent to Angel Fire and is a prime spot for fishing and hunting. Trout are the prize catch in the streams that run through the forest, including native Rio Grande cutthroat trout. Small game in the forest includes grouse, mourning dove, gray squirrel and banned-tailed pigeon. Elk, turkey, Rocky Mountain bighorn sheep and mule deer are game for avid hunters.
Enchanted Circle
The Enchanted Circle Byway is an 84-mile loop that takes day-trippers around Wheeler Peak. Head north from Angel Fire and stop to visit the memorial chapel in Vietnam Veterans Memorial State Park. The memorial was begun by Victor and Jeanne Westphall, the parents of Marine First Lieutenant David Westphall, who was among sixteen young men in his unit killed in an ambush in 1968 in Vietnam.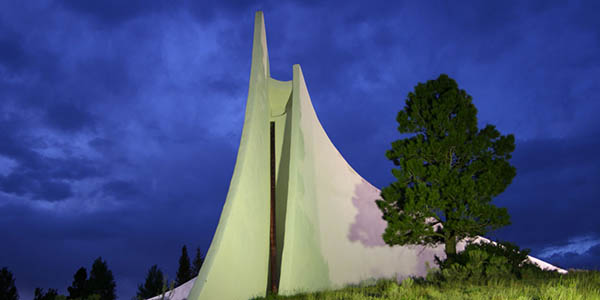 Baskets of Fun
More than 40 brightly colored hot air balloons waft through the sky during the annual Balloons Over Angel Fire festival, held every summer. Watch the balloons glide by from the ground or arrange for a ride in a basket. Spectators, pilots and crews from across North America attend this fun-filled event, which also features food and music.
For More information
Angel Fire Convention & Visitors Bureau
866-668-7787
New Mexico Tourism Department
505-827-7400