Anaheim
Orange County's largest city offers more than just Mickey, Main Street and white-knuckle attractions. Over the last few years, Anaheim has broadened its appeal with trendy shopping centers, a fine al fresco dining scene and excellent sports scene that includes the Honda Center, home to the Anaheim Ducks. With the Orange Coast's iconic beaches and the backcountry wilderness of Crystal Cove State Park and Catalina Island within striking distance, Anaheim is a convenient base for families looking to bookend Disney's attractions with historic sites and breathtaking natural wonders. Anaheim lies 25 miles south of Los Angeles and 95 miles north of San Diego, but it's more than just a stopover.
Real-life Adventureland
Looking for a rustic experience close to the city? Orange County's regional park system comprises 25 urban and wilderness parks, seven historic sites and 230 miles of regional riding and hiking trails. Santiago Oaks Regional Park, just 13 miles to the east, provides vast expanses of wide-open space without the blare of traffic or masses of huge crowds. This park sits on the banks of the Santiago Creek and covers 1,269 acres of mountains, orange trees and a mature forest. Several trails for hiking and biking give visitors a chance to burn off calories and appreciate nature at the same time. Santiago Oaks also has a nature center that offers exhibits and programs throughout the year.
Back to the Beach
Within a 40-minute drive of Anaheim, Orange County's Pacific coast unfurls with white-sand beaches, tide pools and pristine coves fronted by a string of SoCal seaside towns. Hang 10 at the much-storied Huntington Beach (one of the nation's top surf spots) and impossibly pretty Laguna Beach. From Newport Beach, you can take the Catalina Flyer to Catalina Island. Just 25 miles south of Anaheim, Crystal Cove State Park is one of the few remaining pristine coastal enclaves in Orange County. Within the park, history and nature blend with thousands of acres of backcountry wilderness (with 18 miles of scenic trails), a marine conservation area and the original seaside colony dotted with coastal cottages constructed in the 1930s and '40s.
Anaheim Highways
While Anaheim's main calling card is Disneyland (see below), Anaheim's downtown and historic districts serve up a clutch of sights, attractions and parks worthy of exploration. The revamped Center Street Promenade is dotted with al fresco cafés, delis and eclectic boutiques. Hip and historical in equal measure, the Anaheim Packing District is comprised of the Anaheim Packing House (now a gourmet food hall) and the Packard Building, a renovated 1925 Mission Revival-style building. A farmers market here offers up some of the area's harvests along with gourmet food. Nearby, the leafy expanses of Pearson Park center on a Spanish-style amphitheater with arbors draped with colorful wisteria and bougainvillea. Just west of the original Anaheim Colony, Founders' Park celebrates Anaheim's cultural and agricultural heritage.
Disney California Adventure, Disneyland Resort
While there may be flashier Disney parks across the globe, the original Disneyland still exerts an extraordinary pull on theme park lovers young and old. With rides like the Matterhorn, Pirates of the Caribbean and It's a Small World, this sixty-plus-year-old park retains the magic of founder Walt Disney's vision. Frontierland caters to young children and teens with crowd-pleasing attractions, including Big Thunder Mountain Railroad, a roller coaster that swoops through a desert landscape to an 1870s gold mine. In Tomorrowland, Space Mountain takes riders on a futuristic, high-speed adventure. Next door, California Adventure, Disneyland's companion park, wows crowds with Radiator Springs Racers and Grizzly River Run.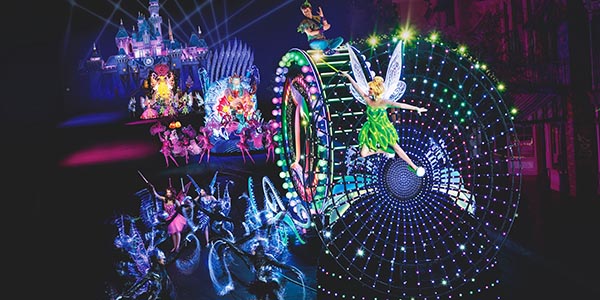 Festivals and Events
In March, Huntington Beach's Central Park is the stage for Civil War Days, one of California's best living history experiences. During this event, actors and local volunteers in full military garb and period dress re-enact the battles between Confederate and Union forces. In early October, the Orange County International Auto Show features an extensive lineup of cars, sport utility vehicles, concept cars, race cars and preproduction models.
Anaheim's Old Days
While it was Disneyland's grand unveiling in 1955 that thrust Anaheim onto the tourist radar, the town's origins date to 1857, when the city was founded by 50 German-Americans. After it was incorporated in 1870, Anaheim became the epicenter for California's budding wine industry. When a blight decimated the vineyards in the 1880s, citrus fruits replaced grapes as the county's primary industry. The Anaheim Heritage Center preserves more than a million artifacts that provide a chronological sweep of Anaheim's history, from Native Americans to the development of Disneyland. The Muzeo Museum and Cultural Center is housed in the historic 1908 Carnegie Library building and features treasures ranging from fossils and ancient Native American wares to Disneyland memorabilia.
More Thrills and Spills
If you don't get your fill of theme park thrills from Disney, you'll be happy to learn that it's not the only game in town. Knott's Berry Farm, just 8 miles west of Disneyland in Buena Park, has been welcoming visitors since the 1930s. First operating as a fruit stand and then a restaurant, the park grew to become an entertainment attraction a decade later. The park packs plenty of thrill rides, but it still clings to the wholesome family image that manifests itself in the hearty meals served to patrons.
Anaheim Area Arts
The Sawdust Art and Craft Festival offers year-found exhibits and events for lovers of painting and sculpture. Take a class or peruse a gallery of creations from local artists. The Bowers Museum in nearby Santa Ana displays everything from Native American artifacts to modern art. Exhibits for kids engage little ones.
For More Information
Anaheim Tourism
714-765-2800
California Tourism
877-225-4367