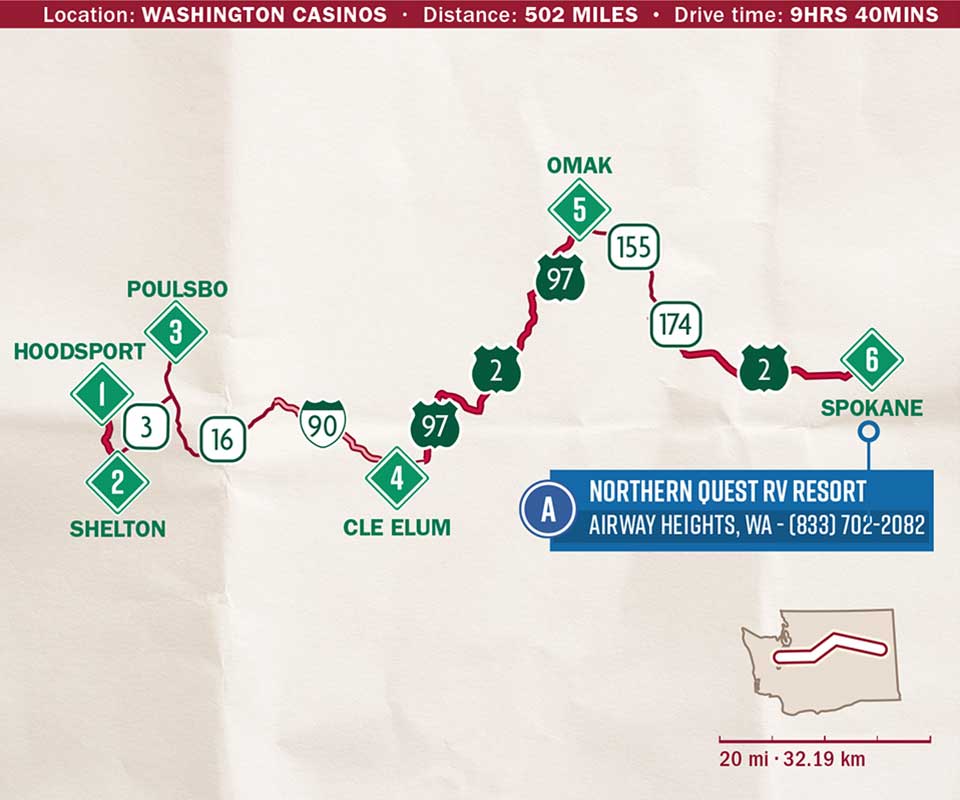 From big city parks to small town trails, a drive through the Washington Cascades region will relax your body and renew your spirit. Take on a challenging mountain bike ride or hike to that quiet overlook, catching a glimpse of heaven in a stunning evening sunset. View exotic marine life on a scuba dive at Octopus Cove, or snag the winning fish at a salmon derby. Beat the house at poker, or steer a horse downhill on a suicide race. Whatever the dream, your escape awaits you on this tour from Hoodsport to Spokane.
1. Hoodsport
Starting Point
Its name says it all: sporting along the Hood Canal is second nature to Hoodsport's residents. Scuba divers frequent the area to catch a view of the giant Pacific octopus, along with wolf eels and plumose anemones. Many water enthusiasts fish and kayak on Cushman Lake and the Hood Canal Salmon Derby delivers cash prizes and bragging rights to the capturer of the largest chum salmon. Towering over all of this activity is Olympic National Park — and this charming little port town is the perfect staging area for a visit.
2. Shelton
Drive 16 miles • 30 minutes
With an economy centered around logging, Shelton is surrounded by the vast Olympic National Forest. But because of its location on Oakland Bay, interaction with marine life is always an exciting pursuit at Jarrell's Cove or Harstine Island State Park. If you are looking for more fast paced adventure, race down to the Ridge Motorsport Park and indulge your need for speed on motorcycles or cars. In the evening, slow down long enough to win some cash at a black jack table or with a one-armed bandit at Little Creek Casino.
3. Poulsbo
Drive 51 miles • 1 hour, 6 minutes
Founded by Norwegian settlers, this port along Liberty Bay looks like a postcard from Scandanavia. The pedestrian-friendly Little Norway district is full of boutiques and unique restaurants overlooking the harbor, which is home to water traveling vessels of all sizes. Pick up some Viking donuts at Sluys Bakery, then visit the Marine Science Center and the Maritime Museum for a morning adventure. Take to the sea for an afternoon sailboat ride, then end your day with a pleasant evening stroll along the city boardwalk. And say hello to a 12-foot Norseman!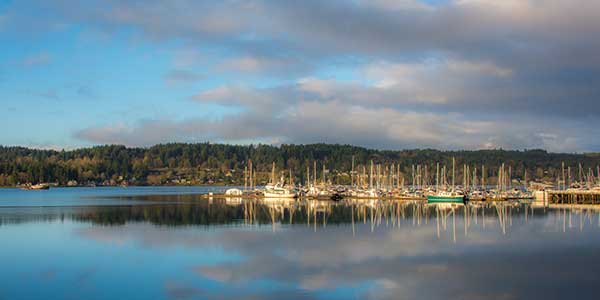 4. Cle Elum
Drive 142 miles • 2 hours, 26 minutes
Touted as a central hub for hiking, Cle Elum is located close to Iron Horse State Park, as well as Palouse to Cascades State Park Trail, where hundreds of miles of hiking await the avid outdoorsman. Washington State Horse Park provides recreational trails for the equine lover and if you prefer hiking down a fairway, bring your clubs to Suncadia Rope Rider Golf Course. Enjoy a taste of the good life at Swiftwater Cellars Winery, then tour the Carpenter House, where history and art intertwine.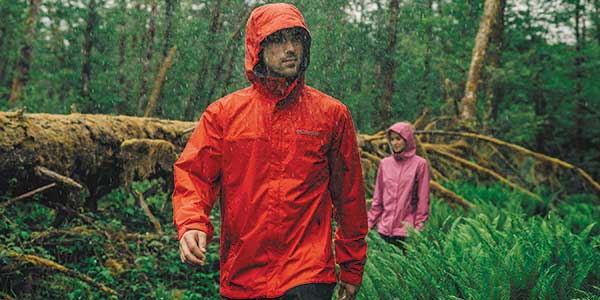 5. Omak
Drive 154 miles • 2 hours, 51 minutes
This small Washington town is an outdoor recreation powerhouse, because of its proximity to the largest national forest on the west coast and several ski areas. Cycling and hiking trails abound and rock climbing in the Omak-Okanogan region is legendary. Snowmobiling through mountainous terrain in winter leads to ATV trails during the summer months here. Check out the 12 Tribes Resort Casino for gaming action.
6. Spokane
Drive 139 miles • 2 hours, 47 minutes
Providing a gateway to outdoor activities, Spokane has created an expansive park system, along with intriguing art installations and displays. Its downtown is extremely walkable, with an innovative skywalk system covering 13 blocks. Enjoy historical architecture in Browne's Addition district, then peruse the extraordinary exhibits at the Smithsonian-affiliated Northwest Museum of Arts and Culture. Tap your feet at the summer concert series, then linger at an outdoor movie in Riverfront Park. Or just wander the downtown river walk, cooled by mist from Spokane Falls. Go gaming in the area's casinos. Get great views of the cascade by taking a ride up the Spokane Falls Skyride, which transports visitors over the spectacles via gondolas suspended by a cable. When you step off the Skyride, peruse the sculpture walk.
Recommended Stopovers
Northern Quest RV Resort • Airway Heights, WA – (833)702-2082