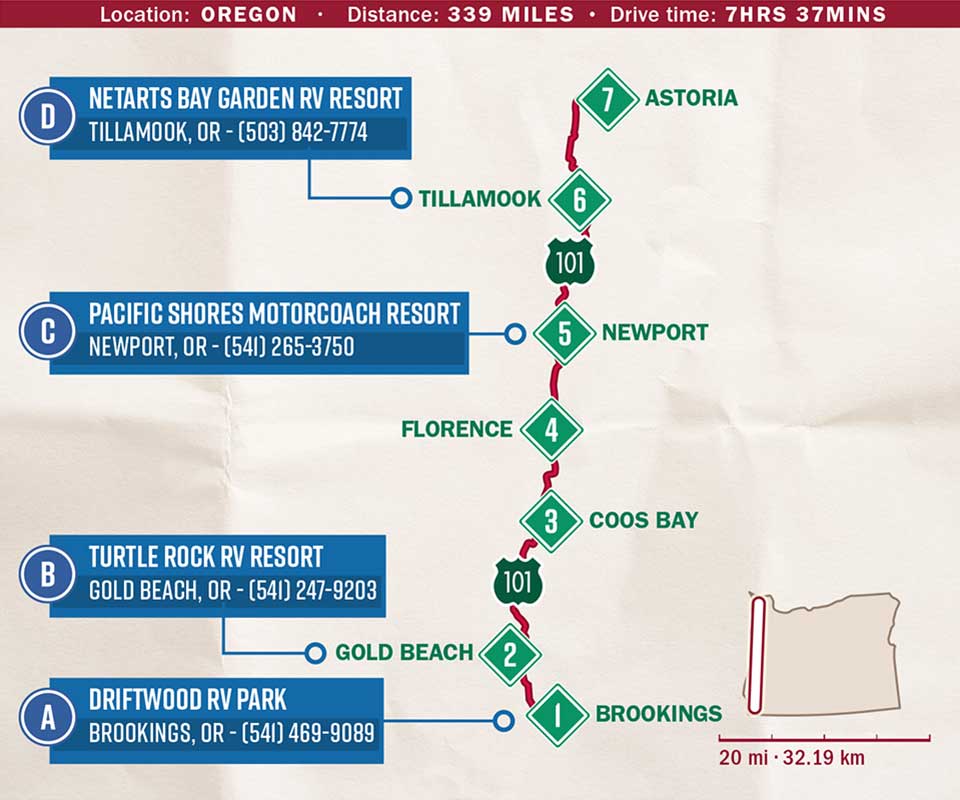 Taking a drive along Oregon's Pacific Coast is a feast for the senses. Fall under the spell of its jaw-dropping views of rugged coasts and savor the fresh seafood, from Dungeness crab to rich chowder to succulent salmon. Active travelers will find no shortage of fun, from riding jetboats up the rogue river to riding ATVs over towering dunes.
1. Brookings
Starting Point
Part of Oregon's warm-weather "Banana Belt," Brookings draws outdoor enthusiasts year round. The Chetco River, which empties into the Pacific Ocean here, lures anglers with its superb salmon, steelhead and trout fishing, as well as opportunities for relaxing family floats, swimming and boating. To the east, the Kalmiopsis Wilderness Area/Siskiyou National Forest is a mystical region of yawning canyons, serrated ridges, and crystalline mountain streams and rivers with over 24 hiking trails.
Recommended Stopovers
Driftwood RV Park • Brookings, OR – (541)469-9089
2. Gold Beach
Drive 28 miles • 35 minutes
The Rogue River empties into the Pacific in Gold Beach, a fantastic base for year-round adventure. In addition to whale-watching, tide-pool exploring and hiking, Gold Beach is the launch pad for jet boat excursions on the Wild and Scenic Section of the Rogue River (between May and October). See bears, otters, seals, beavers, ospreys and more. Take the epic 104-mile trip to the Rogue River Canyon or take a slower ride up the Rogue for trophy salmon and winter steelhead; outfitters offer fly fishing and conventional fishing trips for single or multiple days. Gold Beach trails don't require difficult climbs to reach breathtaking sights.
Recommended Stopovers
Turtle Rock RV Resort • Gold Beach, OR – (541)247-9203
3. Coos Bay
Drive 79 miles • 1 hour, 39 minutes
The South Slough of the Coos River is comprised of the 4,800-acre South Slough National Estuarine Research Reserve, a protected area of land and estuary populated by harbor seals, brown pelicans, bald eagles, osprey, great blue herons, egrets and belted kingfishers. Outfitters throughout the bay offer scenic paddles as well as more adrenaline-infused canoe or kayak adventures through tidal and freshwater wetlands, riparian areas and open water channels. South Slough's short, novice hiking trails also yield excellent birding opportunities and stunning wildflowers in the Spring.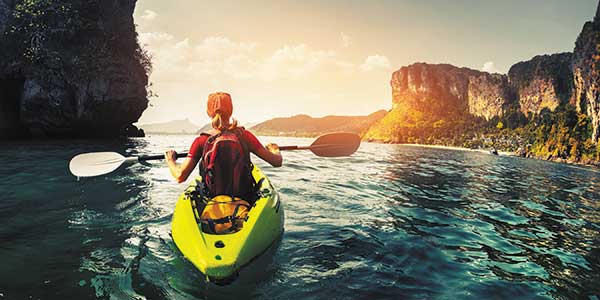 4. Florence
Drive 49 miles • 1 hour, 5 minutes
Florence's atmospheric waterfront and old town kernel dotted with restored wooden buildings from the 1800s is a pleasant place to wander before moving on to the town's eminent role as the "Gateway to the Oregon Dunes." Stretching for 40 miles along the Oregon Coast to form the largest expanse of coastal sand dunes in North America, the Oregon Dunes entice ATV and dune buggy riders to explore rolling terrain. Prefer boots to tires? You can hike through coastal forests of Douglas-fir and Sitka spruce, take a horseback riding tour and enjoy a diversity of water sport activities on over 30 lakes and ponds. Bring your fishing pole for fantastic catches in these tranquil waters.
5. Newport
Drive 49 miles • 1 hour, 8 minutes
Buzzing with cultural and shopping attractions, Newport's super fresh seafood has transformed the town into a foodie destination. Dine at the Local Ocean, a beloved Bayfront institution. One of the U.S.'s top aquariums, the Oregon Coast Aquarium features sea otters, seals, a giant octopus, sharks and jellyfish. Newport's Yaquina Bay is famed with anglers for its superb off-shore fishing and is one of Oregon Coast's safer ocean access points. Newport is a consistent spot for Chinook fishing, coho salmon catches, Dungeness crab, bottom-fishing trips for rockfish and seasonal halibut and tuna fishing.
Recommended Stopovers
Pacific Shores Motorcoach Resort • Newport, OR – (541)265-3750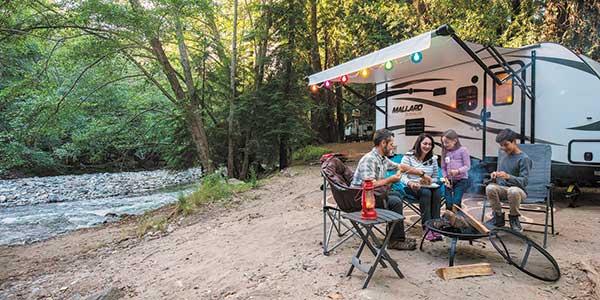 6. Tillamook
Drive 69 miles • 1 hour, 35 minutes
The Tillamook's Cheese Factory has become the city's primary attraction for road trippers. Self-guided tours of the factory allow visitors to view the cheesemaking and packing process (more than 170,000 pounds produced per day) from a raised gallery. Outside of town, the 40-mile long Three Capes Scenic Drive showcases three state parks and some of the Oregon coast's most photographed natural attractions, including the famed promontory of Cape Kiwanda. Nearby is Netarts Bay, an accessible clamming area where you can dig for clams and crabs at low tide, and it's also one of Oregon's most reliable spots for boat and bank crabbing.
Recommended Stopovers
Netarts Bay Garden RV Resort • Tillamook, OR – (503)842-7774
7. Astoria
Drive 65 miles • 1 hour, 8 minutes
Where the Columbia River spills into the Pacific Ocean, Astoria has earned the nickname, "Little San Francisco," for its restored Victorian houses and buildings. The restoration of the Liberty Theater, a revitalization of the waterfront area and construction of the five-mile-long Astoria Riverwalk trail has ignited a dynamic arts community. Along buffed streets, restored hotels and historic properties nudge up against hip coffee shops, brewpubs and a handful of museums, including the Colombia River Maritime Museum, a major draw for families. Go kayaking or paddleboarding on the Columbia River, or drop a line for salmon. Glimpse the past by touring Fort Clatsop/Lewis and the fascinating Clark National Historic Park.