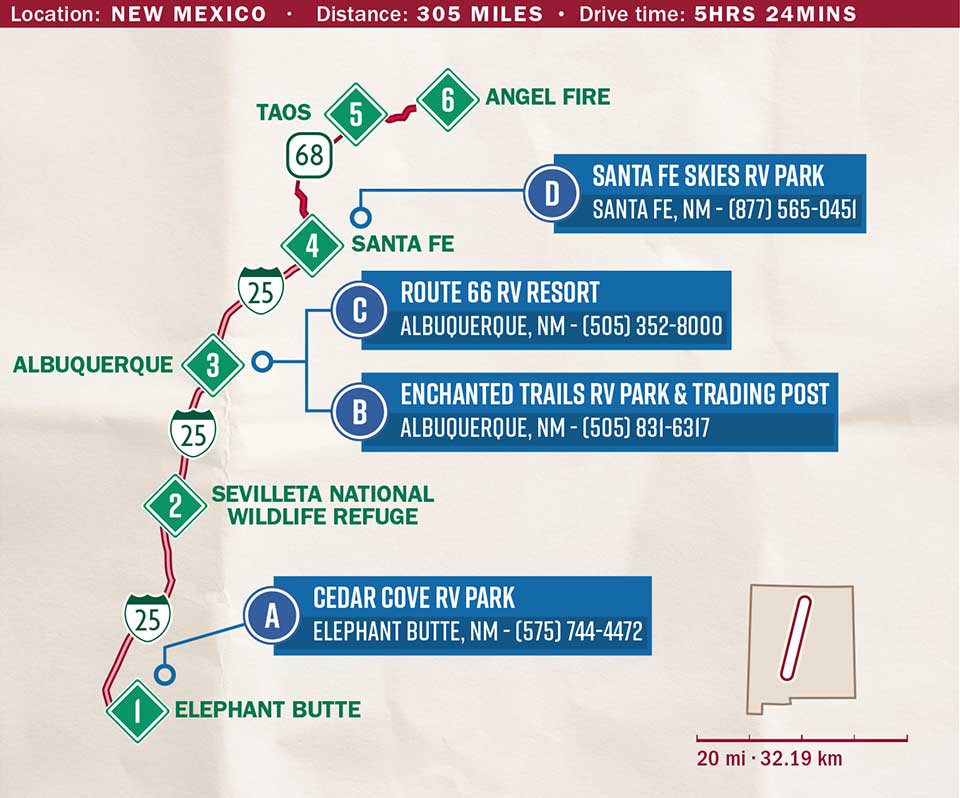 Spanish colonial history mingles with jaw-dropping scenery in the Land of Enchantment. Add hearty Tex-Mex cuisine and a vibrant art scene to the mix, and you've got a Southwest travel experience that you won't soon forget.
1. Elephant Butte
Starting Point
Begin your journey at a fisherman's paradise. Elephant Butte Lake is New Mexico's largest body of water with a temperate climate year-round. Launch a boat on one of the lake's marinas and fish for its hefty black, white and striped bass, as well as crappie and bluegill. Enjoy spectacular views of the lake on many hiking and biking trails (Engle and Cuchillo are popular routes for the latter) that ascend the lake's namesake rock formation. Looking for history? Explore Hillsboro, Kingston, Winston/Chloride or Cuchillo, nearby mining towns that date back to the 19th century.
Recommended Stopovers
Cedar Cove RV Park • Elephant Butte, NM – (575)744-4472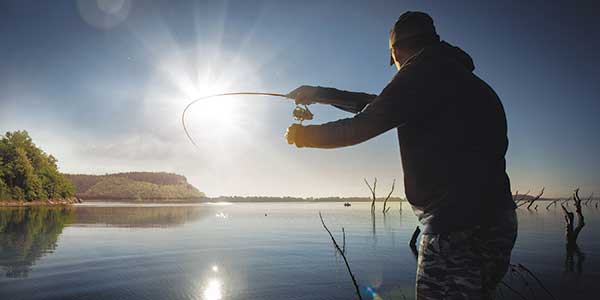 2. Sevilleta Wildlife Refuge
Drive 91 miles • 1 hour, 20 minutes
Continue your Southwestern adventure at the Sevilleta National Wildlife Refuge. From the visitor center, take your choice of trails, like the Mesa View Trail, Nature Loop or Wildflower Loop. Look out for coyotes, rabbits and lizards. Hunters can bag game at several spots in the refuge. Pack a picnic and don't miss San Lorenzo Canyon for impressive sandstone scenery, ideal for photographers. If you're into cross-country cycling, the nearby Cerrillos de Coyota racecourse is the perfect place.
3. Albuquerque
Drive 56 miles • 50 minutes
Albuquerque is New Mexico's largest city, so it's no surprise to find out that ample history and adventure thrive within its borders. Head on over to Old Town, established in 1706, and explore the district's many boutiques and art galleries nestled amid classic pueblo-style buildings. When you're done, stroll down the road for classic New Mexican cuisine at Monroe's. If you're still craving more nature, visit Petroglyph National Monument on the city's west side to see thousands of prehistoric Native American drawings, or take a ride on the Sandia Peak Tramway for stunning views of the city below.
Recommended Stopovers
Enchanted Trails RV Park & Trading Post • Albuquerque, NM – (505)831-6317
Route 66 RV Resort • Albuquerque, NM – (505)352-8000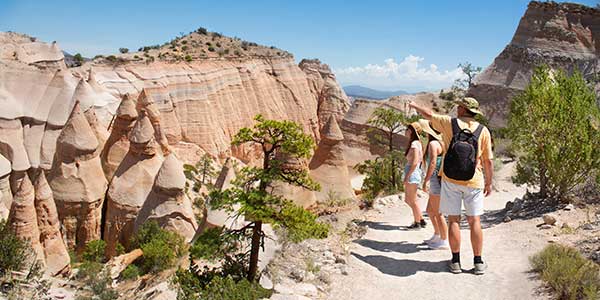 4. Santa Fe
Drive 64 miles • 1 hours, 4 minutes
The state capital of Santa Fe has something for everyone. Head to the Georgia O'Keeffe Museum and then take a walk down Canyon Row to pop into the many galleries and artist studios that line the street. Take a margarita break at Del Charro before taking a short walk to Santa Fe Plaza, where you can browse Native American art and jewelry. In the summer,  the plaza hosts "Santa Fe Bandstand," eight weeks of free, outdoor live music. If you want to learn more about New Mexico's Native Americans, head over to the Museum of Indian Arts and Culture. Encircled by the Sangre de Cristo Mountains and with access to almost 1.5 million acres of national forest, Santa Fe is a great launching pad for outdoor adventures.
Recommended Stopovers
Santa Fe Skies RV Park • Santa Fe, NM – (877)565-0451
5. Taos
Drive 70 miles • 1 hours, 31 minutes
Start at one of Taos's most famous sites, Taos Pueblo, to see the 1,000-year-old adobe houses and learn about the region's history and culture. For some Old West history, stop by the Kit Carson Home and Museum of the famed cowboy and see what life was like in the 1800s at this historic, Spanish-style colonial home. Later, get inspired at the Taos Art Museum before shopping for local silver and turquoise jewelry and textiles. If you've been loving that southwestern cuisine, take a cooking class over at Cooking Studio Taos.
6. Angel Fire
Drive 24 miles • 38 minutes
Finish your trip in the mountain community of Angel Fire for unadulterated outdoor adventure. You'll find popular ski slopes in the winter and hiking, biking, ziplining and golfing in the summer. Take in your final moments of New Mexico scenery by driving the Enchanted Circle through mesas, valleys and mountains. Folks can experience cowboy life with Roadrunner Tours.