From iconic beaches to understated vineyards, rambunctious amusement parks to placid lakes, Southern California offers extreme variety and adventure in a sun-drenched package. On this loop drive sample the waters of the Pacific from a surfboard in San Diego or Oceanside, then meander into a desert oasis of mineral spas at Lake Elsinore or Desert Hot Springs. Along the way indulge your inner child at the "Happiest Place On Earth," then find respite and Riesling in Temecula.
1. San Diego
Starting Point
The jewel of Southern California extends a generous welcome to visitors along the state's southern border. San Diego has cultivated its reputation for outstanding art and a colorful history, presented in an easygoing environment. With enough cafes and bistros to satisfy every palate, the city also serves up an enormous selection of engaging outdoor activities ranging from surfing and sea kayaking along its sun-kissed beaches to a visit to the world famous San Diego Zoo. And don't miss an excursion to the "Smithsonian of the West," Balboa Park, and the stately Coronado Hotel.
Recommended Stopovers
Chula Vista RV Resort • Chula Vista, CA – (800)759-0148
Mission Bay RV Resort • San Diego, CA – (877)219-6900
Santee Lakes Recreation Preserve • Santee, CA – (619)596-3141
2. Oceanside
Drive 38 miles • 40 minutes
This little beach town is the classic laid-back getaway destination. From hitting the links on six golf courses to indulging in Spanish history at Mission San Luis Rey, Oceanside is an undiscovered playground on the California coast. Skate, walk or jog along six miles of beach roads, sign up for a surfing lesson or take to the sea for a whale-watching adventure. And on the few occasions when the sun might sneak behind a cloud, wander through the Oceanside Museum of Art and the California Surf Museum or end the day at the Oceanside Fishing Pier to catch the big one.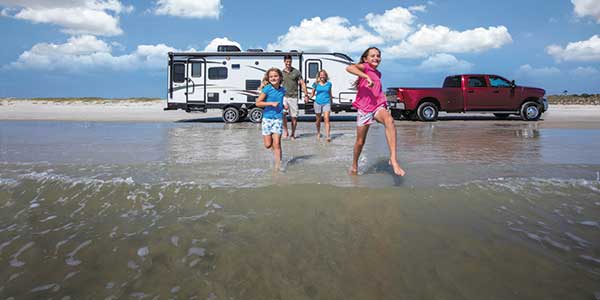 3. Anaheim
Drive 59 miles • 59 minutes
What started with 50 German families interested in creating a vineyard in the 1850s has grown into one of the world's most visited tourist destinations, with Disneyland and the adjoining Disney California Adventure Park changing the agricultural region into a tourist-based economy. Get acquainted with Mickey before strapping into thrill rides like the Matterhorn, Space Mountain and Pirates of the Caribbean. Anaheim has perfected the art of hospitality, introducing visitors to dozens of attractions and even a major league baseball team, the Angels. Its proximity to many popular beaches provide sun worshipers with chances to surf and boat and it's home to several well-respected museums.
Recommended Stopovers
Dockweiler RV Park • Playa Del Rey, CA – (800)950-7275
4. Lake Elsinore
Drive 45 miles • 47 Minutes
Once inhabited by Native Americans whose pictographs can be found in the surrounding mountains, this community is built around Southern California's largest natural lake. Visitors can enjoy a day of waterskiing, wakeboarding, fishing and boating. Or for something a little tamer, try your luck with a one-armed bandit at the Lake Elsinore Casino. Soak in the rich mineral hot springs at the Chimes, or stroll through the enchanted historical Country Club Heights district while keeping an eye open for the palatial castle built by Aimee Semple McPherson, a pentecostal preacher who rocketed to fame in the 1920s.
5. Desert Hot Springs
Drive 73 miles • 1 hour, 18 minutes
This desert gem holds within its boundaries natural springs with both hot and cold water, making it a truly unique vacation destination. "Spa City" was founded on the Mission Creek branch of the San Andreas Fault and several charming boutiques in the mid-century modern architectural style have popped up to service its many visitors. Enjoy a dip in the mineral springs pool, then venture out into the desert at nearby Joshua Tree National Park, whose dramatic rock formations and the park's namesake vegetation never fail to thrill hikers. Or shoot a hole-in-one on any of six challenging golf courses in this popular snowbird mecca.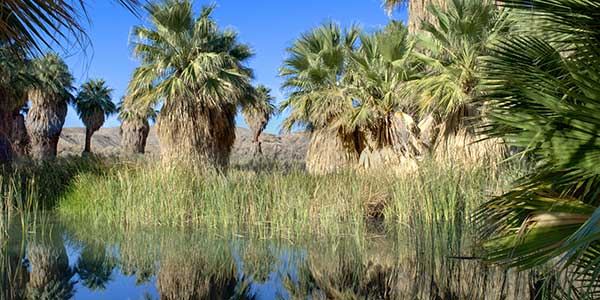 6. Indio
Drive 27 miles • 31 minutes
This "City of Festivals" is full of enticing events and attractions in which to indulge. Founded as a railroad hub, Indio soon became the agricultural center of the region. And that designation is evident at Shields Date Garden, where date shakes and pancakes are served up daily. Take in the Coachella Valley History Museum, then enjoy a rousing game of polo at the Empire Polo Club. Choose from dozens of bistros and cafes that offer delectable meals designed to satisfy even the most discernible tastes. End your day with an engaging show at Indio Performing Arts Center.
7. Temecula
Drive 75 miles • 1 hour, 44 minutes
Located in Southern California's wine country, Temecula is a city with an eclectic history, which is reflected today in its extensive variety of artisanal foods, outdoor festivals and relaxed entertainment. Visit any one of 40 vineyards for exceptional wine and hand-crafted cuisine, or wander through Old Town for a taste of history. Shop at several trendy boutiques or spend time selecting locally sourced fruits, vegetables and art at the farmers market.
Drive 58 miles, 57 minutes back to San Diego to complete the loop.