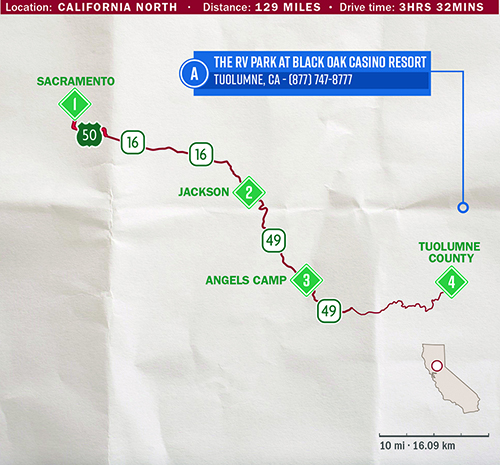 This trip shepherds you from the downtown streets of the California state capitol to the towering mountain peaks of the High Sierras. Along the way, you'll explore the heart of "Gold Country" and the boom towns of California's Gold Rush era of the late 1840s. Time it right and you'll even catch a frog jumping contest.
1. Sacramento
Starting Point
In the state capital, two of America's great rivers — the San Joaquin and the Sacramento — combine to form the state's largest watershed. Bring your fishing gear, because the Pacific salmon and trout run here. You can also take thrilling rafting and paddling adventures. And you don't have to get wet to experience the nearby American River. Hike, bike, jog or just stroll the American River Trail, 32 gorgeous miles from downtown Sacramento all the way to Folsom. Take a ride aboard the Delta King riverboat, which puts on dinner cruises as it plies the Sacramento River.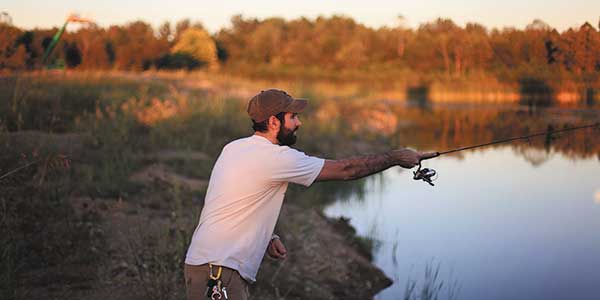 2. Jackson
Drive 48 miles • 1 hour, 5 minutes
Jackson, California was a boom town during the nation's Gold Rush of the late 1840's. You'll find handsome buildings on National Register of Historic Places. You'll also find gold mines and mining history. Two-mile-deep California gold mines were big earners — the Kennedy Gold Mine and the nearby Argonaut Mine, both in the Jackson area. Nearby, Kirkwood Mountain Resort offers hiking, swimming and fishing. Nestled in the Sierra Nevada foothills, church spires and oak-covered hillsides lend to the community's rural charm.
3. Angels Camp
Drive 28 miles • 39 minutes
In 1865, in the Angels Hotel, a certain writer named Mark Twain heard a tall tale he turned into his famous short story, "The Celebrated Jumping Frog of Calaveras County." Well, that story, that writer and the pastime of frog jumping are still celebrated Calaveras County Fair each May. And Mr. Twain's a VIP here. Hang around for a "Twain Talk" at the Mark Twain Trading Post; walk the Mark Twain History Trail and be sure not to miss the Angels Camp annual Mark Twain Wild West Fest in October.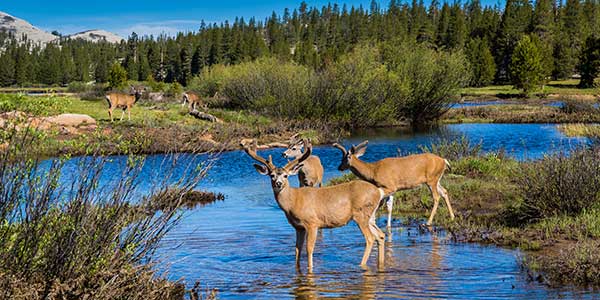 4. Tuolumne County
Drive 53 miles • 1 hour, 48 minutes
Tuolumne County is really a 3-in-1 outdoor vacation destination. You're close by California's historic "Gold Country," the breathtaking High Sierra mountains and Yosemite National Park. If you can visit only one, choose Yosemite. You'll find nearly 1,200 square miles (about the size of Rhode Island!) to explore and 95 percent of it is pristine wilderness. That's your passport to endless outdoor adventuring including hiking, backpacking, camping, biking, birdwatching, fishing, picnicking, rock climbing and more. You can take a guided tour, participate in a Ranger interpretive program, even take a RV road trip on Yosemite's 214 miles of paved roads.
Recommended Stopovers
The RV Park at Black Oak Casino Resort • Tuolumne, CA – (877)747-8777