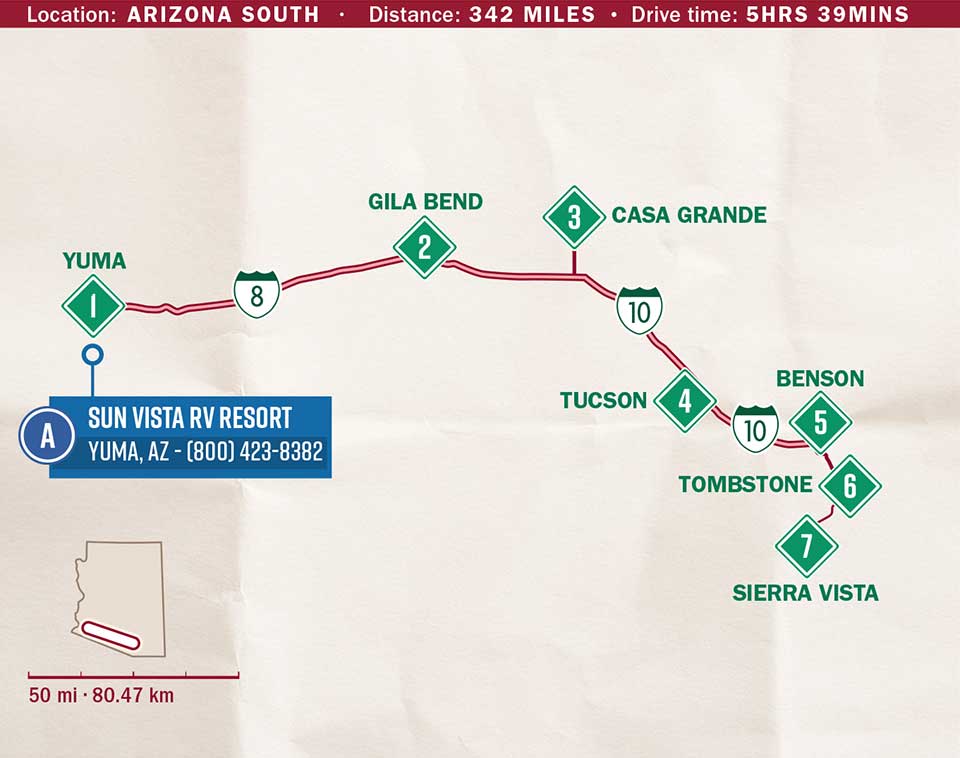 The West has never stopped being wild in southern Arizona. Along this route, travelers can hike near cacti that tower up to 70 feet or explore stunning mountains once patrolled by Apache warriors. Float the lazy current of the Colorado River or walk the streets of Tombstone, site of an infamous 1881 shootout. Starting in Yuma to the west and snaking eastward across the state's southern half, this trip is full of surprises.
1. 
Yuma
Starting Point
Famous for having more sunshine than any other U.S. town, Yuma's temperatures can climb to triple digits. Fortunately, you can savor a refreshing, farm-fresh feast by participating in one of the many agritourism attractions in town. Check out From the Farm, a dining experience that reveals the secrets of grandmother's cooking. Prefer boating on the Colorado River? Several outfitters rent canoes, kayaks and boats for adventures on the waterway. Let the river do the work with Yuma River Tubing; simply sit in an inner tube and ride the current, watching the sights drift by. Van rides are provided for a round trip.
Recommended Stopovers
Sun Vista RV Resort • Yuma, AZ – (800)423-8382
2. 
Gila Bend
Drive 116 miles • 1 hour, 45 minutes
Gila Bend is the gateway to Sonoran Desert National Monument, home to spectacular desert landscapes and stunning biodiversity. The saguaro cactus forest dazzles visitors. You can explore the beautiful park by hiking, horseback riding, camping and stargazing. Check out ancient rock inscriptions and symbols at Painted Rock Petroglyph Site.
3. Casa Grande
Drive 65 miles • 1 hour, 3 minutes
Casa Grande is a mining town founded by settlers in 1879, but this area's history stretches back centuries to the ancient Sonoran Desert people. Learn about this Native American community in the nation's first archaeological preserve at the Casa Grande Ruins National Monument.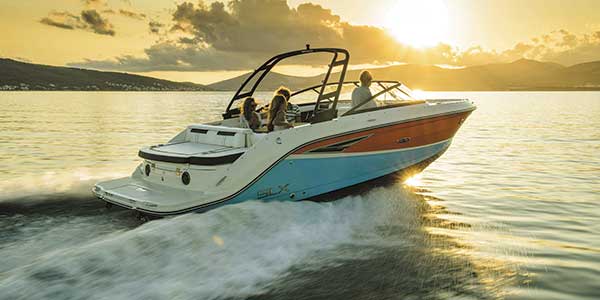 4. Tucson
Drive 71 miles • 1 hour, 9 minutes
Arizona's second-largest city boasts amazing historic architecture, which is exemplified by the El Presidio Historic District and the adobe row houses of Barrio Historico. Southwest of town is the stunning Colossal Cave Mountain Park. As you continue your trip down to Tucson, be sure to stop at Saguaro National Park to view the picture-perfect cacti. Outside of town, the world-famous Kitt Peak National Observatory studies astronomical phenomena from black holes to nebulas throughout the galaxy. Join a tour to learn more about this state-of-the-art facility, which sits about 7,000 feet above sea level.
5. Benson
Drive 48 miles • 46 minutes
This small town once served as a transportation center for the Pony Express, the Butterfield Overland Stagecoach route and the Southern Pacific and Santa Fe railroads. Today, visitors stop to see nearby attractions like Kartchner Caverns State Park, where visitors can explore 2.4 miles of limestone caves. Ready to head to the hills? Steer your vehicle toward the craggy peaks of the Dragoon Mountains to the east of Benson, home to the Cochise Stronghold. It was here that the area's namesake waged a guerrilla war against the U.S. Cavalry.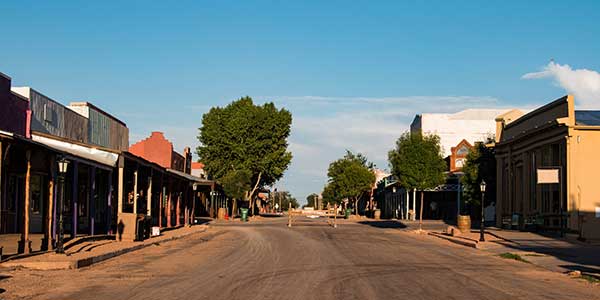 6. Tombstone
Drive 24 miles • 28 minutes
One of the last "boomtowns" of the 19th century's gold rush and the site of America's most famous showdown, Tombstone is the place for Wild West history. Walk down historic Allen Street and check out reenactments of the 1881 gunfight, when the Clanton and McLaury families faced off against the Earp brothers and Doc Holliday.
7. Sierra Vista
Drive 19 miles • 29 minutes
Hoppin' Grapes. Toast a great trip with a glass of wine in "Napa-zona." Sierra Vista is the new place for vintages, with more than two dozen licensed wineries in the region, like Hoppin' Grapes. Watch migrating hummingbirds flit among the wildflowers during their annual migration. Road cyclists looking for long, winding roads with low traffic can't beat the stretches of asphalt in and around Sierra Vista. The ride to Coronado National Memorial is a 16-mile up-and-back trip for road bikes and hybrids. For in-town cruising, ride the paved paths that criss-cross Sierra Vista.