Spanning three provinces and two countries, this epic road trip winds over 2,000 miles through some of the most awe-inspiring landscapes on the planet. From the grandeur of the Canadian Rockies to getting hands-on with dinosaur fossils, to experiencing cowboy culture at world famous rodeos, this once-in-a-lifetime trip across western Canada serves up the best of the northwest. To top it off, the trip ends in Fairbanks, Alaska, where some of the world's purest wilderness and wildest adventures await.
1. 
Lethbridge
Starting Point
With an average of 320 days of sunshine a year, this small prairie town is a can't miss stop in all four seasons. Surrounded by wide, glacially-carved river valleys, there are plentiful hiking opportunities on the area's well-maintained trails, including the Coal Banks Trail that extends through town and connects to numerous other pathways in the area before depositing hikers at picturesque Henderson Lake. For an even greater appreciation of the landscape, connect your trip to Great Falls, Montana, just three hours south across the border, where some of the U.S.'s most scenic parks are within striking distance.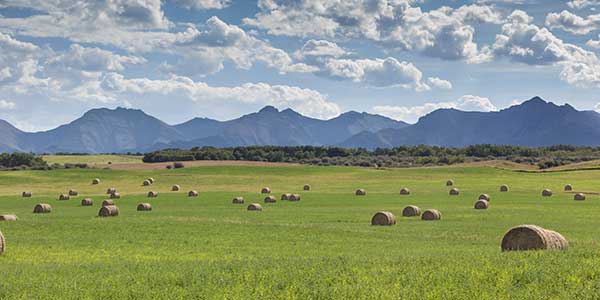 2. 
Calgary
Drive 132 miles • 2 hours, 15 minutes
Two hours north, "Cowtown" rises from the prairie landscape to dazzle visitors with a bevy of cultural attractions, serene green spaces and one of the wildest parties you'll ever encounter. The Olympic Park and Calgary Tower are classic tourist destinations, while those in the know sneak off to Prince's Island where a trail system connects the urban environment with a wetlands preserve. The biggest draw in the city, though, is the annual Calgary Stampede, when the rodeo quite literally comes to town. Featuring concerts, parades, First Nations exhibitions and a world-class rodeo competition, cowboy culture takes over the city for the 10-day Calgary Stampede each July. Chuck wagon races, rodeo clowns and country music highlight the event.
Recommended Stopovers
Bow RiversEdge Campground • Cochrane, AB – (403)932-4675
Spring Hill RV Park • Cochrane, AB – (403)932-2010
3. 
Jasper National Park
Drive 189 miles • 3 hours, 33 minutes
As you head northwest from Calgary, the scenery quickly gets larger than life. The heart of the Canadian Rockies, Jasper National Park boasts rugged peaks and pure glacial lakes, as well as nearby small towns where you can refuel after a day exploring the wild. Start with a ride on the Jasper Skytram which offers stunning views of six mountain ranges, lakes and rivers as you ascend to the top of Whistler's Mountain. From there, hike the trails or head to scenic lookouts that offer glimpses of the park's hot spots – Mount Edith Cavell, Pyramid Lake and the Miette Hot Springs. Keep an eye out for elk, moose, bighorn sheep and grizzly bears.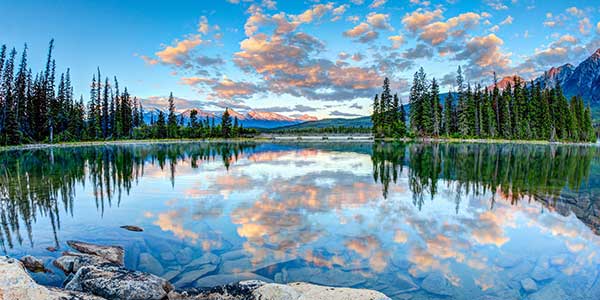 4. 
Grande Prairie
Drive 313 miles • 5 hours, 56 minutes
Nestled in the rolling hills and aspen forests of an area aptly known as Peace River Country, Grande Prairie is a small, bustling city with a prehistoric past. Visit the Philip J. Currie Dinosaur Museum, where the region's dino legacy — and its many fossils — are on display. With a focus on experiential learning, the museum is family-friendly and boasts exhibits to suit all ages. Each year, Grande Prairie also plays host to another stunning encounter — the return of trumpeter swans to their summer nesting sites. Saskatoon Island Provincial Park, which hosts an annual festival in their honor, is a great place to observe the regal birds.
Recommended Stopovers
Camp Tamarack RV Park • Grande Prairie, AB – (877)532-9998
Country Roads RV Park • Grande Prairie, AB – (866)532-6323
Grande Prairie Visitor Information Centre • Grande Prairie, AB – (866)202-2202
5. 
Dawson Creek
Drive 81 miles • 1 hour, 36 minutes
Just across the border in British Columbia, the frontier town of Dawson Creek marks the beginning of the Alaska Highway, an iconic stretch of road that runs over 1,300 miles through some of the most scenic, remote and beautiful landscapes you'll ever see. Built by over 30,000 U.S. soldiers in just nine months, the highway is an engineering marvel and its history is on display at the downtown Alaska Highway House. The real fun, though, begins at Mile 0 Park where visitors can swim, picnic and step back in time at Pioneer Village, a living museum with a church, general store and schoolhouse, before hitting the road to northern destinations.
6. 
Watson Lake
Drive 600 miles • 11 hours, 51 minutes
Gateway to the Yukon, Watson Lake is situated among rolling hills, serene lakes and endless aspen forests that makes enjoying the outdoors an easy enterprise. From swimming and picnicking at Lucky Lake Park, to relishing in the top-notch bird watching on the trails that loop around nearby Wye Lake, there's plenty of accessible options right in town. However, the most famous landmark in Watson Lake is decidedly human-made. The Sign Post Forest was started by a homesick soldier working on the Alaskan Highway in 1942 who posted a sign pointing towards his hometown thousands of miles away. The trend continued and these days, some 85,000 sign posts point the direction to destinations around the globe. Other attractions include the Northern Lights Space and Science Centre, which features simulated versions of the Northern Lights in the summer months.
7. 
Whitehorse
Drive 272 miles • 5 hours, 18 minutes
Nicknamed the Wilderness City, Whitehorse is a hub of cultural and outdoors activities that brings the rest of the Yukon to your doorstep. At the crossroads of the Alaska and Klondike Highways, daytrips to the Yukon Wilderness Preserve, Takhini Hot Springs and photographer-friendly Emerald Lake are easily accessible and offer great opportunities for hiking, biking and seeing wildlife. Paddlers and anglers will have plenty to explore with the Yukon River flowing right through town before opening into picturesque Schwatka Lake, where fishing, boating, canoeing and hiking are popular pastimes.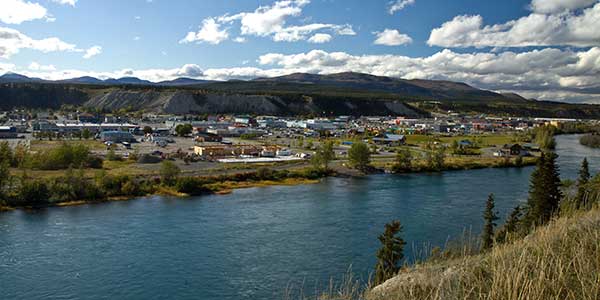 8. 
Fairbanks
Drive 589 miles • 10 hours, 55 minutes
Almost 600 miles beyond Whitehorse, this epic trip comes to end in Fairbanks, the gateway to Alaska's interior. Home to frontier-life museums, dog-sledding tours, wildlife safaris and more, the city is surprisingly bustling, considering its relatively remote location. The UA Museum of the North, Fairbanks' Children Museum is an especially popular attractions. Head to the Chena River State Recreation Area to explore the park's namesake river via canoe, kayak or raft and connect with the Angel Rocks Trailhead.