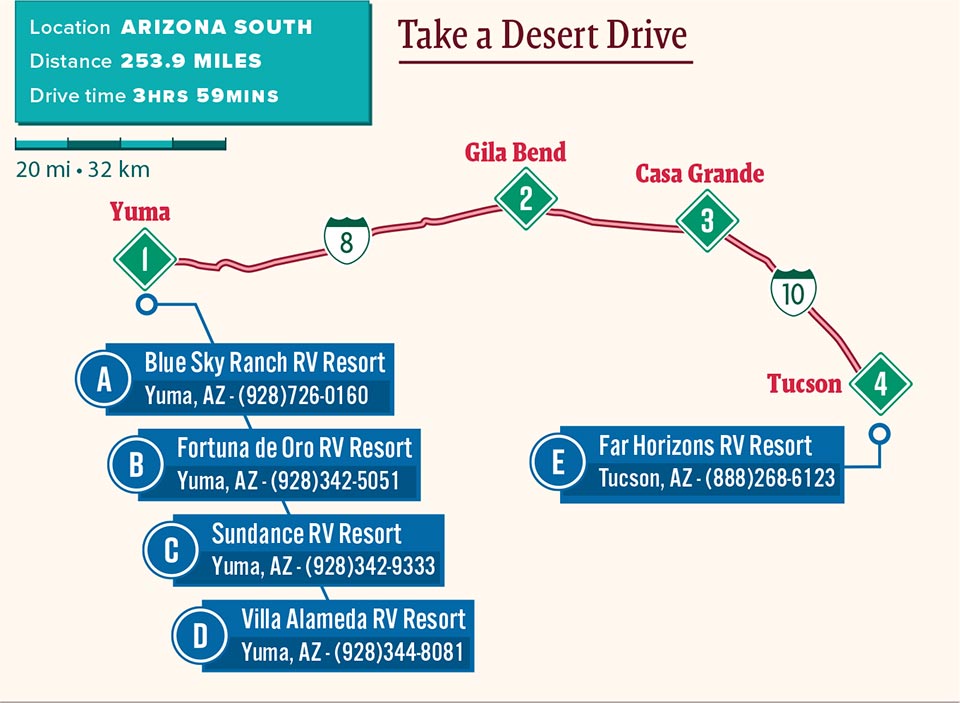 Experience the Old West while soaking in lots of sunlight in southern Arizona, where a desert landscapes yield endless historic treasures. Follow this itinerary to legendary desert abodes and sites forged in Grand Canyon State history.
1. Yuma
Starting Point • History, Outdoor, Recreation
Start your trip in Yuma in the state's southwestern corner. The region has long been popular with recreation seekers, owing largely to the ample sunshine and the town's position on the Colorado River, a favorite for kayaking, canoeing and swimming. The town's best-known attraction is the Yuma Territorial Prison State Historic Park, site of a penitentiary that was bleakest in the Wild West during its 33 years of operation.
Recommended Stopovers
Blue Sky Ranch RV Resort • Yuma, AZ – (928)726-0160
Fortuna de Oro RV Resort • Yuma, AZ – (928)342-5051
Sundance RV Resort • Yuma, AZ – (928)342-9333
Villa Alameda RV Resort • Yuma, AZ – (928)344-8081
2. Gila Bend
Drive 116 miles, 1 hour, 42 minutes • History, Nature, Outdoor Recreation
Continue your journey in Gila Bend, close to the Painted Rock Petroglyph Site, where the ancient Hohokam people left enigmatic inscriptions on stone. Just east of town is the Sonoran Desert National Monument, whose 487,000-acres encompass thousands of towering cacti and superb hiking trails. Don't miss the Juan Bautista de Anza National Historic Trail, which retraces the path of a 1775 Spanish expedition between Nogales, Arizona, to San Francisco.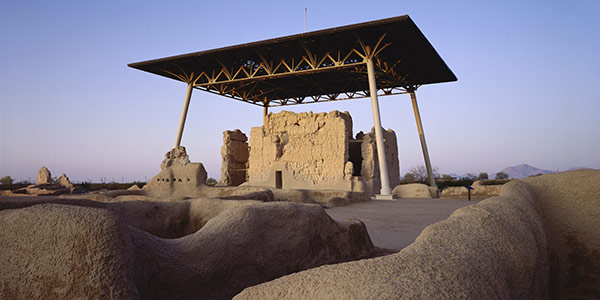 3. Casa Grande
Drive 64.6 miles, 1 hour • History, Nature, Outdoor Recreation
Continue East toward Casa Grande, an ideal base for exploring two of the area's most interesting attractions: Picacho State Park and the Casa Grande Ruins National Monument. The former features lots of beautiful and accessible desert trails, including the family-friendly Children's Cave Trail, a 0.2-mile hike with interpretive signs. The Casa Grande Ruins National Monument, the town's namesake, is best known for its centuries-old structures made by the Hohokam people.

4. Tucson
Drive 73.3 miles, 1 hour, 16 minutes • Entertainment, History, Outdoor Recreation
Basking in sunshine and history, Tucson has long been a popular alternative to more sprawling Phoenix. Its location in the heart of the Sonoran Desert makes a great base for exploring some of the area's most stunning natural features. Popular activities include hiking in nearby Saguaro National Park or learning about space at the Kitt Peak National Observatory. Learn more about the area's natural features by stopping by the Arizona-Sonora Desert Museum.
Recommended Stopovers
Far Horizons RV Resort • Tucson, AZ – (888)268-6123