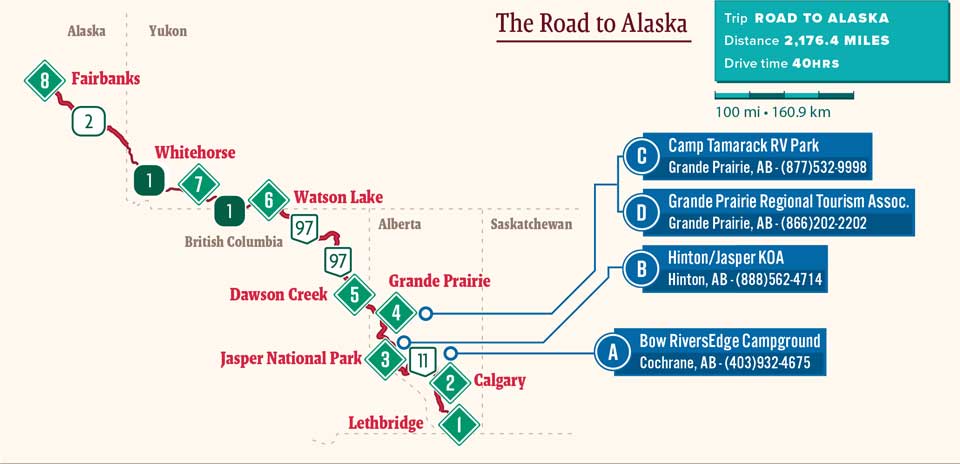 The road to Alaska is dotted with adventures that are overlooked far too often. Folks heading north from the Lower 48 should make a stopover at Great Falls, Montana, where fly fishing on uncrowded streams and hiking on scenery-rich trails are popular pastimes. After crossing the Canadian border, the journey leads visitors through rugged landscapes with the Frontier State awaiting at the end of the trip.
1. Lethbridge
Starting Point • Entertainment, History
Set in the Old Man River Valley, the prairie city of Lethbridge began as Fort Whoop-Up, a trading post where all outlaw activity held sway until the Mounties established order in the late 19th century. Located in Indian Battle Creek Park, the replica Fort Whoop-Up and Interpretive Center is one of the region's top sights. A showcase for artifacts from the local Blackfoot culture, the center also hosts seasonal re-enactments of historical events.
2. Calgary
Drive 132 miles, 2 hours, 11 minutes • Entertainment, History, Outdoor Recreation
The Wild West theme knows no bounds at the city's famed Calgary Stampede, the mother of all rodeos, which is held in mid-July. History unfolds at monumental Heritage Park Historical Village, Canada's epic living history museum. Calgary is also the gateway to the Royal Tyrrell Museum near Drumheller, the repository for some of the world's most important fossils. At Canada Olympic Park, you can rock climb and mountain bike during the summer and ski and snowboard during the winter.
Recommended Stopovers
Bow RiversEdge Campground • Cochrane, AB – (403)932-4675

3. Jasper National Park
Drive 256 miles, 4 hours, 53 minutes • Nature, Outdoor Recreation
The largest national park in the Canadian Rockies, Jasper's bewitching collage of serrated mountains, colossal glaciers and crystalline lakes provides a soul-stirring backdrop for hiking, biking, climbing, horseback riding and rafting. Take guided walking tours of the Athabasca Glacier and boat excursions on Maligne Lake. The park provides refuge to an incredible variety of animals and bird life, including elk, moose, bighorn sheep, grizzly bears, black bears, bald eagles and ospreys. Take a cruise on Maligne Lake and make a stop on Spirit Island, located in the middle of the glacier-fed waters.
Recommended Stopovers
Hinton/Jasper KOA • Hinton, AB – (888)562-4714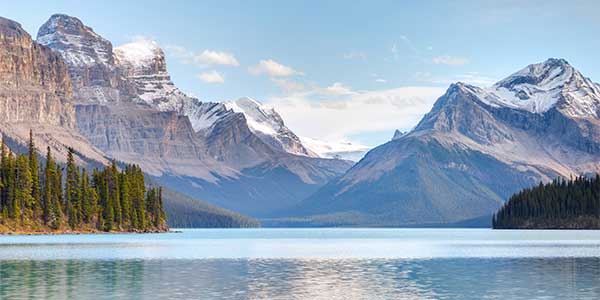 4. Grande Prairie
Drive 246 miles, 4 hours, 17 minutes • History, Nature, Outdoor Recreation
The final Alberta outpost on the Rocky Mountain Route to Alaska, Grande Prairie is the lively hub of northwestern Alberta's Peace region. Grande Prairie summons outdoor adventures with hiking trails, ATV tours, white-water rafting and terrific birding. Just outside of town, the world-class Philip J. Currie Dinosaur Museum explores Alberta's paleontological heritage with riveting galleries and paleo-labs; visitors can also tour the nearby Pipestone Creek bone bed.
Recommended Stopovers
Camp Tamarack RV Park • Grande Prairie, AB – (877)532-9998
Grande Prairie Regional Tourism Assoc. • Grande Prairie, AB – (866)202-2202
5. Dawson Creek
Drive 81.4 miles, 1 hour, 33 minutes • History, Nature
There's more to Dawson Creek that's its famed status as the iconic "Mile 0" of the Alaska Highway. The city celebrates its frontier history with a clutch of engaging museums. At the Alaska Highway House, you can explore the story behind the engineering feat that is the Alaska Highway, built by just 10,000 US Army soldiers and civilians in just nine months. The Dawson Creek Station Museum displays pioneer artifacts and wildlife collections.
6. Watson Lake
Drive 600 miles, 11 hours, 36 minutes • Nature, Outdoor Recreation, Quirky
Watson Lake is home to the Signpost Forest, with more than 70,000 directional signs from across the world posted by visitors. Just four miles from town, Lucky Lake boasts the only water slide north of 60 degrees latitude in Canada and the U.S. The Northern Lights Center, built in 1996, is a planetarium that portrays the myth and science of the aurora borealis through state-of-the-art video and surround-sound.
7. Whitehorse
Drive 272 miles, 5 hours, 12 minutes • Food, History, Quirky
Whitehorse is home to a rollicking frontier spirit that welcomes visitors into its colorful neighborhoods. The town's upbeat bars, cafés and restaurants testify to the city's buoyant arts community and idiosyncratic spirit. On Whitehorse's revived waterfront along the Yukon River, visitors can dip into the restored White Pass & Yukon Route Station, the Kwanlin Dün Cultural Centre and view the restored SS Klondike (built in 1937).
8. Fairbanks
Drive 588 miles, 10 hours, 40 minutes • History, Nature, Outdoor Recreation
Fairbanks enjoys more than 22 hours of daylight when the summer solstice arrives on June 21, and the city's Midnight Sun Baseball Game pits two minor league teams against each other in a late-night tradition. Alaska's wild beauty can be accessed at the Chena Lake Recreation Area, and locals and visitors convene at Lake Park's 260-acre lake and sandy beaches. With higher visibility than most coastal areas, Fairbanks is also famed as one of the best places to view the aurora borealis. Witness the glow of the famed northern lights between August and April.