Drive 176.3 miles • 3 hours, 57 minutes
Take a journey from the sunny shores of the Pacific Ocean to the rugged foothills of the mighty Sierra Nevada Mountains. In between, experience the bounty found only in the Central Valley. It's a Golden State sampler that gives you a taste of everything California has to offer.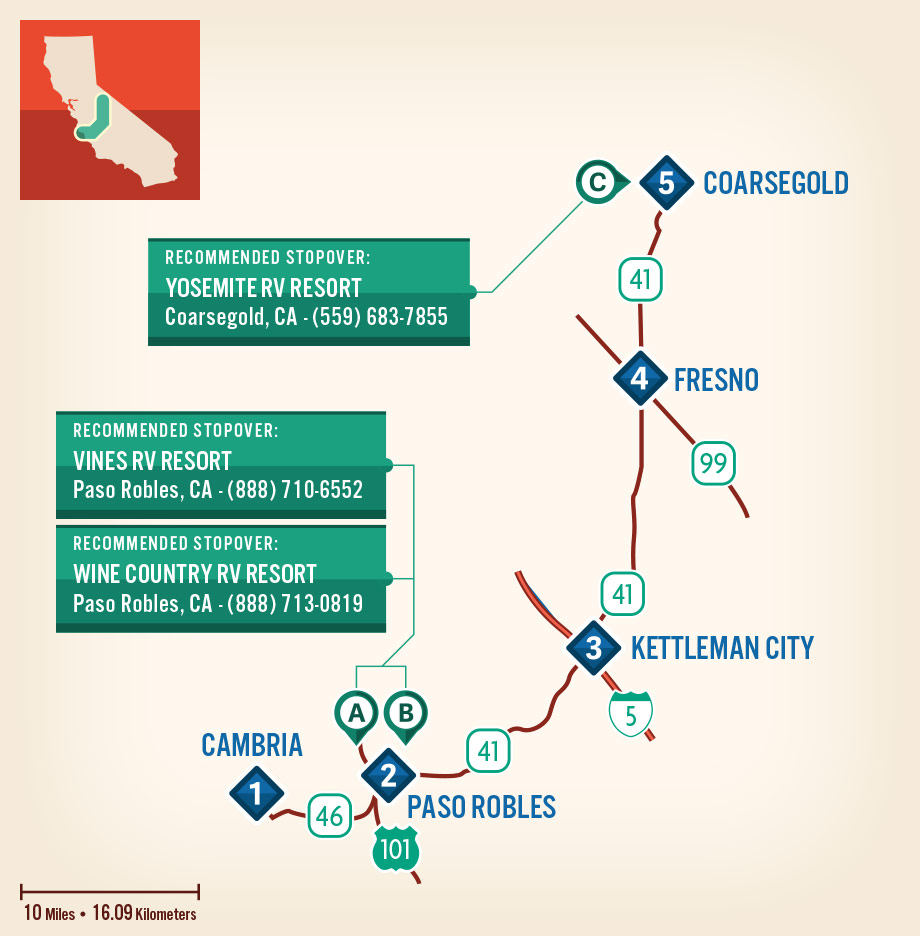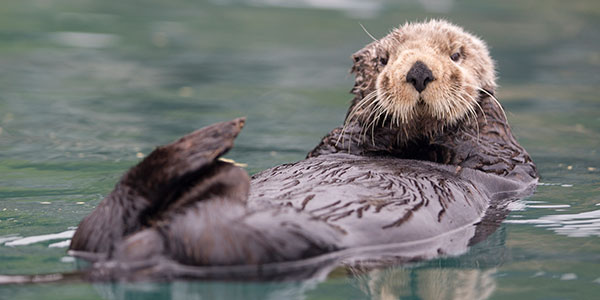 1. Cambria
Starting Point • History, Nature, Quirky, Shopping
A historic town overlooking the Pacific Ocean, Cambria showcases 19th-century streets dotted with boutiques, art galleries, antique stores and historic landmarks, including the Bucket of Blood Saloon (built in 1883).  Stroll the mile-long Moonstone Beach Boardwalk, where brown sands, tide pools and turbulent Pacific waters provide sanctuary to seals, dolphins and sea otters. Six miles north of town, Hearst Castle is an opulent mansion that was built by newspaper magnate William Randolph Hearst.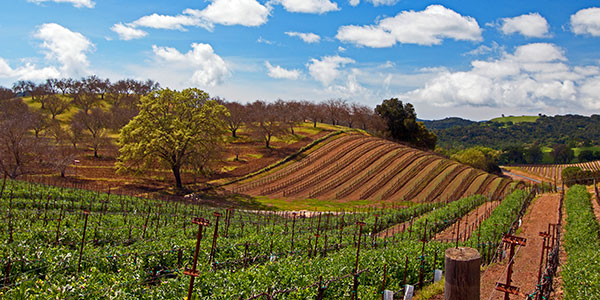 2. Paso Robles
26.7 miles, 39 minutes • Food, History, Nature
Paso Robles is a wine lover's dream with more than 200 boutique and proprietary wineries producing at least 40 grape varietals, including the celebrated heritage variety, Zinfandel. Amidst rolling hills laced with vines, visitors can relax at River Oaks Hot Springs Spa, where artesian thermal waters replete with healing minerals bubble at 117 degrees. In Paso Robles' historic downtown, you can delve into Wild West history at the Pine Street Saloon.
RECOMMENDED STOPOVERS
Vines RV Resort – Paso Robles, CA – (888) 710-6552
Wine Country RV Resort – Paso Robles, CA – (888) 713-0819
3. Kettleman City
56.6 miles, 1 hour, 17 minutes • Entertainment, Food, History, Quirky, Shopping
Located on Highway 41 in Kettleman City, Bravo Farms is the ultimate roadside stop. Encompassing 50,000 square feet and built to resemble an Old West town, the Bravo Farms complex includes produce stores, candy shops and a cheese factory. There's also Bravo Land, a mini Western-style theme park with an old school diner (serving great shakes and malts), Hotel California, Bravo Land Jail, and a mill complete with animatronic barnyard animals and a water wheel.
4. Fresno
54.4 miles, 1 hour, 11 minutes • Food, Nature
Fresno is the top agricultural producer in the nation, and visitors can sample its abundance at every turn. Along the Fresno County Fruit Trail, narrow roads meander through a fertile mosaic of orchards and farmlands sprinkled with farm stands. Bring your appetite to Simonian Farms Old Town, which features a wine-tasting saloon and a general store. At the end of February, you can follow the Fresno County Blossom Trail through idyllic orchards of apple, orange, peach and nectarine trees.
5. Coarsegold
38.6 miles, 50 minutes • Food, History, Nature, Shopping
In the foothills of the Sierra Nevada, Coarsegold is a gateway to spectacular Yosemite National Park, just 30 minutes to the north. Once a gold mining town, Coarsegold holds on tight to its frontier roots with an eclectic ensemble of Western stores, artists' workshops and themed restaurants. Stop in at Zanders Coffee, with drive-thru and walk-in service. Stick around for the Memorial Day Peddlers Market, the Coarsegold Stampede (middle of September) or the Tarantula Festival (end of October).
RECOMMENDED STOPOVERS
Yosemite RV Resort – Coarsegold, CA – (559) 683-7855