Key West is home to approximately 240 eating and drinking establishments on a two-by-four mile island that's blessed by a pleasant tropical climate. Not surprisingly, it has attracted hedonists like wrier Ernest Hemingway and pop star Jimmy Buffett. Even no-nonsense Harry S. Truman roosted here. When you realize that Give 'Em Hell Harry had a particular fondness for Old Grand-dad bourbon and enjoyed a glass in the morning for breakfast, his 11 visits and 175 days in Key West as president make a lot more sense. Indeed, the president chose this location for his winter White House.
---
Visiting? Consult Big Pine Key and Florida's Lower Keys.
---
These days, tour trains and trolleys will take you to learn the foibles and peccadilloes of Key West residents, stopping at the many museums devoted to island history. Eventually you will wind up on legendary Duval Street, once packed with so many cigar shops that Key West was called "Cigar City USA." There are still 18 Historic American Buildings that can be passed on the ritualistic nightly Duval Pub Crawl. On the island's Gulf of Mexico end, Duval Street spills into Mallory Square, where visitors and locals gather every evening for the Sunset Celebration.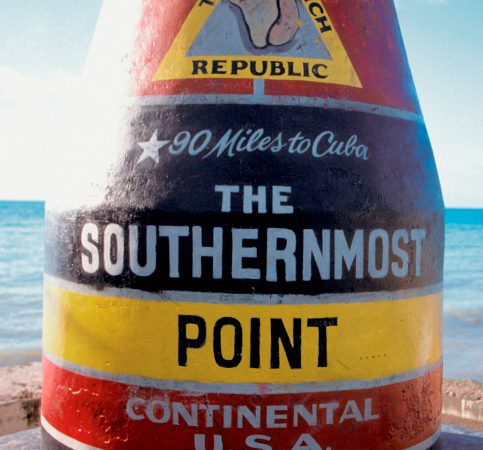 It was Henry Flagler, a founder of Standard Oil with John Rockefeller, who looked at a map and thought he could build an overseas railroad to America's southernmost city. It was completed in 1912 and the United States government converted the rail route to an automobile highway in 1938. Route 1 does not reach all the way to the bottom of America. You have to continue to the corner of South and Whitehead streets to take a selfie with the brightly striped monument buoy marking the "SOUTHERNMOST POINT CONTINENTAL U.S.A."
The turquoise waters of Key West are a beacon for divers, snorkelers and lovers of deep-sea fishing. The two passions meld on the glass-bottomed boats of eco-tours where glass-bottom boats open up the undersea world. Ringing the island are beaches and parks with formal collections such as the frost-free Key West Botanical Forest and Garden and Key West Butterfly and Nature Conservancy. But the island's most famous wildlife walks the streets—chickens descended from cockfighting roosters set free when the sport was declared illegal. And over at Ernest Hemingway's House, more than 50 polydactyl cats born with extra toes prowl the grounds with impunity as they did when the Nobel-winning author lived and wrote here.