Fun times abound in sunny Anaheim.
When it comes to fun and entertainment in Orange County, Anaheim is the place to be. Start at Disneyland, where you can meet Mickey and go on rides that will awaken your inner child. But the mouse isn't the only reason people visit the county, which was named for the prominence of orange groves that once fueled a thriving agricultural industry.
The following highlights for visitors to the mythical OC encompass Disney and much more.
Disneyland
Disney attracts its fair share of visitors, many of whom flock to Disneyland's companion park, California Adventure, where attractions like Cars Land wow eager visitors. At this attraction, visitors can ride racecars through red-rock country or chug on baby tractors in this no-detail-forgotten experience, especially suitable for little ones.
California Adventure sets a nostalgic tone from the get go. The entrance recreates a stroll down classic Buena Vista Street, capturing the charm of 1925 movie making, as experienced by a young Walt Disney when he first came to Tinseltown decades ago. Be sure to stay after dark to see the incredible World of Color water and light spectacular, which recreates scenes from Disney and Pixar movie favorites.
Part of Disneyland's charm is its ability to keep refreshing favorites, like the classic submarine ride, recently updated as the Finding Nemo Submarine Voyage. Longtime winner Pirates of the Caribbean has injected some movie-hipness by adding a goofy, dreadlocked Captain Jack Sparrow (Johnny Depp-style) popping up unexpectedly throughout the ride. The always-popular Star Tours ride has new twists and turns. End-of-the-night fireworks displays change throughout the year.
Fun Hot Spots
Also located in Anaheim is a bustling district of unique eateries, retail shops and sports venues. Check out the City National Grove of Anaheim, a concert entertainment center, and catch Major League Baseball's Angels at the Angel Stadium of Anaheim. You can also see NHL's Anaheim Ducks at the Honda Center, which doubles as a concert venue. New additions to the arena are Puck's Tavern, a fine-dining restaurant, and The Window at Puck's Tavern, a made-to-order pizza concession stand that was created by famous chef Wolfgang Puck.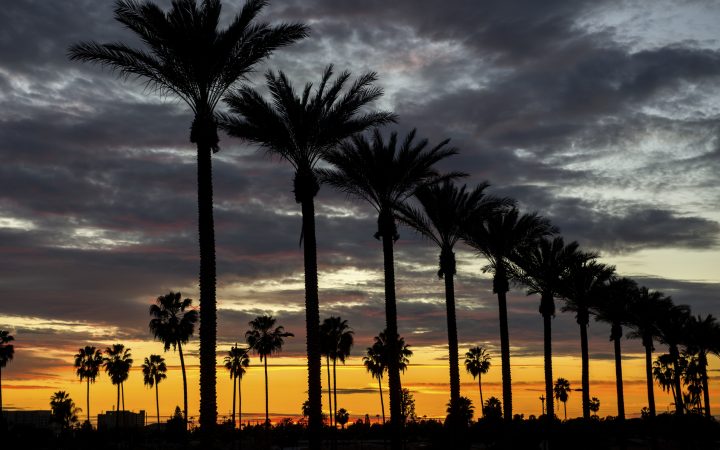 Anaheim is the oldest incorporated city in Orange County. Here, historic and futuristic venues live side by side. Located just a block from the Honda Center is the Phoenix Club, a cultural center celebrating the Germanic roots of Anaheim. German grape farmers and wine makers founded Anaheim in 1857 and gave the city its name. "Ana" is named after the Santa Ana River that runs adjacent to the city, and "Heim" means home in German.
Founders' Park is a carriage house that serves as a museum for historic artifacts and includes a full-sized windmill, historically inspired gardens, a water pump, a sundial, walkways and trails with interpretive panels depicting the area's history.
Downtown
Downtown Anaheim is another exciting neighborhood built on the foundations of a colorful past. This quaint environment is home to the MUZEO, an interactive museum of ever-changing traveling exhibitions selected for their cultural, educational, and pop culture merits.
The Art Crawl Experience (ACE) is typically held the second Saturday of February, May, August and November, at the newly revitalized Center Street in the Downtown Anaheim Arts District. This free art walk and art festival runs from 6 p.m. to 10 p.m. and features downtown galleries, an indie crafts/live artists fair, live entertainment, gourmet food trucks, fresh eateries and special art attractions at downtown brick-and-mortar establishments.
GardenWalk, Anaheim's newest shopping, dining and entertainment complex, is within walking distance of the Disneyland Resort. Check out the latest surf wear at O'Neil's or even try on a Harley-Davidson motorcycle for size. Here, you'll also find the Ultra Lux Cinema and 300 Anaheim Bowling.
The Anaheim Resort Transportation shuttle takes you to the nearby outlets in the nearby city of Orange, where retail outlets lurk around every corner, from the famed H&M to an assortment of outlets like Off 5th Saks 5th Ave., Levis and Nike. You'll also find Dave & Buster's, with arcades, billiards, games and great dining. The skater in the family will love Vans Skate Park.
Fun Grows in Anaheim
The renovation of a 1919 citrus-packing warehouse, the Anaheim Packing House, was completed in 2014. The 40,000-square-foot European-style artisan food hall is composed of boutique food and beverage purveyors and features live music and communal seating. Just steps away, the two-acre Farmers Park holds festivals and events as well as weekend farmers' markets. The adjacent 1925 renovated Packard Car Showroom currently houses Umami Burger and Anaheim Brewery. All three components comprise the Anaheim Packing District.
Whether you are looking for a hug from Mickey Mouse, an autographed baseball or a dab of European charm, you'll get all that and more in Anaheim.
For more Information, check out Visit Anaheim.