Verde Valley/Sedona
Situated in northern Arizona's famously breathtaking Red Rocks, the Verde Valley and its popular town of Sedona make a popular stop-off for spiritual-seekers and outdoorsy folks alike. The area is characterized by its stellar landscapes, ample outdoors activities and a vibrant visual arts scene.
Rugged Region
Sedona sits in the lush Coconino National Forest of northern Arizona at an altitude of just over 4,000 feet. It's about a two-hour drive north of the capital city of Phoenix on Interstate 17 and just under an hour south of Flagstaff on state Route 89A. The region is characterized by stunning, crimson-hued Red Rock buttes and is bisected by Oak Creek, a gentle waterway that runs through town and continues southwest throughout the gorgeous Red Rock State Park. The climate here is considered semiarid and is mild compared to other parts of the Southwest, with high desert terrain and highs in the mid-90s in summer or mid-50s in winter.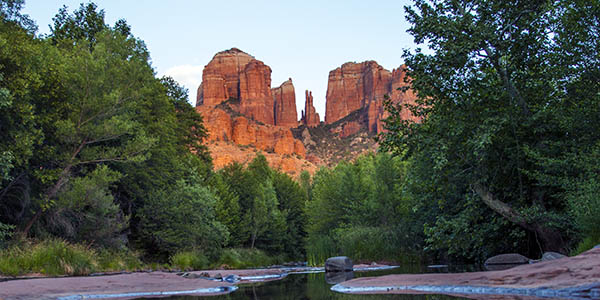 Walking and Angling
The valley is threaded with ample scenic trails for hiking, from the Bell Trail, which was originally built to move cattle, clear up to the remote Bull Pen Trail, a 7.5-mile canyon trail that passes along the lovely West Clear Creek. Horseback riding is also popular, with several ranches and stables offering scenic trail rides out into the glorious wilderness.
Water Fun
The Verde River is the only federally designated Wild and Scenic River in the state and offers ample kayaking opportunities for travelers of all experience levels. Oak Creek Canyon is a good spot for fly-fishing, with lots of rainbow and wild brown trout, along with bass from the nearby Page Springs Hatchery.
History, Museums and Monuments
Although European settlers didn't make it to the region until the late 19th century, this lush area has been inhabited since possibly as far back as 11,500 B.C. Traces of ancient people here remain to this day, particularly at the Tuzigoot National Monument, a three-story pueblo ruin dating back to sometime between the 12th and 15th centuries. Other significant historic sites include the Montezuma Castle National Monument, a majestic cliff dwelling occupying 4,000 square feet spread over five stories. While in the area, don't miss a hike up to Cathedral Rock above Sedona, with unparalleled views of the iconic Red Rocks.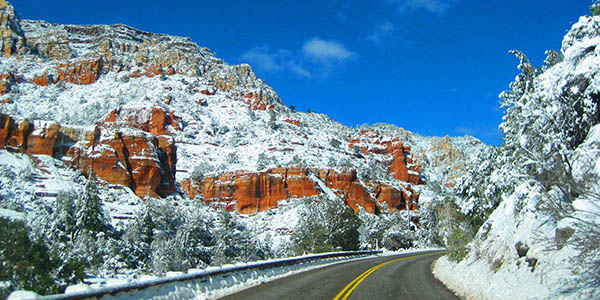 Camp Verde Fun
Located just 27 miles south of Sedona, Camp Verde sits on the banks of the Verde River and is home to rafting, fishing, bird-watching and enough hiking trails to keep the outdoors enthusiasts in the family happy. The Out of Africa Wildlife Park ranks high among the most distinctive wildlife experiences in the country, with the beasts of the Serengeti on display.
Food and Wine
Sedona and the Verde Valley enjoy a longstanding agricultural tradition, with numerous farmers markets throughout the area along with restaurants serving everything from sushi to Tex-Mex fare. Wine tasting is also huge here, and the Verde Valley's rich soil and ample sunlight make it an excellent place for grape cultivation. Popular spots include the Page Springs Cellars and Cottonwood's Burning Tree Cellars.
For More Information
Sedona Verde Valley Tourism Council
877-847-4829
Arizona Office of Tourism
866-275-5816