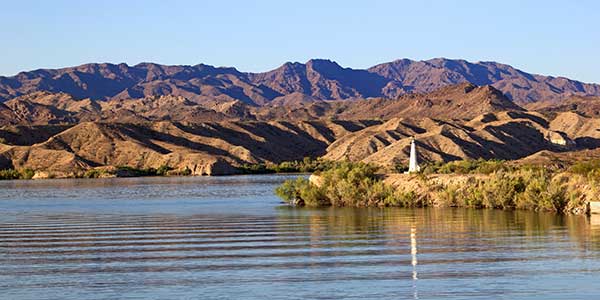 Lake Havasu City
Discover Arizona's boating and fishing playground
Fun is always in season at Lake Havasu. Formed in 1938 by the construction of the Parker Dam on the Colorado River, the 30-square-mile reservoir attracts vacationers ranging from leisure-seeking retirees to fun-loving college students. Year-round sunshine and ample recreation set the tone for a place renowned for lazy beach days, ruggedly beautiful landscapes, challenging golf courses and off-roading thrills. There's also a touch of British culture.
Yes, you read that correctly. In 1968, the city of London put the London Bridge up for sale because it was sinking into the River Thames. Robert McCulloch, the founder of Lake Havasu City, thought it would be a great idea to buy the bridge and have it sent to his town in the Arizona desert. Started in the 1960s, the effort to take apart, ship and rebuild the bridge over the Colorado River took years, but it was all worth it in the end. Today, visitors can still marvel at the world's largest antique as it connects the city to an island in the lake. Situated near the bridge, the town's English Village features British-themed stores, restaurants and pubs housed behind Elizabethan and Tudor-style facades.
Unwind on Sandy Lake Beaches
When they're not enjoying the charms of England, guests can work on their tans or take dips in the water at Lake Havasu City's numerous sandy beaches. With clear water and no riptide currents, the swimming conditions are excellent for most of the year. Spend a relaxing day at Rotary Community Park, the city's largest public beach and park, with plenty of picnic areas, playgrounds, volleyball courts, exercise stations and more.
Another popular spot is London Bridge Beach. Boasting a grassy dog park, this pet-friendly beach provides stunning views of the historic London Bridge. For gorgeous panoramic views of the lake and mountains, motor to Lake Havasu State Park or Windsor Beach State Park. While you're here, take a stroll along the short but scenic Mohave Sunset Trail or visit the Arroyo-Camino Interpretive Garden, home to a wide variety of plants and wildlife.

A Heaven for Boaters and Anglers
Stretching along 60 miles of continuous lake and river waterways, Lake Havasu ranks as one of the top boating destinations in the state. Whether you crave speeding down the river on a sporty race boat or prefer cruising on a roomy pontoon boat, the lake's 30 square miles provide ample room for fun. Discover hidden coves and beaches near the Bridgewater Channel, and take in gorgeous views of cliffs, canyons and wildlife along the banks. Water temperatures hover between 75 to 85 degrees Fahrenheit during most of the year, so it's always a good time to make a splash. Water lovers will enjoy easy access to lake beaches and well-appointed amenities such as restrooms, shaded picnic areas and barbecue grills.
You'll likely make some big fishing hauls here, too. The waters teem with striped bass, flathead catfish, bluegill and redear sunfish, opening up the possibilities for catch-happy anglers. Lake Havasu's warm climate allows anglers to fish any time of the year. Cast your line from several public fishing docks and piers, or set sail from launch ramps and marinas.
Tee off at Top Golf Courses
Brought your clubs? Lake Havasu caters to golfers of all skill levels with a long menu of 9- and 18-hole courses. Between strokes on finely manicured greens, golfers can savor glorious views of the Colorado River, Lake Havasu and jagged mountains on the horizon. Prime views compete with challenging fairways at places like Refuge Golf and Country Club and the Nassau Course at The Courses at London Bridge.

Experience Outdoor Thrills
If you seek an adrenaline rush, you've come to the right place. Hit the gas on your 4WD, ATV or dirt bike, and embark on an action-packed adventure on more than 20 off-road trails near Lake Havasu City. Navigate the trails from fall through spring as summer temperatures frequently climb soar beyond 100 degrees. Speed through open desert, scale steep slopes and careen over sand dunes and through vast canyons. Many of the routes even bring you close to abandoned mines and mining towns. Never venture beyond authorized off-roading areas.
You can also get your heart racing by trekking one of Lake Havasu City's many hiking trails. You'll find easy routes that are short and paved, and advanced paths that are steep and rocky. No matter the level of difficulty, all trails will bring you face-to-face with jaw-dropping scenery and myriad wildlife. From tranquil lakeside views to far-reaching vistas, you'll get an eyeful of iconic Southwestern landscapes. Keep your eyes open for bighorn sheep, coyotes, rabbits, bobcats and a variety of birds, including herons, egrets and great horned owls. The SARA Mountain Park Loop Trail takes hikers to stunning views of the lake's Solitude Cove.
For More Information
Lake Havasu Convention & Visitors Bureau
800-242-8278
Arizona Office of Tourism
866-275-5816