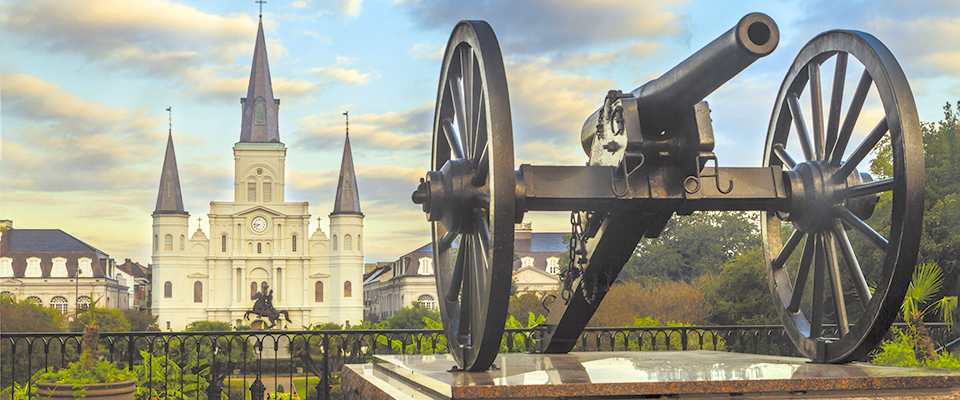 Spotlight: New Orleans
Crescent city parties on—even after Mardi Gras
Renowned for its culinary excellence and nonstop festive atmosphere, New Orleans attracts food buffs and revelers from across the globe. And although the Big Easy is best known for its annual Mardi Gras celebrations, Louisiana's most popular destination has plenty of fantastic things to do year-round. Indeed, the eclectic city is characterized by warm weather, gorgeous old architecture, a boisterous nightlife scene and some of the finest jazz clubs on the planet.
The so-called Big Easy got its start in 1718, when French colonists settled along the Mississippi River and named their new trading post after a city in their home country. New Orleans retains its Gallic elements to this day, from local architecture to the integration of French terms into the local vernacular.
Over the years, the city has endured fires, wars and devastating natural disasters—including 2005's Hurricane Katrina. However, New Orleans has picked itself up again. Despite hardships, the local people here, known for their carefree attitudes and welcoming hospitality, have continued to help this festive city let the good times roll—or as the French-speaking population says, laissez les bons temps rouler!
Historic Neighborhoods
New Orleans' major attraction is the historic 18th-century French Quarter, the oldest neighborhood in town, known for its gorgeous old architecture and quaint, European-style cobbled streets. At the heart of the French Quarter is Jackson Square, home to the Cathedral-Basilica of St. Louis, among the oldest continuously operating cathedrals in the country. Here guests can get a caricature drawn by a local artist, have their fortunes told, or hire a horse-drawn carriage to take them on a tour of the beautiful old city.
All visitors to New Orleans should make a point to stop by the world-famous Café du Monde, known for its fluffy beignets dusted in powdered sugar and its steaming hot cups of chicory-infused coffee, served 24 hours a day. While you're at it, stop by the French Market, an indoor-outdoor open-air market that sells handicrafts and local food items, including Tabasco sauce and Cajun spice blends. There are also a number of stalls and restaurants serving classic dishes, including jambalaya, gumbo and po'boy sandwiches.
The party scene is on Bourbon Street, and gets particularly rowdy when football fans from across the country come to town to see the New Orleans Saints play at the Mercedes-Benz Superdome. Orleans Street is much more chic and features high-end shops, antique stores, and its fair share of knickknack dealers.
Most visitors to New Orleans also make a point of heading out to the historic Garden District, known for its Italianate, Greek Revival, and Victorian homes—many of which are enormous mansions—ornately decorated with wrought-iron balconies and gates. This verdant part of town is most easily reached on the St. Charles Streetcar (aka the Streetcar Named Desire), which departs from the city's Central Business District, adjacent to the French Quarter. The Garden District has its own cemetery—Lafayette Cemetery No. 1—filled with gorgeous, eerie old tombs that make it a popular attraction for history buffs and art lovers. The city's oldest graveyard, St. Louis Cemetery No. 1, sees even more visitors.
And if all that weren't enough, there are also regular tours that head out to many of the beautiful old plantation houses in the surrounding countryside, including Oak Alley, which has been featured in numerous films and TV shows, from "Interview With a Vampire" to "Days of Our Lives."
Mardi Gras and Jazz
Dubbed "the Greatest Free Show on Earth," Mardi Gras is the city's biggest tourist attraction, held every winter just before Lent. Although it has a reputation of being a debauchery-filled affair, it's not just for party animals; families can also find some fun amongst the crowds, especially those who want to sit and watch the elaborate parade floats from the sidelines. St. Charles Avenue in the Garden District is recommended for families with children, and glittering strings of plastic beads can be spotted in the trees that line the old avenue throughout the year.
The city's other big draw, especially for music lovers, is the New Orleans Jazz & Heritage Festival, known locally as Jazz Fest, one of the biggest music festivals in the United States. It's a weeklong celebration of local food, culture, and, of course, jazz music.
For More Information
New Orleans Convention and Visitors Bureau
800-672-6124
www.neworleanscvb.com