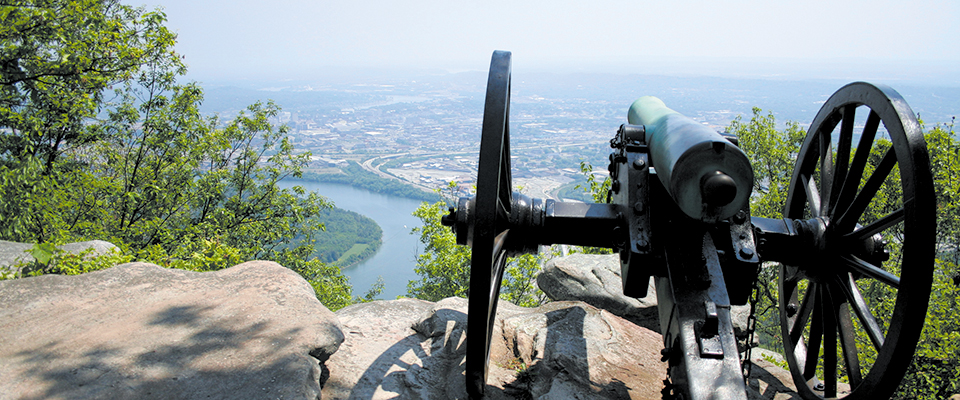 Spotlight: Chattanooga
Tennessee's rising star shines for visitors
Much has changed in a little less than five decades in Chattanooga, Tennessee. Once named the "Dirtiest City in America" in the 1960s, the New York Times recently called this charming riverside community one of the Top 45 places to visit—in the world.
Hyper-industrialization throughout the course of the nineteenth century was surely the cause of the first moniker, and within minutes of arrival today it's easy to see how the city has since garnered the praise of professional globetrotters. Decades of aggressive revitalization and industrial cleanup took care of the pollution; Mother Nature seems to have taken care of the rest. To put it in simple terms, there's a reason Chattanooga's new moniker is "The Scenic City."
Tucked in the picturesque southwest corner of Tennessee on either side of the Tennessee River, the city lies draped across a series of slopping ridges and gentle valleys that are slung between the Appalachian Mountains and the Cumberland Plateau.
Rambling in RiverPark
Start in Downtown Chattanooga, where uncrowded streets mix seamlessly with waterfront walking trails. Part of the Tennessee RiverPark stretches into the Downtown area, making the transition from lively city center to quiet riverside stroll quick and easy. In fact, most of the city's main attractions are clustered in the city center and a free electric shuttle covers the entire Downtown area.
The best way to explore the city, however, is by bike, and even this is a breeze. Chattanooga is home to the South's first citywide bike share system. More than 300 bikes are available at any given time from 30 different locations.
In your travels be sure to take a spin through the Bluff View Art District. As its name suggests, this hip and trendy district sits on top of a bluff overlooking the Tennessee River. Locals and visitors alike head here for some of the best restaurants, cafes and bakeries in the city.
For some family-friendly fun, head to the Tennessee Aquarium and Chattanooga Zoo. Surprisingly, the Tennessee Aquarium is the world's largest freshwater aquarium. The facility is divided into two parts—River Journey and Ocean Journey—and visitors should expect to spend one very worthwhile full day here. The Aquarium also operates the River Gorge Explorer, a 70-passenger high-speed boat that takes guests on an in-depth, two-hour tour of the Tennessee River ecosystem.
Stay on the Lookout
When it's time to get out of the city limits and explore the landscapes of southwest Tennessee head for Lookout Mountain, once a Civil War battleground. A plateau perched on a mountain and surrounded by treacherous sheer-faced cliffs, Lookout Mountain is an absolute must-visit. To take in views that claim to stretch as far as seven states, hop on the Incline Railway—the world's steepest passenger train—for a trip to the summit.
For More Information