Pet-friendly RV tourist destinations welcome your four-legged passengers.
RVing pets don't always need to stay behind when you want to explore a city. If you're traveling to San Diego, Tucson or San Antonio, you'll love these offbeat pet-friendly tourist attractions. From wine bars to museums, Fido will be one happy fella if you see the sights together.
Sun and Surf in San Diego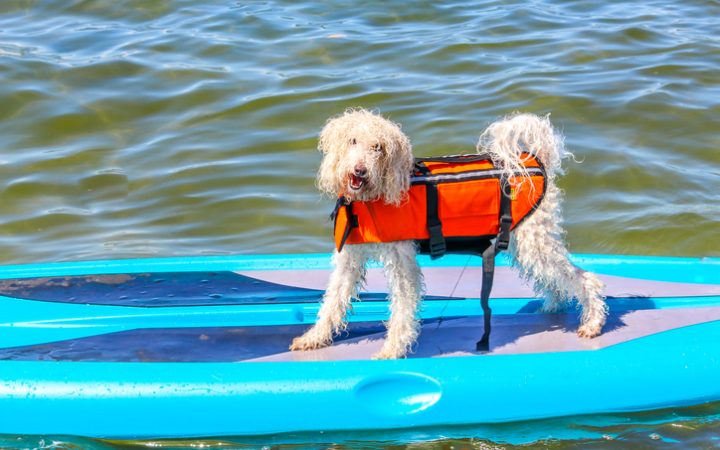 San Diego, California, is a great place to splash around together. In San Diego you can rent a paddleboard at venues like Aqua Adventures Kayaks & Paddleboard. At sunset, go sip wine with your surf buddy at The Wine Pub in Point Loma. The enclosed dog-friendly patio even has its own doggy menu. For extra fun, stroll the Spanish Village Art Center, a working artist colony with free admission and a dog-friendly attitude.
Doggie Desert Delights in Tucson
In Arizona, Tucson is one of the most dog-friendly snowbird hot spots in the Southwest. This desert city welcomes canines and humans to cool off at places like Bookmans, a books and entertainment mecca. Other interesting pet-friendly attractions include the Tucson Botanical Gardens and the Pima Air And Space Museum, which even has on-site day care for small and medium dogs.
Pet-Friendly RV Tourist Destinations in San Antonio
In Texas, go beyond the Alamo and explore more San Antonio history. Offbeat tours like the River City Run and Bad Wolf Ghost Tours let your pal join in the fun. For an authentically historic experience, pack a picnic and head to the San Antonio Missions National Historical Park. You and your leashed pet can stroll the grounds and marvel at the architecture of historic missions.
Remember to carry extra water, sun and heat protection for your buddy. With more pet-friendly tourist spots than ever before, there's no end to the fun you can have together.
Find Good Sam parks in San Diego, San Antonio or Tucson.