Leaves turn beautiful hues during autumn in the Mid-Atlantic — but this region also has high-speed racing, vast wilderness areas and outdoor adventure in the shadows of big cities.
Find a destination below and then book a stay at a nearby RV Park (click on the links for more information).
---
Delaware
Ride the Waves in Rehoboth Beach
Surfing on the eastern seaboard? Although West Coast wave riders think they have a lock on this board sport, you'll find lots of big waves crashing onto this shore. Rent a surfboard and take surfing lesson at Rehoboth Beach Surf Shop. If you don't want to hang ten, enjoy the town's artsy, sophisticated and family-friendly vibe. The area is well known for fine cuisine, plenty of shops and – of course – the beautiful sandy beach. Bonus: Finish your day with a tall one at Dogfish Head Brewings and Eats. Hoist a nice, cold "Brett Lacks Toes" beer or a "Covered in Nuggs" brew. Oh yeah, they serve great food, too.
Get Your Motor Running at the Monster Mile
In October, top drivers rev their engines during NASCAR Race Weekend at the Monster Mile, a top stock car racing venue. Set up a tailgate in the lot and prepare to watch high-speed action in one of the most challenging NASCAR tracks around.
Stay here during your Delaware visit:
Massey's Landing, Millsboro
---
Maryland
Kayak in Baltimore Harbor
Who knew that Maryland's biggest city had so many great places for paddling? Grab your kayak and paddle past the tall ships and the Domino Sugar Factory at your own pace or join a tour led by expert guides on the area's background. More intrepid paddlers can enjoy picturesque surrounds about a half-hour away at Loch Raven Reservoir or Gunpowder Falls State Park, where top-notch bass and trout fishing are also available. For a relaxing outing, hop aboard one of the smaller charter schooners docked in the Inner Harbor for an exclusive day or night tour.
Relax in Abingdon
Nestled on the shores of the Chesapeake Bay, this town gives you the opportunity you divide your time between rural life, seaside adventures and day trips to Baltimore. Step back in time on a visit to nearby Jerusalem Mill Village or the Anita C. Leight Estuary Center at Otter Point Creek. For dinner, head to the Inner Harbor neighborhood in nearby Baltimore to dine on the famous steamed blue crabs while taking in a sunset over the Bay.
Stay here during your Maryland visit:
Bar Harbor RV Park & Marina, Abingdon
Ramblin' Pines Family Campground & RV Park, Woodbine
---
New Jersey
Go Beachcombing in Cape May
Occupying the southern coast of New Jersey, Cape May's seem frozen in time, with preserved Victorian architecture and uncrowded beaches. The best beach is at Cape May Point State Park, two miles south of town, where a pristine ribbon of white sand is unblemished by commercialism, and whales can be spotted off the coast from May to December. The park's diverse ecosystems, including wetlands that draw myriad bird species, can be accessed along three miles of hiking trails. Take the 1.6-mile novice loop trail that meanders through idyllic woodlands carpeted with wildflowers, picturesque beaches and fertile marshlands. Birders won't want to miss the Cape May Migratory Bird Refuge, a 212-acre sanctuary rated as one of the nation's finest birding areas.

Escape the Big City at Liberty State Park
Less than a mile across the water from New York's Ellis Island on the New Jersey Mainland, Liberty State Park gives visitors a pleasant getaway from the hustle and bustle of urban life. Visitors can stroll on the green expanses or visit the Liberty Science Center, which hosts an array of fun and interactive exhibits for visitors of all ages. The park also is home to the Empty Sky 9/11 Memorial, commemorating the fateful 2001 attack of the World Trade Center in Manhattan across the harbor.
Stay here during your New Jersey visit:
The Depot Travel Park, Cape May
Liberty Harbor Marina & RV Park, Jersey City
---
New York
Explore the Adirondacks
The Empire State enjoys two big distinctions: It's home to the biggest city in the U.S. (New York) as well as the largest expanse of publicly protected area in the Lower 48 States. Adirondack Park consists of six million acres of rugged countryside, making it bigger than the nation of Belize and an ideal getaway for hikers and bikers seeking adventure in untouched environments. Nearby, you can check out the Village of Lake George, Six Flags, Saratoga Springs and other area attractions.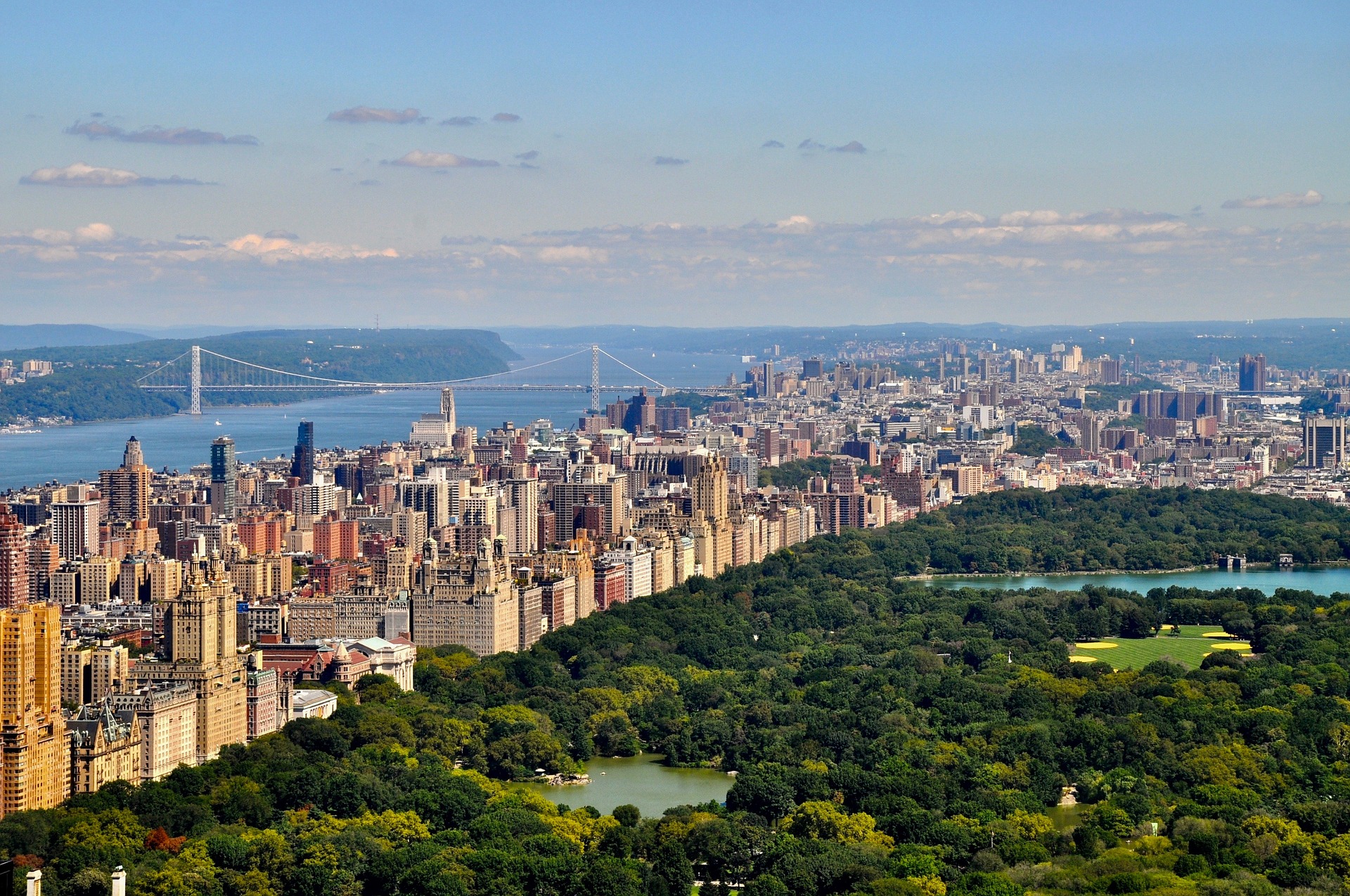 Check Out Two Iconic Big Apple Parks
On sunny days, 843-acre Central Park welcomes families, friends, dog-walkers, picnickers and ballplayers. The world-famous park, which forms a 2.5-mile-long rectangle between Fifth Avenue and Central Park West, has served as a backdrop for countless New York books, plays and movies. Visitors could easily spend a day strolling among the fountains, statues, conservatories, lakes, carousel, zoo, boathouse and gorgeously landscaped Shakespeare Garden. While many lavish praise on famed American landscape architect Frederick Law Olmsted for his designs for Central Park, Brooklyn's Prospect Park offers an equally seductive complement to NYC's urban frisson. There's the 60-acre lake, myriad ballparks, a zoo and the only urban Audubon Center in the U.S. Prospect Park forms a key part of the Atlantic Flyway bird migration route, and more than 200 species can be found in the park.
Stay here during your New York visit:
King Phillips Campground, Lake George
Lake George Riverview Campground, Lake George
Lake George RV Park, Lake George
Ledgeview RV Park, Lake George
The Villages At Turning Stone RV Park, Verona
---
Pennsylvania
Taste the Sweet Life in Hershey
More than a century ago, Milton Hershey began manufacturing chocolate treats in a community that would come to bear his name. His legacy is honored at Hersheypark, a  confectionery-themed amusement destination that pays homage to the town's chocolate legacy. Rollercoasters and exhibits will awaken the candy-loving kid inside. For more on the history of Milton Hershey's candy empire, tour Hershey's Chocolate World and Founders Hall at the Milton Hershey School. Adventure Sports in Hershey keeps the good times going for families with extra energy to burn. Go-kart tracks, miniature golf and an arcade keep everyone busy.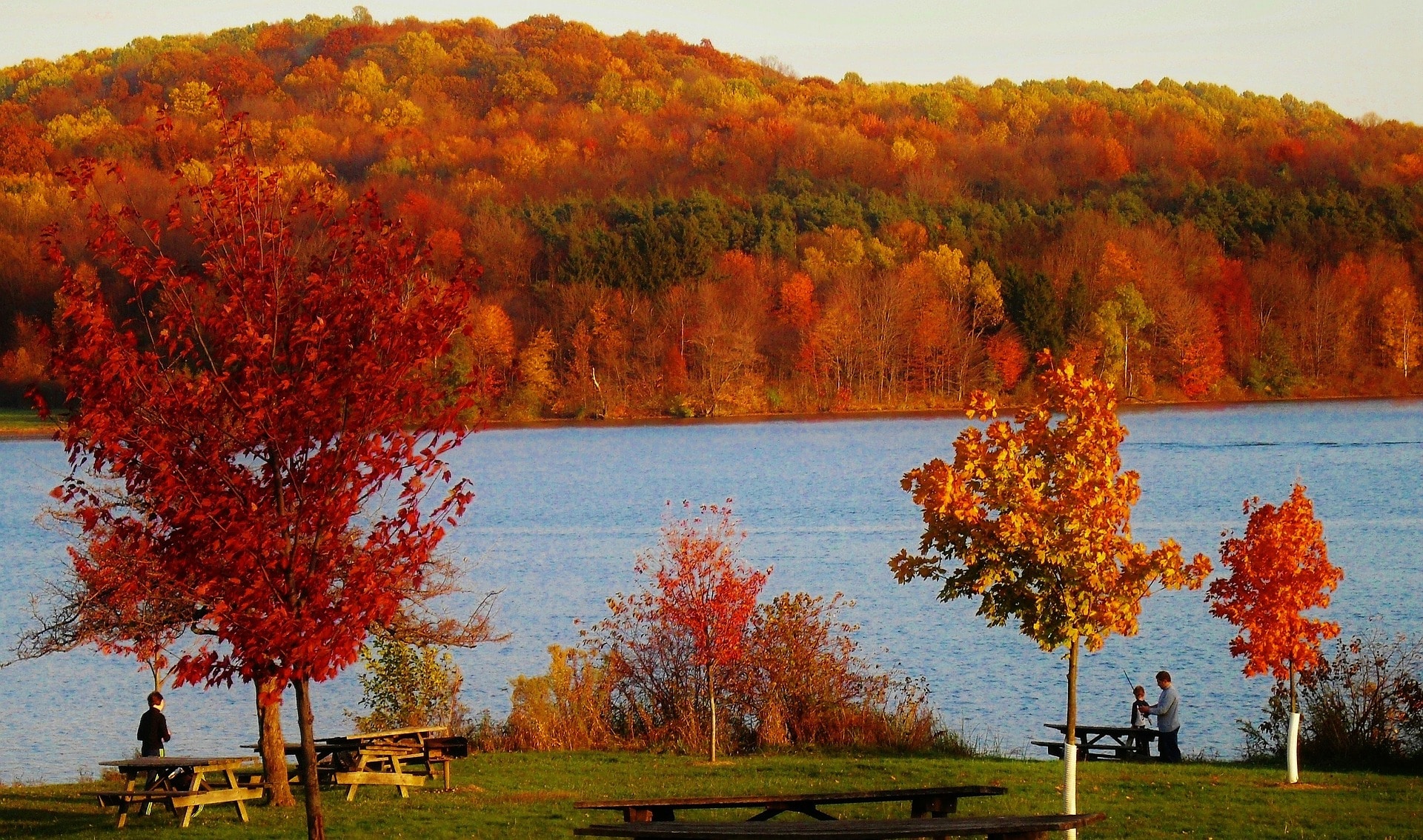 Leaf Peep in the Poconos
Get your fall foliage fix in the Poconos in eastern Pennsylvania, where the abundant trees change hues from green to crimson, rust and yellow during October. A great place to see this spectacle is the Delaware State Forest,  which features the 82-acre Tarkill Forest Demonstration Area. A self-guided nature trail provides glimpses of a compelling ecosystem. Also on offer are boating, hunting and horseback riding along 26 miles of designated riding trails, along with biking and ATV trails (for all skill levels).
Stay here during your Pennsylvania visit:
Friendship Village Campground & RV Park, Bedford
Gettysburg Campground, Gettysburg
Tucquan Park Family Campground, Holtwood
Flory's Cottages & Camping, Lancaster
Pinch Pond Family Campground, Manheim
Twin Grove RV Resort & Cottages, Pine Grove
Otter Lake Camp Resort, Stroudsburg