Mobile was the first capital of the French colony of Louisiana before the government moved on to New Orleans and Alabama took over the city. However, but the city still retains the most striking collection of Creole architecture outside of the French Quarter in the Crescent City. Mobile beat New Orleans to the Mardi Gras as well, staging America's first celebration of "Fat Tuesday" on New Year's Eve 1831. The heritage of Mobile Carnival is preserved in the two-story Bernstein-Bush mansion on Government Street.
---
Planning a visit? Stay at the I-10 Campground.
---
Other treasures in the city's historic district include Old City Hall, which began life as the Southern Market in 1854. In addition, the Government Street Presbyterian Church that stands as one of the oldest Greek Revival ecclesiastical buildings in the United States. Fort Conde, a 1720s French outpost, has been reproduced on Royal Street.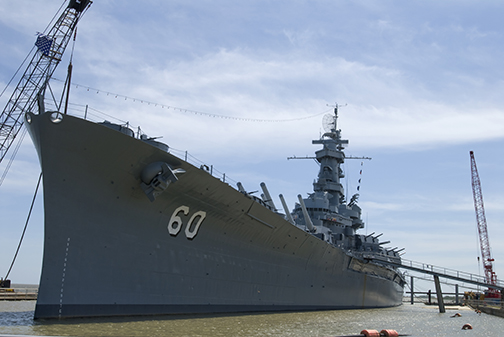 Military heritage has long been part of the fabric of Mobile. The city was America's fourth busiest port when it was targeted for Union operations in the Civil War. The historic Forts Morgan and Gaines are still open for tours on either side of the mouth of Mobile Bay. During the world wars of the 20th-century, shipbuilding transformed the city into one of the Gulf Coast's primary economic and cultural centers. Today, the USS Alabama, which earned nine Battle Stars in World War II, maintains a permanent berth in the bay at Battleship Park as one of Alabama's most-visited attractions.
The Mobile Botanical Gardens, with more than 100 acres of cultivated and natural habitats, headlines the city's outdoor delights. Langan Park, which contains the gardens, is the largest of the port city's 45 parks, which began when Bienville Square was declared forever to be a public park land in 1824. Langan also features the Mobile Museum of Art, recognized for its outstanding collections of work from Southern artists.
No visit to Mobile is complete without a stop at Bellingrath Gardens and Home in the southern suburb of Theodore. Cruises aboard the Southern Belle on the Fowl River float past hundreds of thousands of seasonal plantings. Strolling through the garden's three million Magic Christmas Lights is a Dixie State tradition.