The last week of April along the streets of downtown Lafayette and residents are decked out in hats, dancing shoes and smiles for the annual Festival International de Louisiane . Refrains of "Happy festival!" are everywhere.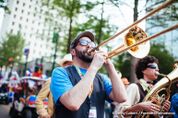 At the apex of spring Lafayette's downtown turns festival mode for the annual Festival International de Louisiane, the largest outdoor, non-ticketed Francophone event in the United States. Every year artists from around the world perform on several downtown stages, known appropriately as scènes, allowing festival-goers the unique chance of hearing world music up close and personal.
There's an international marketplace, unique arts and crafts, Lafayette's world-renowned cuisine, children's activities, parades and so much more. Festival International brings in thousands of tourists yearly. It's also the city's treasured spring outing, an event locals look forward to all year long.
The First Festival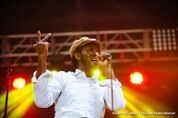 The first Festival International de Louisiane was held on July 2-5, 1987, in downtown Lafayette. The opening act on the main stage was a group of New Orleans Mardi Gras Indians that performed in elaborate costumes until a thunderstorm sent everyone running for shelter.
The organizers of that first festival thought it was doomed to be a failure, but then something magical happened. After the rain subsided, attendees spotted smoke rising from the main stage. The Master Drummers of Rwanda were warming the skins on their drums.
When the Master Drummers began playing it changed Lafayette forever. The syncopated, complex rhythms of their drums had attendees' jaws on the floor and eyes wide, everyone was mesmerized. Soon hundreds of spectators returned and thus the legacy of Festival International was born.
Festival Today
Since that first festival they have continued to highlight the unique culture of South Louisiana along with its French influences from the mother country of France, Canada, Africa and the Caribbean. In addition, bands of all styles and languages have visited the festival stages to promote an exchange of cultures unique to America.
Music is only one element of the multi-faceted festival. The massive Marché des Arts features an enormous variety of artists, crafters and artisans. The Marché du Monde is set up like an international marketplace, featuring vendors from around the world. Food vendors are chosen from Acadiana's famous cuisine, known for Cajun and Creole fare but rapidly becoming a world cuisine of its own. Lafayette has won numerous culinary accolades over the years and visitors will taste these flavors throughout festival.
For more stories on Festival International as well as a complete lineup and schedule of events visit LafayetteTravel.com/Festival-International.