Imagine waking to a warm cup of morning coffee just as the crisp sun peaks over the horizon, outlining the most picturesque mountainside landscape in the comforts of the largest five star RV resort in California. Whether excitement comes from a daylight stroll among the meticulously maintained resort or an early rise to the gym to get the blood flowing, Golden Village Palms RV Resort is perfect for any getaway.
---
 Stay at Golden Village Palms.
---
Golden Village Palms' attentive resort service and top facilities ensure each moment of every stay, is memorable.  Guests continue to return year after year to Golden Village Palms and know best what makes this resort one-of-a-kind.
In The Resort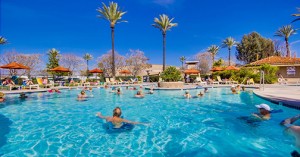 "Golden Village Palms is a first-class park with facilities that can only be found in a 5-star park. Huge clubhouse, billiard room, ballroom and more activities than you can do. Many very reasonable golf courses very close to the park."—Karen & Ron
Combining luxury with a modern sensibility, Golden Village Palms has been committed to delivering exceptional vacation experiences for over three decades.  Top maintained facilities provide active guests unlimited choices from lively pickleball and water aerobics to pleasant poker tournaments and on-site farmer's markets.  Activities create enjoyment for those who wish to remain inside the resort – while outside options excite those who wish to adventure.
Out On The Town 
"We traveled over 4,005 miles and Golden Village Palms was my favorite RV Park. Beautiful facility including three awesome pools, giant laundry room, lovely grounds for a morning walk and close to shopping, dining, nails and hair care. Everything you need or want."—Katie C.
There is more than meets the eye in California's beautiful San Jacinto Valley.  Guests excite in day trips outside the resort to sip the most delicious wines of Temecula Valley vineyards, cool off inside trendy boutique finds and delight in lavish 3-course dinners.  Guests also enjoy traveling to the various top area golf courses to tee off a day of play with resort friends to finish the perfect evening with cold drinks and easy tunes poolside.
New In The Resort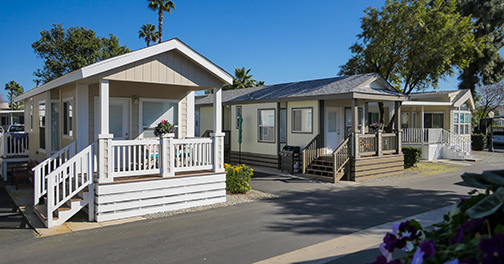 Golden Village Palms has opened a new modern cottage community for guests to enjoy all the exciting resort amenities in the comforts of a luxurious rental cottage. Each stand-alone cottage features a comfortable queen-sized bed, full kitchen, all appliances and cool refreshing air conditioning after a hot day.
"These are awesome units, equipped with all the comforts of home. We've totally enjoyed our stay this past week and have enjoyed all the perks at Golden Village Palms without having to haul down our RV."—Jane C.
New resort cottages urge travelers to experience the resort lifestyle without the necessity of an RV.  The additional cottages are some of the many ways Golden Village Palms strives to make travel easy and enjoyable for all.  See what guests are raving about and book your next getaway to Golden Village Palms RV Resort today, by calling 866-916-1317 or visiting GoldenVillagePalms.com.