Animal vaccines — what you need to know.
When we go RVing with our pets, we expose them to diseases that don't exist back at home. Give your dog or cat the protection they deserve by brushing up on these vaccine basics for traveling pets.
Book a Wellness Visit Appointment at the Vet
Time your pet's yearly exam at least one week before departure to allow time for vaccines to kick in. Parvovirus, distemper, rabies and bordetella inoculations are the most common canine vaccines. For cats, your vet may recommend feline panleukopenia, calicivirus, herpesvirus and rabies vaccines.
Share Your Itinerary With the Vet When it Comes to Animal Vaccines
Your vet can create an inoculation plan based on your destinations and activities. Some diseases are prevalent in certain regions, like Lyme and Leptospirosis. Others no longer have geographic boundaries, like the mosquito-borne heartworm infection. You and your vet can weigh your pet's risk factors for each.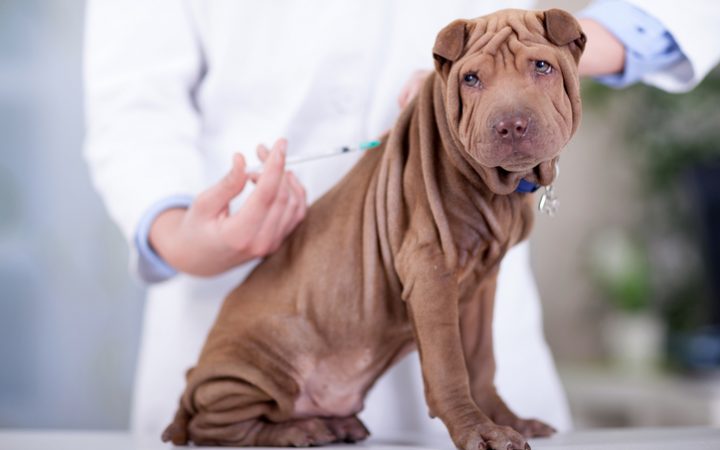 Ask About Rabies Vaccine Waivers
Every state requires rabies vaccines. However, current studies show that vaccines can harm animals with immune system illnesses like cancer, lupus or feline leukemia. If you believe vaccines could make your immune-compromised pet sicker, ask for the "Annual AVMA Rabies Vaccine Waiver."
Keep All Records for Animal Vaccines  on Board
File hard copies of your pet's vaccination records in the RV. Vaccination certificates are often required by boarding facilities, at pet-friendly events and especially at international border crossings.
Taking pets on RV trips requires a little more pre-planning. But the rewards of having them along for a safe and fun time are well worth the effort.
Read more about how to take care of your pet at goodsam.com/pets.
Rene Agredano is a full-time RVer and location-independent entrepreneur with a love for writing, jewelry design and animal advocacy. Rene and her husband, Jim Nelson, became full-time RVers in 2007.