Bull Run Regional Park in Centerville, Virginia — an ideal spot for your wedding/big event.
Host your wedding or event amidst live plants and flowers at any one of four venues nestled in the Meadowlark Botanical Gardens in Vienna, Virginia. It's all part of Bull Run Regional Park in Centerville. The Atrium at Meadowlark features exposed brick walls, a glass-enclosed cathedral ceiling and a large terrace overlooking the gardens. Indoors you will find live trees strewn with twinkle lights, a babbling stream that leads to an indoor fountain, and a 2,000-square-foot skylight. With three walls of glass, events can be hosted at The Atrium any time of year while still getting the ambiance of being outdoors at this amazing venue, Bull Run Regional Park.
The Atrium is perfectly nestled within Meadowlark Botanical Gardens and overlooks 95 acres of lush gardens, green hills and perfectly manicured landscape. Voted as one of the premiere wedding venues in the Greater Washington area, The Atrium can accommodate up to 230 seated guests for a wedding reception and up to 300 standing guests.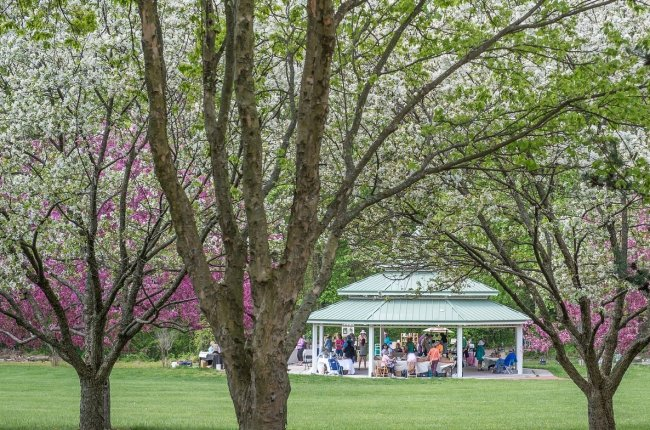 Take advantage of the gazebos, Bell Garden, and Lilac Pavilion for photography and other event options. Great Blue Heron provides full on-site catering for any event here offering a wide variety of options for both Picnic and Black Tie catering services.
The Lake Caroline Gazebo is the most commonly used gazebo for wedding ceremonies as it is located at the end of a dock in the middle of Lake Caroline. With a 360 degree view of the gardens, this gazebo is perfect for an outdoor ceremony.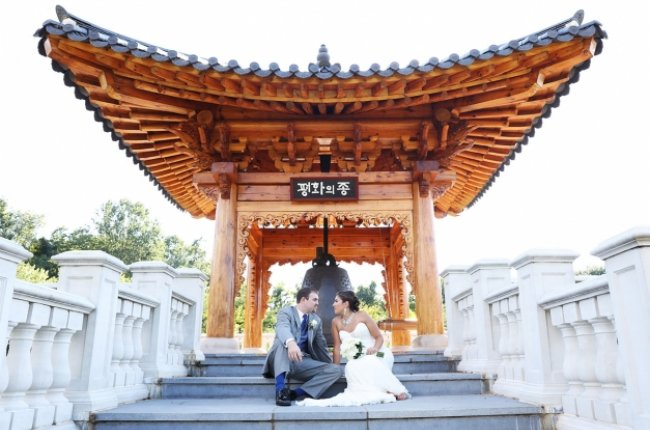 The Korean Bell Garden of Meadowlark Botanical Gardens is a beautiful backdrop for any wedding or private event. Created via a joint effort between NOVA Parks and the Korean American Cultural Committee (KACC), this great endeavor began with a proposal in 2007.
The newest pavilion is located on one of Meadowlark's beautiful open fields just before you enter the garden. Available for reservations seven days a week, this is the perfect location for a casual celebration or gathering. The Lilac Pavilion can accommodate up to 80 seated guests underneath the pavilion roof, and 200+ guests can be seated in the open field. (Additional tenting may be required and subject to rental fee.)
Reservations cannot be made online. Contact the Facilities Manager or the Events Coordinator today to discuss hosting your wedding at The Atrium.
For more information, contact:
The Atrium at Meadowlark
Meadowlark Botanical Gardens
Vienna, VA 22182
T 703-255-3631, ext. 105
E-mail: [email protected]
www.novaparks.com