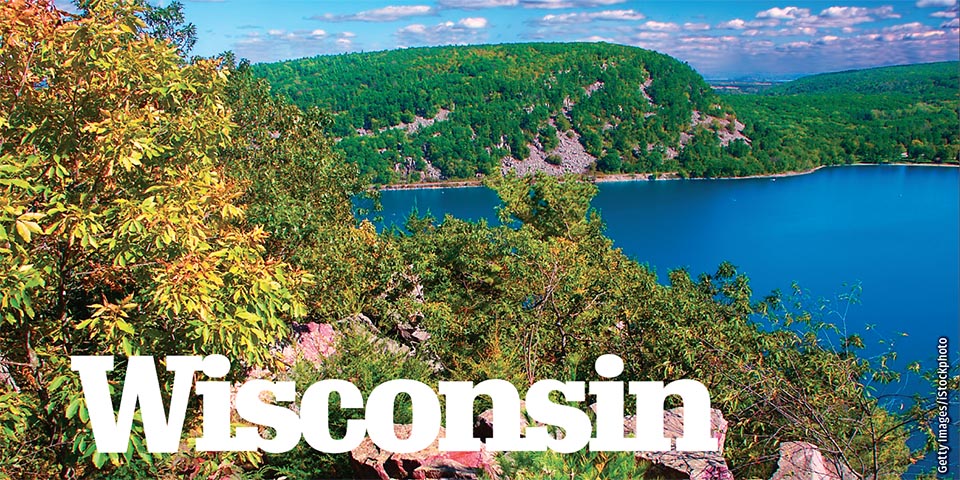 Bordered to the east and north by Great Lakes, Wisconsin has over 15,000 inland lakes and produces over a quarter of the U.S. cheese supply. Add spectacular water slides and the Badger State all the ingredients for a great visit.
Cheese Heads
Motorcycle gears and gourmet cheese coexist nicely in Milwaukee. Gearheads can rev their engines at the Harley-Davidson Museum, while art buffs can draw inspiration perusing the 2,500 masterpieces at the Milwaukee Art Museum. If you're a football fan, rush to Green Bay's Lambeau Field for a Packers game or guided stadium tour. You can also get your cheese fix in Monroe. Learn the ins and outs of cheesemaking at the National Historic Cheesemaking Center and stop by local factories for fresh cheddar, gouda and more.
Land a Big One in the Lakes
Anglers can choose from Wisconsin's many inland lakes the Lake Michigan (north coast) or Lake Superior (east coast), and the grand Mississippi River along its western border. Lake Michigan and Superior are always popular fishing spots, but locals will tell you to cast a rod in hidden gems like Altoona Lake and Fox Lake if you want all the muskie, panfish and walleye to yourself. An astonishing amount of smallmouth bass can be caught in the Chippewa and Flambeau rivers, too. For a different kind of fun, head to Wisconsin Dells to dip your toes in the biggest collection of water parks in the world.
Forest Fun
Near the Wisconsin Dells, the forested seclusion of Rocky Arbor State Park welcomes visitors to hike its one-mile nature trail or snowshoe through the woods in wintertime. Rocky outcrops of sandstone are hallmarks of this 244-acre park. Get up close and personal with alligators and other reptiles at Alligator Alley Adventures. This family-friendly destination teaches visitors about these scaly creatures and several other species of reptiles on display. The Alligator Alley staff even lets guests feed the toothy residents.
Christmas Village
If you're lucky enough to be in Wisconsin Dells when the snow falls, Christmas Mountain Village is a popular place for skiers, snowboarders and snow tubers. If it's too warm for snow, head to Christmas Mountain with your clubs for a day on the fairways. Oaks Course is a championship layout that's nearly 7,000 yards from the back tees. The Pines Course welcomes golfers of all skill levels, and its unique layout is surrounded by towering pine trees.
---
Regional Dish
Wisconsin Cheese Curds
Wisconsinites love cheese so much, they call themselves Cheeseheads. Cheese curds are the dairy product of choice, thanks to their distinct milky and salty taste. The white blobs make a rubbery squeak when you bite into them and are surprisingly versatile — eat them raw, deep-fried or with fries and gravy.
---
Beautiful Beacons
Wisconsin's Door County occupies a scenic peninsula that just out between Lake Michigan and Green Bay. Here, lighthouse lovers will enjoy visiting the county's most majestic beacons. Looming over Sturgeon Bay is the Sturgeon Bay Canal Lighthouse. Located at a Coast Guard station, it was originally constructed in 1899 and then reinforced with additional steel in 1903. Another must-see is Pottawatomie Lighthouse, which ranks as the oldest lighthouse in Wisconsin, having started duty in 1836. While the original was demolished in the late 1850s, a new light was constructed and lit in 1858. Today, it is open for summertime tours under the name of the Pottawatomie Lighthouse Museum.
Shipwrecks
There are a number of intriguing shipwreck sites in the area. One of the most popular for visitors is the site of the schooner Fleetwing, a lumber cargo vessel that ran aground in Door County in September of 1888. Today, the broken hull of the Fleetwing lies on the lake bottom near shore, just 10 feet below the surface, making it accessible for divers, snorkelers and kayak enthusiasts.
Nautical Past
Those who would like to learn more about the nautical history around Door County without getting wet can visit the Door County Maritime Museum. The museum features a detailed rundown of the region's shipbuilding history, as well as a larger ship model collection, a collection of classic boats and a restored steamship pilothouse.
Rugged Beauty
Off the state's north coast on Lake Superior, there are 21 rugged islands ripe for exploration at Apostle Islands National Lakeshore. Follow roughly 50 miles of hiking trails to reach lighthouses, abandoned quarries and wind-swept beaches. You can spot more than 240 types of migratory birds depending on the season. From September to October, visitors can get a front-row seat to enchanting fall foliage by driving through vibrant areas like Marinette County, Hayward Lakes, Bayfield Peninsula and the Upper Mississippi River Valley.