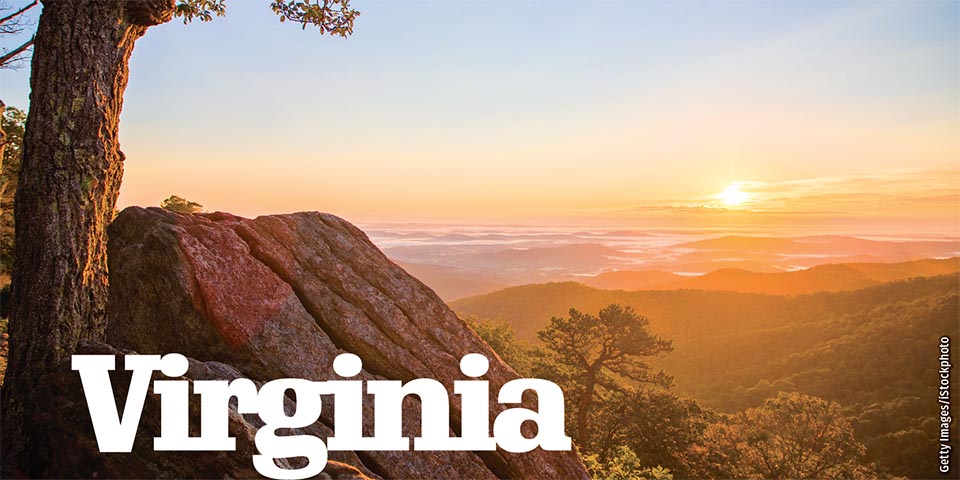 The Old Dominion State sits at the crossroads of history. This is a place where Civil War battles raged, major leaders cut their teeth and trailblazers opened new frontiers. Virginia is sure to exceed your expectations.
On D.C.'s Doorstep
Located near the nation's capital, Arlington rivals D.C. in history and monuments. Visit the final resting place of John F. Kennedy and the Tomb of the Unknowns at the Arlington National Cemetery. You can even take a guided tour of the Pentagon as long as you book in advance.
---
Regional Dish
Virginia Ham
From Edwards to Calhoun's, many of America's top country ham producers are found right here in the Old Dominion State. Hams from these old-fashioned meats are salt-cured, aged for months and smoked to a vibrant mahogany color. Enjoy these delectable feasts at home or in cozy, family-style restaurants with a side of red-eye gravy and freshly baked biscuits.
---
Liberty's Legacy
Snaking through Richmond, the Liberty Trail is a walk into history. Follow the self-guided walking path to historic sites including the Virginia State Capitol, Edgar Allan Poe Museum, Hollywood Cemetery and the oldest church in town. Don't leave without seeing funky street art in the Carytown neighborhood and smelling the roses in the Lewis Ginter Botanical Garden.    
Something Wild
Assateague Island National Seashore hosts a stunning variety of wildlife. Situated in both Maryland and Virginia, this 37-mile barrier island lets you come face-to-face with shorebirds, dolphins, whales and wild ponies. Beyond the resident creatures, you'll find sandy beaches and maritime forests to roam. Go horseback riding, crabbing and kayaking.
Sailing, Paddling, Boardwalks
Virginia Beach has no shortage of ocean adventures. Paddle down peaceful waterways, sail the high seas and stop by the Cape Henry Lighthouse resting just outside First Landing State Park. Finish your day with a leisurely stroll on Virginia Beach's 3-mile-long boardwalk and capture a photo with the bronze King Neptune statue along the way.
Founding Spark of America
Visit Colonial National Historical Park and walk in the footsteps of movers and shakers that shaped a nation. Wander around Jamestown, the first permanent British colony in the New World, to view a recreated fort, Powhatan village and replica ships. The park also encompasses the Yorktown Battlefield where the last major American Revolution battle was fought.
Take a Shine to Shenandoah
Shenandoah National Park protects a big slice of the Blue Ridge Mountains. The park encompasses cascading waterfalls, rolling peaks and panoramic vistas. Experience all the park has to offer by cruising along the scenic Skyline Drive or trekking 101 miles of the legendary Appalachian Trail. A bird's-eye view of the entire landscape can be enjoyed at Mary's Rock and at the top of Hawksbill Mountain, the park's highest peak at 4,050 feet. The largest caverns in the eastern United States are just west of Skyline Drive. The Luray Caverns offers guided tours so you can go deep beneath the surface and enter cathedral-sized rooms overflowing with stalactites and stalagmites.
Appalachia Region
Home to hundreds of miles of hiking, biking and ATV trails, as well as one-of-a-kind natural wonders, the Appalachia region of southwest Virginia entices thrill seekers looking to push their limits in the fun-filled Appalachian Mountains. Visitors looking to enjoy the area's cultural heritage will discover a full menu of treasures. Some of the country's most revered and authentic American musical traditions were born and are still thriving in the region's mountain communities.
Appalachian Living
The small town of Pennington Gap, connected to the advanced Stone Mountain Trail system, is a charming example of life in Appalachia, with a homey theater, low-key restaurants and annual festivals. Guide shops in towns like Grundy, Coeburn and St. Paul are great places to organize an ATV excursion, and experts there can keep you up to date on safety gear and regulations while out in the wild.
Hitting the Trail
Hiking and mountain biking are welcome on most of the Appalachian's trails and can be a great way to get up close and personal to geologic formations like the Devil's Bathtub and Natural Tunnel State Park, as well as the nearby Clinch River. These hikes, which include swimming holes, waterfalls and fishing spots, are favorite pastimes in the warm summer months, so get there early.
Wetlands and Hemlocks
The mostly low Lakeshore Trail winds through wetlands and hemlock forests on its way to the 45-acre Bark Camp Lake, where locals enjoy swimming, boating and fishing for largemouth bass, catfish and trout. For those looking to relax, there's nothing better than a float down the Clinch River, one of the most biologically diverse waterways in the nation.
Appalachian Melodies
Connecting four cities and 50 towns along 330 miles of backcountry roads, the Crooked Road Heritage Music Trail began in 2003 as a way to celebrate southwest Virginia's storied musical traditions. With everything from small-town venues to yearly festivals along the route, Crooked Road offers a deep dive into a unique musical heritage that combines old-time string bands, gospel, blues and bluegrass. For a glimpse into the daily lives of the many pioneers who helped create the area's cultural heritage, try the Southwest Virginia Museum Historical State Park. Exhibits focus on the 19th century's coal, iron and railroad industries and include restored homes.