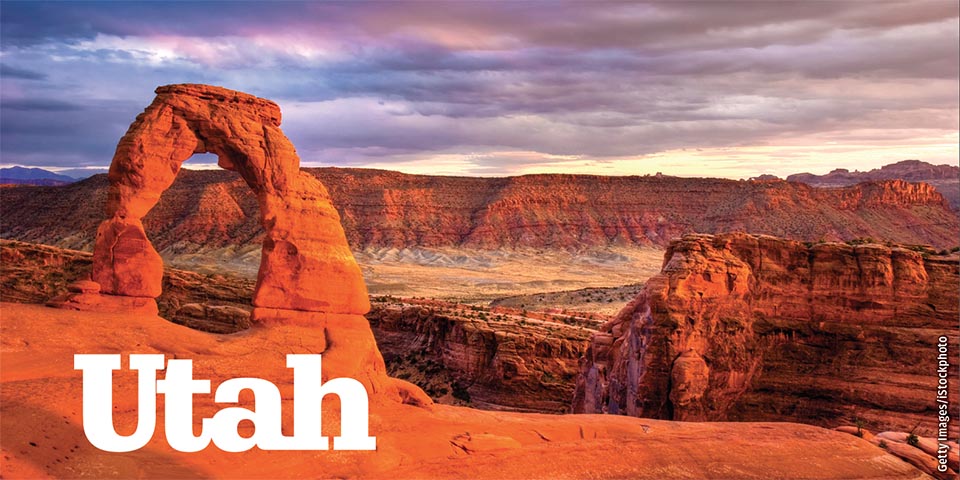 Utah's rugged landscapes, pristine ski slopes and vibrant cities make it great fodder for travel photographers. But you should visit in person to see what makes the Beehive State truly buzz.
Cities for All Seasons
Known as the home of the soaring Salt Lake Tabernacle, beautiful Salt Lake City offers much more than meets the eye. Dig into seasonal, locally sourced plates at Pago's and feast on a mean Mole Coloradito at the Red Iguana. Authentic Tuscan fare is served at Valter's Osteria, while craft beer flows endlessly at Avenues Proper, Epic Brewing Company and Red Rock Brewery. Walk off your delicious meals by shopping at over 90 stores at City Creek Shopping Center.
---
Regional Dish
Utah French Fries
Forget ketchup, ask for a side of fry sauce the next time you get French fries. Made popular by the Arctic Circle burger chain, this dipping sauce tastes similar to Thousand Island dressing and is the perfect combination of creamy and tangy. The fast-food joint also sells the stuff by the bottle, so bring one home if you can't get enough of it.
---
Skiing Perfection at Park City
Park City attracts skiers to experience legendary powder. Located just 35 minutes from Salt Lake City International Airport, this historic silver mining town spoils skiers with Park City Mountain, a world-class resort that's home to over 300 trails, 41 lifts and eight terrain parks. During winter, stop by the Utah Olympic Park for a heart-pumping bobsled ride.
Salty Speed
The Bonneville Salt Flats, known as the site of several land speed records, is one of North America's most interesting environments. This white salt-coated surface sprawls for 30,000 acres and hosts land speed racing events every summer. Wildlife such as bison and antelope can be viewed in Antelope Island State Park, and the densest concentration of Jurassicera dinosaur bones await at the Cleveland Lloyd Dinosaur Quarry in the heart of the state.
Oases in the Desert
Catch one of the most exciting segments of the Colorado River near the town of Moab. Thrill-seeking rafters can take on the raging waters in Westwater and Cataract Canyons, while families can enjoy a leisurely float in Fisher Towers. Calmer sections of the Colorado can also be explored by canoe, kayak or paddleboard.
Religious Roots
Since Mormon settlers reached the Salt Lake Valley in 1847, this religious has become part of the tapestry of the state. Today, 60 percent of the state's population are members of the Latter-day Saints Church. Mormon heritage is on full display at Salt Lake City's Temple Square. Featuring the Salt Lake Temple, Tabernacle, Family History Library and a dozen other attractions, this 35-acre area in the downtown core weaves history with stunning architecture and art.
Native American History
Long before the Mormons arrived, Native Americans established several settlements throughout the state. Gain insight into the state's first occupants at Fremont Indian State Park in central Utah near Interstate 70. Home to the largest Fremont Native American village ever discovered, this park lets you view the remains of ancient pit houses and ponder petroglyphs adorning rock walls.
Beehive Blast
Utah has established a name for itself in theater, art and film, and you can experience all of it at the state's many festivals. Park City's Sundance Film Festival showcases independent films, while the Utah Shakespeare Festival in Cedar City puts on performances from June to October. In Salt Lake City, view works by renowned artists at the Utah Arts Festival, and learn how to enhance your artistic skills at the Craft Lake City DIY Festival. Racing fans will want to swing by St. George in March for the Skywest Airlines Mini Indy.
In Beehive State Crosshairs
Outside of Utah's parks and monuments, hunters can take advantage of thriving populations of mule deer, elk, antelope, pheasant, duck and more.
The Mighty Five
You've heard of the Jackson 5, the Dave Clark Five and the Fifth Dimension. Now it's time to experience Utah's Mighty 5 National Parks. Trek through a wonderland of sandstone towers and over 2,000 arches in Arches National Park. Watch the sun's rays dance on sharp, brilliantly colored hoodoos at Bryce Canyon National Park. Capture stunning photos of Zion National Park's famous rock formations. In Canyonlands National Park, bike down challenging dirt roads and be rewarded with panoramic vistas. If you want to beat the crowds, head to Capitol Reef National Park for vibrant cliffs all to yourself.