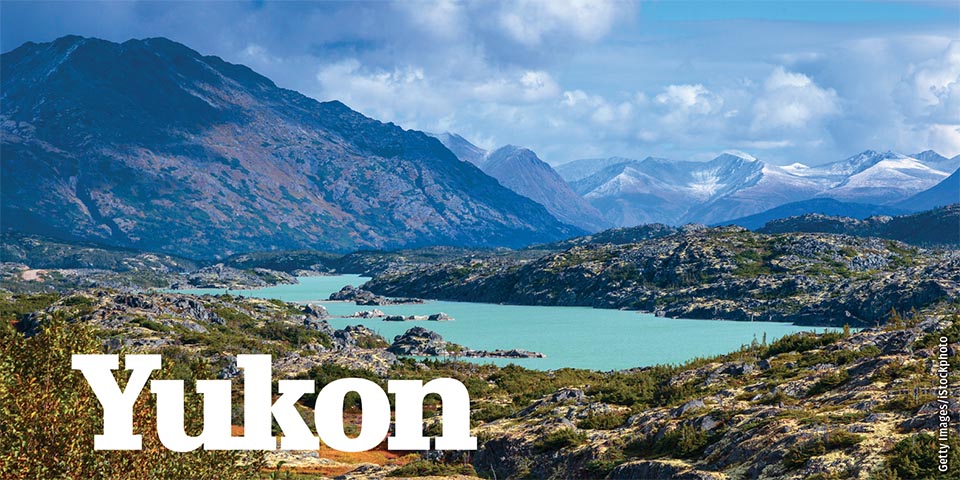 Untouched expanses of wilderness attract adventurers to Yukon. From abundant wildlife to the dazzling lights in the skies, Yukon enchants visitors to the Land of the Midnight Sun directly north of British Columbia.
Beasts of Beauty
Wildlife watchers can get a close look at some of Canada's most famous inhabitants. At the 700-acre Yukon Wildlife Preserve, in an accessible spot just north of Whitehorse, visitors can see musk, ox and bison trudge across rugged landscapes. Watch as mountain goats climb seemingly impossible slopes. Nearby, Miles Canyon offers majestic views of the Yukon River, which cuts dramatically through a forested valley. Take a drive along the famed Dempster Highway to northern Yukon's Tombstone Territorial Park to explore a vast, untamed wilderness. Explore flora and fauna of the Arctic tundra and permafrost landforms.
---
Regional Dish
Yukon Sourdough
During the Gold Rush, every miner had sourdough starters, as winters were long and food was scarce. Starters have been passed down through generations with many people baking bread with the same yeast from over 120 years ago. Experience this great living tradition for yourself at the Yukon Sourdough Rendezvous, an annual festival complete with pancake breakfasts, flour packing contests and dogsledding events.
---
Dawson City Delivers
During the 1800s, the town of Dawson was a vibrant gold rush settlement. Dancing girls, rowdy bars and grizzled prospectors cavorted in saloons and along wooden sidewalks. A visit to the historic town, further north along the Alaska/Klondike Highway, is a must. With many preserved buildings and costumed interpreters, the past truly comes to life in this rollicking town.
Whitehorse Wanderings
Motorists on the Alaska Highway, which traverses north British Columbia, the Yukon and Alaska, pass through Whitehorse. Yukon's largest town preserves its gold rush past, and visitors will be awestruck at the mountains that tower in the horizon. Learn about the First Nations peoples, the Klondike Gold Rush and more at the MacBride Museum. The S.S. Klondike National Historic Site preserves a famous river vessel.