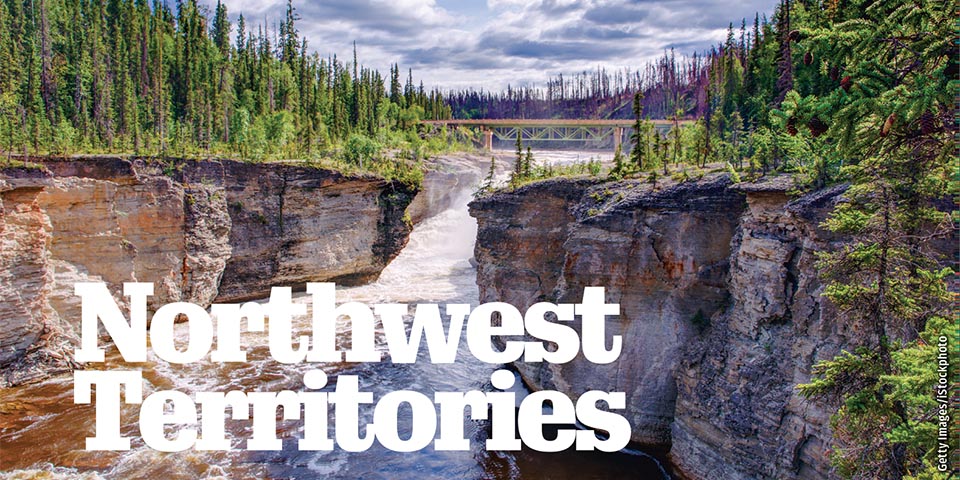 Get in touch with Canada's wild side in the Northwest Territories. From the dazzling aurora borealis to rugged peaks in Canada's largest national park, the memories forged in this natural wonderland can't be touched.
Colorful Lights
Canada's north is prime viewing territory for the spectacular aurora borealis. From January until March, visitors are treated to the greatest light show on Earth as the sky erupts in vibrant blues, greens, reds and yellows across the vast night sky.
---
Regional Dish
Northwest Territories Arctic Char
Arctic Char is abundant in this part of the Great White North so get ready to eat lots of it. Part of the salmon family, this cold-water fish is traditionally eaten raw, dried or smoked. Restaurants in Yellowknife are giving this dish a modern twist, so look out for tasty variations like Arctic char chowder and eggs Benedict.
---
Riding Rapids, Launching in Lakes
The Northwest Territories constitute a paradise for paddlers. Make your way to the Nahanni National Park Reserve on the western border with the Yukon to ride swift rapids past four deep canyons and the spectacular Virginia Falls. The 255-mile Keele River to the north is another popular rafting destination, with its sweeping views of alpine tundra and the Mackenzie Mountains. You can also fish for scores of lake trout, pike and arctic grayling in Great Slave Lake, the deepest lake on the continent at an astonishing 2,014 feet. Straddling the border with Alberta, Wood Buffalo National Park is Canada's largest national park and provides a safe habitat for its namesake mammal.
Northwest Natives
Yellowknife makes up for its remoteness with a vibrant local culture. Situated on the northern banks of Great Slave Lake, hundreds of miles from the nearest major town, the rollicking city and provincial capital boasts an eccentric personality. Take a stroll downtown and you'll find dozens of art galleries and restaurants serving up everything from Japanese to Ethiopian fare. You can also learn about Inuit culture at the Prince of Wales Northern Heritage Center.